Report: Pat Burrell Will Sign One-Day Contract to Retire with the Phillies
April 13, 2012

Jed Jacobsohn/Getty Images
Even though Pat Burrell hasn't been a member of the Philadelphia Phillies since the 2008 season, it is a sad day in Philadelphia, as "Pat the Bat" has announced that he's ready to retire.
Paul Hagen of MLB.com reports that Burrell has signed a one-day contract with Philadelphia to retire with the team that he saw the most success with over the course of his 12-year career.
Burrell last played on September 28, 2011 at AT&T Park as a San Francisco Giant against the Colorado Rockies.  Manager Bruce Bochy allowed him to start and bat cleanup in the game, knowing that it would likely be Burrell's last game before retirement.
He lined a single to left field in his first at-bat, and then took his position in the seventh inning before being called back to the dugout by Bochy. 
A standing ovation and a curtain call were both well deserved, as Burrell has been nothing but a stand-up guy in his time in the game.
His playing career began when the Phillies drafted him No. 1 overall back in 1998.
It's no secret as to why he earned his nickname, as he ranks fourth in Phillies history in home runs (251), fifth in walks (785), eighth in RBI (827) and ninth in extra-base hits (518). (via Hagen).
Burrell's career will officially end during the May 18-20 series with the Red Sox at Citizens Bank Park. His one-day contract will be signed then, and he will be throwing out the first pitch on May 19.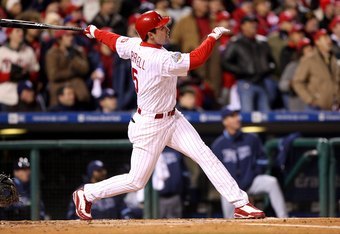 Jed Jacobsohn/Getty Images
He'll also be available for autographs in the Hall of Fame Club.
The Phillies may not have won the 2008 World Series without the heroics of Burrell, as his seventh-inning double in Game 5 of the series turned into the winning run.
Although Burrell will officially retire from playing on May 19, he is far from done with the game.
He currently works as a special assistant to Giants general manager Brian Sabean, as well as a special assignment scout.
Burrell will retire as one of the most beloved Phillies of all time, and "Pat the Bat" will always be remembered as the powerful left fielder who led the team to its second World Series title in history.