Why the Feud with Chris Jericho Is Great for CM Punk
Who is the master, who is the slave? Photo by i-am-71.deviantart

CM Punk taking on Chris Jericho for the WWE championship—who would have thought it would be possible one year ago?
It happened and not just anywhere: at WrestleMania XXVIII no less.
Now, a few weeks after their great performance which saw the champion retain, CM Punk and Chris Jericho are still going at it. No one should be surprised as this is one of the most interesting programs this company has offered in a long time.
It will be very profitable for the Straight Edge Superstar in the long run. He finally is up there in the big leagues alongside other greats like John Cena and Randy Orton.
Breaking down the reasons why this feud is good for Punk is easy. Step one is by turning the page.
He Is Feuding with a Legend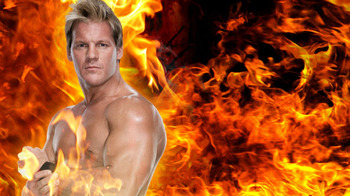 That Jericho...so hot right now! Image by WWE
Chris Jericho has won many titles and is the very first Undisputed WWE Champion in history.
He is a legend. There are no others like him.
Since he left in 2010, everyone has been speculating when he would make a return to the company. As the months went by and there were no signs of him in the ring, Jericho chose to experiment with other interests such as Dancing with the Stars and his rock band Fozzy.
These have been successful endeavors and proved to be just what the doctor ordered because Y2J was in serious need of a battery recharge.
Not once did Chris Jericho hint at a return, stating he had accomplished everything he needed to do in WWE. That statement held until CM Punk dared to utter the words "Best in the World."
There is apparently one thing left to do in the company and that is to defeat this upstart champion and silence him forever.
WWE Champion CM Punk could not have picked a better opponent to help him become an all-time great. Chris Jericho is known to many as a person who is ready and willing to ensure the future keeps on getting better.
It Legitimizes Punk's Title Reign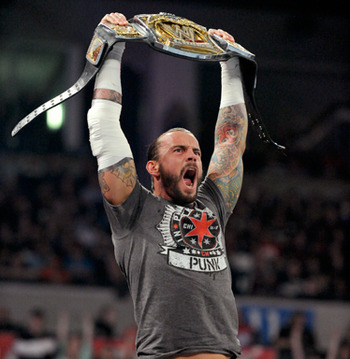 All hail the champion! Photo by wrestling-match.com
Long title reigns are mostly a thing of the past. But recently, WWE has surprisingly extended its Superstars's and Divas's days as champions, thus bringing back some sort of legitimacy.
Take Beth Phoenix and Cody Rhodes as examples. Until Mania passed, they were the longest-reigning champions in the company at well over six months. That is different indeed.
CM Punk won his title from Alberto Del Rio at Survivor Series in November. As of today that would be over 145 days. The Miz held it for 160 days, and it was the longest reign in years. Winning the championship and holding on to it for a long time is a very good thing.
It is not the top prize in the game for nothing after all. There is rich history here. It shouldn't be treated like a hot potato and CM Punk respects history it seems. He clearly wishes to elevate his prize to new heights and by wrestling a great challenger like Chris Jericho, definitely allows this.
Defending on Raw every week is one thing, defeating people like Y2J, Triple H and John Cena (examples) on important pay-per-views is another.
Look for CM Punk to have an incredible 2012.
The Fans Are Behind This Program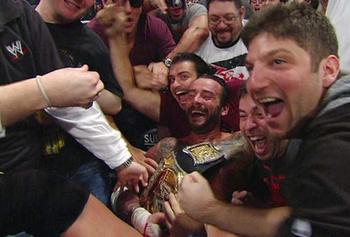 The WWE Universe is gaga for Punk-Jericho. Photo courtesy of Bleacher Report
WWE Universe...
You wanted it. The company obliged. Now sit back and enjoy the show. Stop complaining!
The fans want this, and it doesn't matter what the Raw ratings are because CM Punk is a successful WWE Champion. If ratings fall it may be because the show goes on too late. If I'm tired and can barely stay up to continue watching, do you think I care if Brock Lesnar fights The Undertaker? NO...I'm tired.
In 2012, there is something called the Internet. With that, one can relive any WWE moment at any time. If I miss something, I'll watch it later or read it somewhere.
Fans have been happy with all this Punk-Jericho stuff. That's why it continues today. Though it is getting personal between the two athletes, the WWE Universe relishes every single moment and that is good for everyone: the company, the Superstars and the fans.
It Is a Program of Quality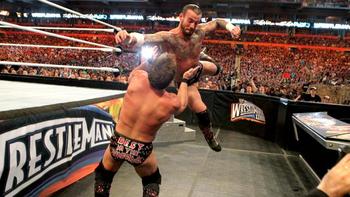 It is not over yet. Image courtesy of info-wrestling.com
In life, you don't usually go around claiming you are the best at this or that unless you have some way to prove it.
Chris Jericho and CM Punk have proven they are simply amazing because they've been around for a long time and put on stellar performances year after year. On their own, they have reached heights few have matched and now their paths cross for the first time ever. This is a once in a lifetime program, a program of quality.
There will be no need for ten matches between them. This should settle over the course of spring and in the end, it will be remembered forever because they will prove to everyone they are the best in the world at what they do.
Quality over quantity they say...this applies here.
So Glad It Continues...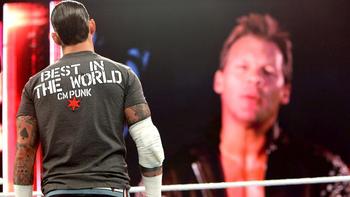 It's all about being the best. Photo by WWE
Whether Chris Jericho stays in WWE or not it doesn't matter. It is good to have him on the roster.
CM Punk benefits from this program as will the next guy Y2J feuds with (hopefully The Miz). As the WWE Champion, Punk is the man to gun for, the one to take out, and Chris Jericho is no fool. He knows what's at stake here.
In truth, there is nothing left to prove for the Lionheart. He is doing this because he loves it and if it can help out the next crop of talent then why not?
The company saw a great thing in CM Punk, and that's why they gave him a championship run. Maybe Jericho sees a little of himself in there too. Could it be a reason why he chose to work alongside the Straight Edge Superstar?
As a fan, I cannot be more pleased that this program is set to continue for a while longer. It brings back as much excitement to shows as Brock Lesnar's F5 to John Cena.
Who will pin CM Punk and win the WWE championship? I leave that thought with the rest of you.
Keep Reading