NFL Rumors: Latest Buzz on Felix Jones, Mike Wallace and Other News from the NFL
April 12, 2012

Christian Petersen/Getty Images
Rumors are always swirling in the NFL, but there's no doubt that the closer we get to the NFL draft, the more buzz is heard around the league. With just two weeks left before the draft, we wrap up the big rumor speculation going around the NFL surrounding Dallas Cowboys running back Felix Jones, Pittsburgh Steelers receiver Mike Wallace and other interesting tidbits. 
Felix Staying Put?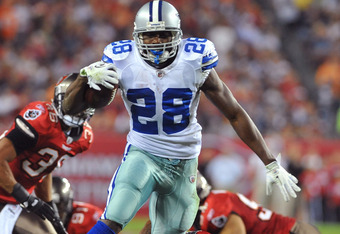 Al Messerschmidt/Getty Images
While it has been speculated that the Dallas Cowboys are taking calls for former first-round running back Felix Jones, top-ranking officials in the front office continue to shoot down those rumors. 
According to ESPN Dallas, who spoke with Cowboys' executive vice president Stephen Jones, the team does not plan to move Jones any time soon. 
No discussions—or speculation—on the possibility of a trade involving Felix Jones have ever taken place among individuals in this organization who would have the authority to explore such a scenario. Any reports of apparent internal discussions along those lines would involve people who have no input or relevance in the process. 
While Jones may never be a feature back in Dallas, especially considering the emergence of DeMeco Murray last season, his NFL home appears to be with the Cowboys. As a complimentary back, Jones still has plenty of value in Dallas.
Despite missing four games, Jones rushed for 575 yards and one score in 2011.
Interest Growing for Wallace?
A restricted free agent this offseason, Pittsburgh Steelers receiver Mike Wallace surprisingly hasn't been the center of much interest from other clubs.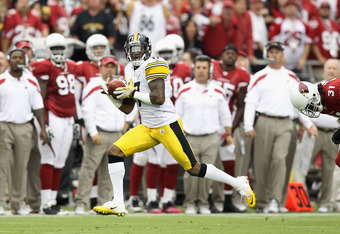 Christian Petersen/Getty Images
As the 2012 draft draws near, that sentiment might be changing, according to the Pittsburgh Tribune-Review. 
Less than 24 hours after a league source told me that a handful of teams are interested in trading for Wallace leading up the NFL draft scheduled for two weeks from today, news leaked that Wallace doesn't intend on showing up to any of the Steelers' offseason activities in protest of his first-round tender.
The clock is ticking for the two sides to get something done, regardless if that ends up being a long-term extension with the Steelers or another team swooping in to steal the electric receiver. But once the draft concludes in a little over two weeks, compensation will be tough for teams to come up with. 
This is certainly something to keep your eye on in the coming days, especially for teams rumored to be in the market for Wallace. The cash-strapped Steelers have to be biting their nails that some team doesn't pin them between a rock and a hard place with a deal they can't match.
VY Wants to Head Home?
Free-agent quarterback Vince Young has seen the fire in his NFL career dwindle to nothing more than hot coals over the last few seasons, but he's not ready to give up his goal of being a starting quarterback for one of the 32 franchises in the NFL.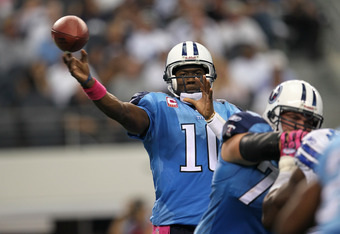 Stephen Dunn/Getty Images
And he'd ideally like to do it with his hometown Houston Texans.
From our good friends over at Rotoworld:
"I would love to play at home," Young said during a radio interview in the Houston area. "That would be a dream come true and anything I can do to help out with the team." 
He later said he's "just waiting on the opportunity" to start in the NFL again, and that "a couple of teams" have shown interest in Young during the free-agent period. 
While the fit makes sense for Young, it doesn't exactly add up in reality. Houston is set at quarterback with Matt Schaub and T.J. Yates, and the chances of Young ever beating out those two for a starting job in Texas are slim to none.
Contract Talks Stalling for Welker
It appears the New England Patriots have little urgency to lock up franchised receiver Wes Welker to a long-term deal.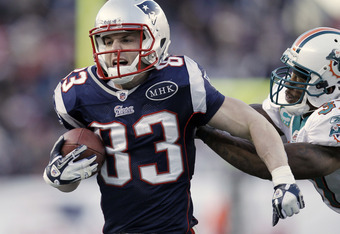 Winslow Townson/Getty Images
According to Tom Curran of CSN New England, there has "been no movement" in contract talks with Welker recently.
Welker has yet to sign his $9.5 million franchise tender, which means he won't be able to participate in any of the Patriots' offseason workouts. Given the fact that New England has until July 15 to lift the tag off Welker, the team is in no rush to give in to demands from Welker's side.
In the end, you can't imagine the two sides let the franchise tag be the final solution. Welker should get his contract extension, but expect the receiver to be the one who eventually caves on the final offer.