San Francisco Giants: Time to Worry About Tim Lincecum After 2 Terrible Starts?
April 12, 2012

Doug Pensinger/Getty Images
Going into their game against the Colorado Rockies Wednesday night, the story for the San Francisco Giants looked to be catcher Buster Posey coming down with a case of shingles.
CSN Bay Area's Andrew Baggarly reported that Posey developed the infection by the end of the weekend and it became worse during the Giants' off-day on Tuesday.
But once Wednesday's game started, the Giants had a whole other set of worries.
Pitcher Tim Lincecum didn't make it out of the third inning, as Colorado rocked him for six runs and eight hits. The Rockies battered him around, slapping out four singles, two doubles and two triples (both by Carlos Gonzalez). Two walks from Lincecum didn't help his cause either. 
If the Giants' ace thought cutting his hair might help him shake off a bad outing in his first start, he was quickly shown otherwise. In his two appearances this season, Lincecum has allowed 11 runs and 14 hits in just 7 2/3 innings of work. That's left him with a 12.91 ERA.
How worried should the Giants be about their No. 1 pitcher? Lincecum didn't pitch that well in spring training, allowing 16 runs (15 earned) and 31 hits in 23 1/3 innings. That performance was even more of a concern after Baggarly reported that Lincecum hadn't thrown his slider during the spring, and wasn't planning to use it early in the season to help keep his arm healthy. 
But was trying to save wear and tear on Lincecum's arm an indication that he was already having problems? 
Writers who specialize in detailing injuries such as Will Carroll would tell you that a drop in velocity would indicate a shoulder problem, while issues with pitch location hint at an elbow injury. That's a generalization, of course, and can't be applied equally to individual cases.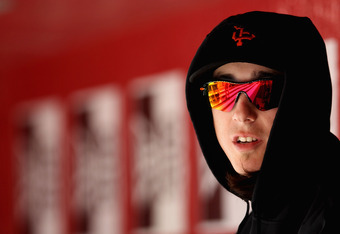 Christian Petersen/Getty Images
As Chris Cwik detailed at Fangraphs, Lincecum's velocity has been steadily decreasing over the past five seasons. With the lack of a dominant fastball, he had to resort to other means to get hitters out, hence developing the slider. But the slider takes a toll on a pitcher's elbow, which is why Lincecum and the Giants are being judicious in using it. 
Lincecum has also developed a nasty changeup to compensate for his lack of fastball oomph. But while that pitch helped him fool hitters, it appears that the opposition may have caught on to Lincecum's decreased velocity. With such knowledge in hand, batters could be laying off the off-speed stuff and waiting for a fastball they can handle. 
Yet Baggarly explained that seven of the eight hits the Rockies pounded out on Wednesday came on off-speed pitches. So one problem is that Lincecum isn't getting nearly the same movement on his changeup that he had been.
Losing velocity on his fastball and leaving changeups high in the strike zone would seem to demonstrate that not just one thing is wrong with Lincecum right now. It could be an arm problem. It could be his mechanics. Maybe losing 20 pounds during the offseason has left him with less strength, too, especially when he was so thin to begin with.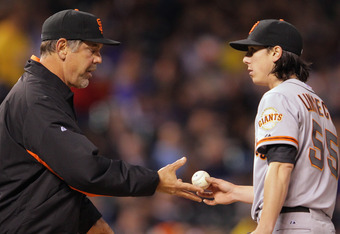 Doug Pensinger/Getty Images
If Lincecum continues to struggle, the Giants face a tough decision. Do they keep putting him out there every fifth day and let him get beat up? Or should they shut him down for a while, hoping that some rest helps whatever physical issues might be ailing him?
If the problem is with his mechanics, taking him out of the rotation for a turn or two might also allow him to work on his delivery with coaches and trainers, instead of tinkering on the fly while trying to get major league hitters out. 
However, sitting Lincecum down might not be an option while the pitching staff is short-handed with Ryan Vogelsong and Eric Surkamp on the disabled list. But once those players return, and if Barry Zito can pitch as effectively as he did in his first start of the season, the Giants have some flexibility.
When that happens, they should take advantage of the opportunity to get their ace right.