6 Players to Watch at Nebraska's Spring Game
April 13, 2012

Mike Ehrmann/Getty Images
On Saturday, Nebraska fans will get their first glimpse into the Cornhusker squad of 2012. While many of the established starters will likely play a small role in this weekend's spring game, there are a number of new faces that could become household names in Nebraska this fall. Here are a few to keep your eyes on as possible stars of the future.
Mohammed Seisay
Seisay might be the player with the best shot to have an instant impact on the team. A junior-college transfer, Seisay brings the size and speed to compete for a starting cornerback position right away. With the departure of Prince Amukamura and Alfonzo Dennard in two consecutive years, Nebraska's secondary needs an injection of talent, and Seisay looks to fit the bill.
Cornerback is one of the more difficult positions to judge at a spring game, as corners are less likely to be tested in such a scrimmage in ways that players in other positions will be. But Seisay will certainly be interesting to watch as he tries to become an instant-impact player
Aaron Green/Ammer Abdullah
Yes, I know those are two people, not just one. But the back-up running back role could become a much bigger job in 2012. Rex Burkhead will clearly be the focus of Nebraska's offense, but the over-reliance on Burkhead became painfully obvious as the 2011 season wore on. With Braylon Heard's move to the secondary, the back-up role to Burkhead now falls squarely on the shoulders of Green and Abdullah.
Both backs saw limited playing time in 2011, although Abdullah did get more exposure as a kick returner to start the season. Look for Burkhead's participating in the spring game to be limited, leaving the field open for a lot of playing time for Green and Abdullah on Saturday.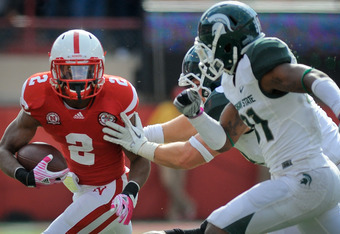 Eric Francis/Getty Images
Mike Marrow
Last year, Nebraska had three freshman running backs behind Burkhead. But the three backs (Green, Abdullah and Heard) all were smaller, quicker backs. Marrow is a load at 6'2" and 250 pounds. He was initially a scholarship player at Alabama, but transferred after family difficulties. He is currently competing for time at fullback with C.J. Zimmerer.
But, Marrow brings a power aspect to the game that Nebraska saw precious little of in 2011. Look for Marrow's contribution at the spring game and see if he can prove himself to be an effective change-of-pace back in 2012.
Andrew Rodriguez
Rodriguez has, throughout spring practice, been seeing playing time at tackle as well as at guard. Given Nebraska's lack of depth at tackle, having an additional option to competently play at tackle could be critical for Nebraska's success in 2012. Watch the offensive line during the spring game and see if Rodriguez gets significant playing time at tackle, and if he does, how well he does with it.
David Santos 
The graduation of Lavonte David may be the biggest challenge Nebraska faces in preparing for the 2012 season. While Will Compton looks ready to lead the linebackers and Sean Fisher may be fully healthy for the first time since his leg injury prior to the 2010 season, the opportunity is there for David Santos to step in and fulfill the potential that made him a prize recruit in 2010.
Santos will be competing with Alonzo Whaley for a starting job in 2012, and his performance at the spring game could give fans insight as to who might have the inside track for that spot.
If you would like to contact me directly to schedule an interview, ask a question or to get my recipe for a killer peach cobbler, you can send an e-mail to patrickrunge@gmail.com. (DISCLAIMER: Peach cobbler recipe might not be all that killer.)
Or, you could always… Follow @patrickrunge