Trevor Bayne: Would the 2011 Daytona 500 Winner Be Better off with Another Team?
April 12, 2012

Jared C. Tilton/Getty Images
He sits fourth in the NASCAR Nationwide Series standings. He has more top-10s than any other driver not named Ricky Stenhouse Jr., Elliott Sadler or Austin Dillon through five races. He has eight top-10s in his last 11 Nationwide Series starts.
He's even a past winner of NASCAR's biggest race, the Daytona 500.
Yet Trevor Bayne, the 21-year old NASCAR phenom, does not have a sponsor for his No. 60 NASCAR Nationwide Series ride, and he will be forced to sit out Friday night's race in Texas.
Bayne has long been considered one of NASCAR's best young talents—not just by fans and the media, but by his peers as well. He received rave reviews from drivers like Carl Edwards and Jeff Gordon following his victory in the Daytona 500 last year. Those rave reviews came not just because of the fact that he became the race's youngest winner in his first 500 attempt, but also because he handled the tempo of the race like he was David Pearson, the man who used to drive his No. 21 Sprint Cup car.
But since moving from his ride at Michael Waltrip Racing late in 2010 over to the Roush Fenway stable, Bayne has yet to secure a solid sponsor in spite of his achievements, which include a win late last year at Texas, the very track he will not compete at in the Nationwide Series this weekend.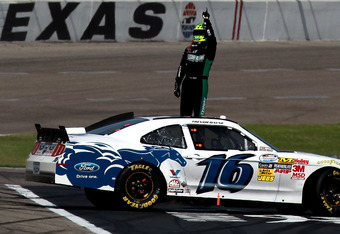 Ronald Martinez/Getty Images
Bayne's sponsorship has mainly consisted of a hodge-podge of Roush Fenway sponsors, including 3M and Fastenal, as well as Ford Motor Company. In fact, the majority of races Bayne has run have been run out of his car owner's pocket.
Give Roush credit for recognizing Bayne's talent and giving him a chance, but one can't help but wonder if Bayne might be better off elsewhere.
Roush's track record with sponsors isn't exactly solid. In fact, over the last half season Roush has lost one of his biggest sponsors, Crown Royal, causing 2012 Daytona 500 winner Matt Kenseth's sponsorship schedule to be up in the air this season. He also lost UPS, which has scaled back from a full season on David Ragan's car a year ago to being on Carl Edwards' car for a single race in 2012.
The loss of UPS actually caused Roush Fenway to shut down the No. 6 program entirely, sending David Ragan to Front Row Motorsports for 2012.
It's true that Bayne's sponsorship history has not always been stellar either. Bayne lost his ride at MWR late in 2010 after his deal with OUT! Pet Care ran out. But with Bayne's pleasant, down-home demeanor and talent that eclipses a good majority of the drivers with full-time sponsorship, it seems inexplicable that Bayne is being forced to sit out because nobody wants to fund him.
Bayne has been given pretty good equipment at Roush Fenway Racing, without a doubt. But oftentimes, he seems to disappear behind the shadow of his teammate, defending Nationwide Series champ Ricky Stenhouse Jr.That, along with his sponsorship trouble once again, brings up the question at hand: Would Trevor Bayne be better off with a different team?
I have a hard time saying no.
With Kyle Busch going off to start his own team and with Joe Gibbs Racing having no full-time development driver, perhaps a team like JGR could benefit from picking him up. Gibbs has a team capable of dominating every race and winning every week, and picking up Bayne could put some pressure on Joey Logano to perform better in his No. 20 Sprint Cup car. It would also give them a very marketable driver who openly shares the same values as team owner Joe Gibbs.
Maybe even a team like Turner Motorsports, who runs four full-time cars and has a plethora of sponsors, would make a good landing spot for Bayne. After all, learning from a driver like Kasey Kahne sure couldn't hurt his chances and could potentially set him up for a future Cup ride with a team like Stewart-Haas.
Whatever his options may be, the argument must be made that Bayne can do better than his current situation at Roush Fenway Racing.
On a team with solid sponsorship like the operations we just discussed, Bayne wouldn't be sitting on his couch watching the race. He'd be at the track competing for wins.
And that's where a proven talent like him belongs.