Super Mario Balotelli and His Manchester City Madness
April 12, 2012

Laurence Griffiths/Getty Images
Manchester City's title race might not yet be over with their 4-0 win over West Brom on Wednesday night and with Manchester United's 1-0 loss at Wigan at the same time, but one of their players' time with them might be—Mario Balotelli. Super Mario, the Premier League sensation. 
On Sunday, Balotelli was a sensation, but for all the wrong reasons. He was just sensationally bad.
City went to London to play Arsenal at the Emirates Stadium, hoping to regain their form after two straight draws, and ended up losing 1-0 and having their star Italian forward sent off after bad tackles and one particularly dreadful one on Arsenal midfielder Alex Song. After all of the abuse that he was receiving before, Balotelli just fueled the fires by letting his team down in a huge game against third-placed Arsenal. 
Roberto Mancini, a manager already in a precarious position at City, was far from happy. He declared that Balotelli, facing a possible six-or-seven-match ban, may be "finished" with the Citizens. A summer move was on the cards then anyway, with commentator Alan Smith chipping in via a column in The Telegraph that he was amazed that Mancini had even "indulged his young compatriot for so long". 
Shock horror. Football disgrace. A player exiled from the club. Sound familiar? Well, it's not an uncommon story, but there's one player at Man City that shows that you can return from exile and bounce back from being a pariah. That man is Carlos Tevez. 
Balotelli may want to take a leaf out of the Argentinian striker's book. Tevez hadn't played since his infamous walk off the pitch in September's Champions League match between City and German heavyweights Bayern Munich at the Allianz Arena. 
There was such uproar, and such fallout, that no one could seemingly reason the player's possible future return to the side. He spent a while away in Argentina, had his wages cancelled and was transfer-listed. He was all but gone from the club that just a while before had heralded him as their hero.
After the January transfer window passed, however, and Tevez was left still at the club with no one having wanted to buy his services, his chances of returning somehow soared.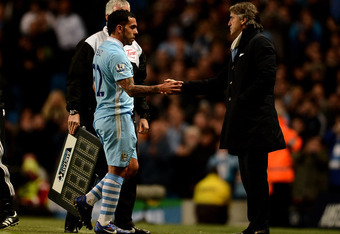 Laurence Griffiths/Getty Images
He has now risen from the ashes. Tevez, who you will remember once played for nemesis Manchester United, starred in Wednesday night's Premier League win over West Brom. He even scored his first goal for the club in over 6 months, with Balotelli watching from the stands in a private box.
The case of Tevez shows that no one is forever ruled out of Mancini's favour. 
If you look at Balotelli's record this season, he has hardly done badly. Thirteen league goals in 22 appearances is one brilliant stat that he has achieved—that's an average of over a goal per two games—and it isn't as if the forward has had an atrocious season. 
On the pitch, Mario really has seemed super–most of the time, anyway. Off the pitch, the story has been very different. This footballer never seems to be out of the media spotlight. 
And some of the stories concerning him have been truly incredible. Have you heard the one about him going around Manchester high-fiving all of the City fans after his team's brilliant 6-1 thrashing over the Reds at Old Trafford? What about the one in which Balotelli wentto Manchester University library and paid off all of the students' outstanding book fees? Imagine that at your local library. 
There are so many more weird and wonderful rumours, too. Apparently this Italian international player has connections with the notorious Italian Mafia. He's rumoured to have driven into a woman's prison because he wanted to "look around." There's another one about how he adopted a stray cat after it kept intruding upon City's training sessions. 
Then there are the truer ones. Weeks ago he had to have a fire brigade around his house because fireworks were set off in his bathroom. Erm…right. He also turned up at new Internazionale head coach Andrea Stramaccioni's first press conference with the team in Milan. He just entered the room and shook hands with the Inter coach and directors sitting behind their conference table while the press sat in front of them. It's hilariously bizarre. 
But this is part of what makes Balotelli a great asset to the Premier League. There are plenty of talented players in the league. Maybe not all of them have the Italian's talent, but they still have bundles of quality, playing in the so-called "best league in the world." None of them, however, have Mario's charisma and character. 
Oasis star Noel Gallagher conducted an interview with Balotelli for the BBC a while ago, asking him to never change because the City fans love him. More than his own club's fans love him—the whole league seems to love him. But has he now gone too far? 
Surely "too far" doesn't exist for Mario Balotelli. 
Even though he got sent off on Sunday after receiving two yellow cards for bad challenges with the controversial studs-up attack somehow going ignored by the referee, he has only received a three-match ban. That means that Mario could play in City's crucial home game against Manchester United at the end of the month. Mancini has said so himself.
"He will be back Manchester United", announced the gaffer to the media. "He will be ready". 
It's not too surprising, really. Balotelli, still 21 years old, and Mancini, at 47 years of age, have a famously affectionate player-coach relationship, with the duo both being at Inter years ago and Balotelli getting his first big break under the silver-haired, stripy-scarf-wearing Italian maestro. Was their bond honestly going to break after that one appalling game at the Emirates? 
No matter what Mario does, Mancini seems to be the right manager to rein him in and guide him. Even Jose Mourinho couldn't manage him when the Portuguese was the Inter boss. Roberto Mancini brought Balotelli to the Premier League and into his Manchester City side, and seems to have full faith in his ability to play, even though he has confessed that he sometimes wants to punch him in the head. Sometimes it's almost like the two are a bickering father and son. 
And no matter what he does, the football world community will surely want to watch him. He's just so highly entertaining—something that is invaluable in today's game. The fans will certainly not want to see him gone for too long.
I guess the only thing to say is "watch this space." Don't rule this player out just yet, from his club's side, or from the Premier League. He may just come back and astonish everyone in what could be the biggest game of this league season: the clash of the titans at the Etihad Stadium between City and arch rivals United.
We may yet be calling Super Mario a true champion come the end of the season.