Alabama Football: 10 Things to Expect for the A-Day Spring Game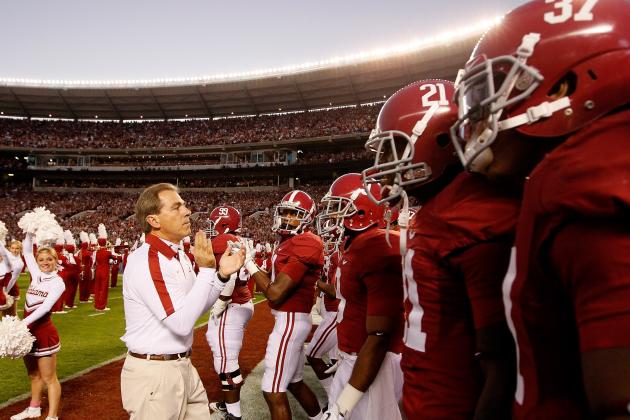 Kevin C. Cox/Getty Images

The defending national champions will soon take the field and try to defend their title. It may only be spring practice, but it's the start for preparing for the season. The spring game will take place on April 14 and is a chance for every player to prove themselves in a game like atmosphere what they're capable of.
The Crimson Tide return a total of 12 starters, including seven on the offensive side of the ball. But of course there are serious questions that remain before we can peg this team as the favorites heading into the year.
Here are 10 things to expect for the Alabama Crimson Tide's spring game.
Begin Slideshow

»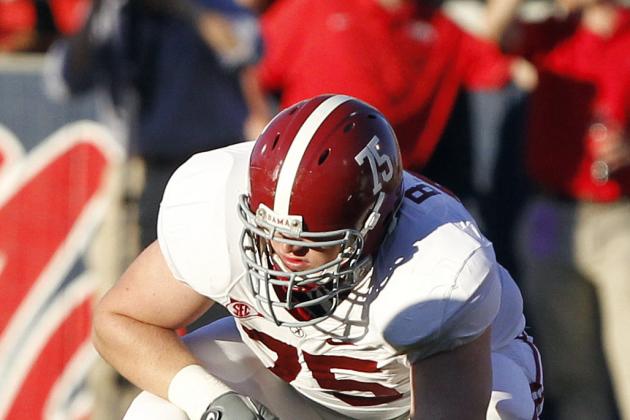 Butch Dill/Getty Images

Senior offensive lineman Barrett Jones has played numerous positions throughout his Alabama career. He played the right guard position, and Alabama went undefeated. Last season he switched over to left tackle and helped lead the Crimson Tide to another national championship. This season Nick Saban and company hope the switching pays off as he'll end up playing center this year.
"He's learning. He's never done it before. He gets mad sometimes if things aren't perfect, but there are going to be some speed bumps along the way," quarterback AJ McCarron said according to ESPN. "He's gotten a lot better since we started. Knowing him, he's going to continue to get better. I'm not worried about him at all."
Jones has done well throughout spring practice at his new position, and if the quarterback isn't worried about the new center, we shouldn't be either. After all, we're not the ones that will have 300-pound men chasing us.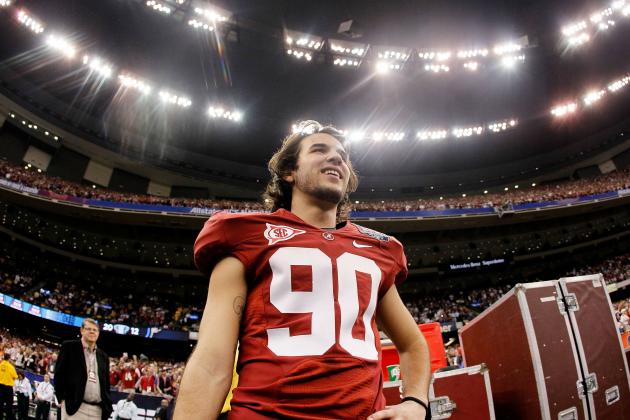 Kevin C. Cox/Getty Images

We all know how important the kicking game is, especially last season when it cost the Tide a perfect season and almost a chance to appear in the national championship game. Both Jeremy Shelley and Cade Foster have been much more accurate with their kicks in the scrimmages and are building much important confidence.
In a recent scrimmage, Shelley was a perfect 4-4, while Foster made 3-4 and the one he missed was blocked by 50-plus yards away.
With Shelley only making 77 percent of his field goals and year ago and Foster making a terrible 22 percent, this is without question one of the areas Alabama must improve in. If the spring is any indication of how the season is going to go, you should expect a better year in the special teams department.
Greg McWilliams/Getty Images

Josh Chapman is no longer on the roster for Alabama, which means that there is an open competition for the nose guard position. Senior Jesse Williams has switched from the defensive end position to try and fill the spot and is doing a great job early on in the spring. But with last year's reserves Brandon Ivory and Wilson Love returning, you now have a three-man race for the position.
"We're not disappointed with the progress they're making, but they're probably not quite ready from a consistency standpoint which we'll continue to work on," head coach Nick Saban said, according to The Columbus Ledger Enquirer.
Expect this battle to continue into the fall as it's pretty obvious Saban and company need more time to determine who the right man for the job is.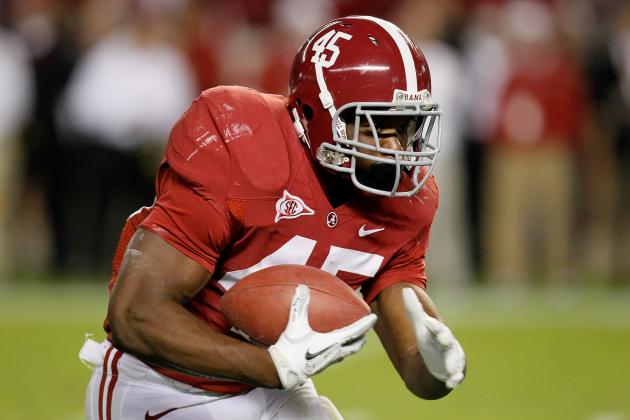 Kevin C. Cox/Getty Images

With the backfield all banged up and Eddie Lacy missing the entire spring with an injury, it opens the door up for somebody like Jalston Fowler. The junior running back is built more like a fullback at 6'1", 246 pounds and is really proving that he can take advantage of his size.
"If you're a power pitcher and you get 26 outs throwing fastballs, you ought not lose the game in the bottom of the ninth throwing a changeup," head coach Nick Saban said, according to The Montgomery Advertiser. "That's what I think. Jalston Fowler is what he is. He's a big guy who's hard to tackle and people don't like to tackle him."
Fowler only touched the ball 56 times last season, but averaged nearly seven yards a carry. In a recent scrimmage he touched the ball 22 times and ran for 151 yards and three scores. With this type of production, he may end up making a case for a little bit more than a closer role.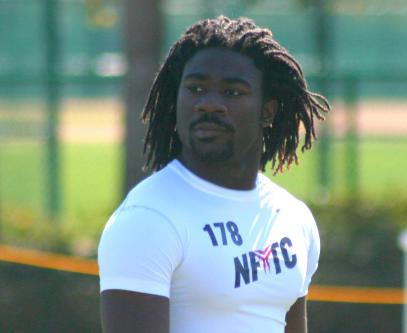 orlandosentinel.com
While we're on the subject of running backs, Dee Hart is somebody who could make some noise as well. With so many power and physical backs, Hart would really be a nice change of pace. He really put on a show last spring before tearing his ACL and missing the entire regular season.
Hart was a 4-star recruit in the 2011 class, and it's simply because the guy knows how to make plays. He has game-changing speed, great hands and is a threat to take it the distance every time he touches the football. Don't be surprised if he ends up jumping T.J. Yeldon on that depth chart and becomes the X-factor to this Alabama offense.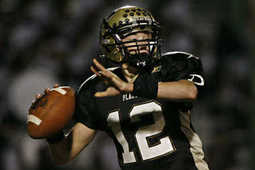 al.com
For the most part we know what AJ McCarron can do. Although I'd like to see him play this season with a little more consistency, we know that he's the best quarterback on the roster and will be the starter come September. Backup quarterback Phillip Sims has continued to experience shoulder pain and may end up missing the spring game all together.
This opens the door for red-shirt freshman Phillip Ely, who may end up getting majority of the reps this weekend. He's a former 3-star recruit out of Tampa, FL and has great leadership and throws the ball with solid accuracy. Although he is a small quarterback at 6'1", 190 pounds and doesn't quite have the arm strength that many would like.
Overall we may end up seeing the third-string quarterback a lot in the spring game, which at the very least can't hurt as we'll get to see a sneak peak of what the young man is capable of.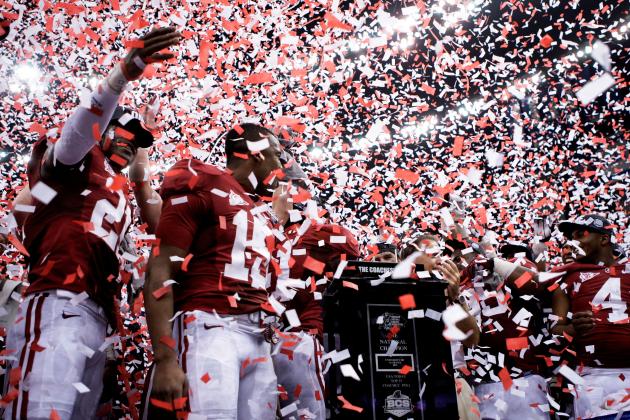 Andy Lyons/Getty Images

Alabama won the national championship in 2009, but in 2010 they lost three games as they tried to repeat. Although they're fresh off another national championship, the failure to repeat back then has given them motivation to get the job done this season.
"The standard," senior safety Robert Lester said, via al.com. "We want to keep the standard. We have a lot of high expectations from last year's team. Defensive-wise, we were No. 1 in a lot of areas, and we don't want to slack off. If you want to come in and play on this defense, you have to pick up the slack were we left off. You have to contribute."
Although a lot of starters from a year ago are no longer on the roster, this is still a proud football team that has the same goals they had last season. It may just be the spring game, but it's the first step in preparing for a national championship. Don't expect to see an unmotivated team come Saturday.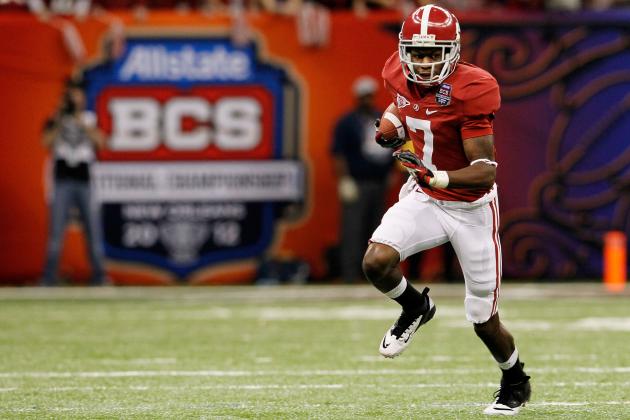 Kevin C. Cox/Getty Images

Kenny Bell hasn't exactly been as productive as a normal receiver who is 6'1", with fantastic speed would be. In his first two seasons he's caught a total of 19 passes for 281 yards and two touchdowns. In spring practice this season he's really stepping up and playing like the playmaker we all knew he could be.
"Kenny Bell is having a really good spring," Alabama coach Nick Saban said, according to The Dothan Eagle. "… He's probably been the most consistent guy making plays."
Bell is making big play after big play in practice and caught three passes for a total of 68 yards and a touchdown in a recent scrimmage game. Many believe Bell is going to be a starter for Alabama this season, but regardless, expect him to be a game-changing receiver with Alabama losing so many players on that side of the ball.
Mike Zarrilli/Getty Images

Alabama only returns five starters on the defensive side of the ball which means there are a lot of holes to fill. Mainly in the secondary as safety Robert Lester is the only starter returning. There are a ton of players that will be competing for a safety position, corners and even nickel.
Players like Dee Milliner, John Fulton, Ha'Sean Clinton-Dix, Deion Belue and even JUCO transfer Travell Dixon will all be given a look. Vinnie Sunseri has also had a terrific spring and may also be considered for a starting role in the secondary. Although with so many positions to fill and many talented players, this looks like a battle that will last well into the fall.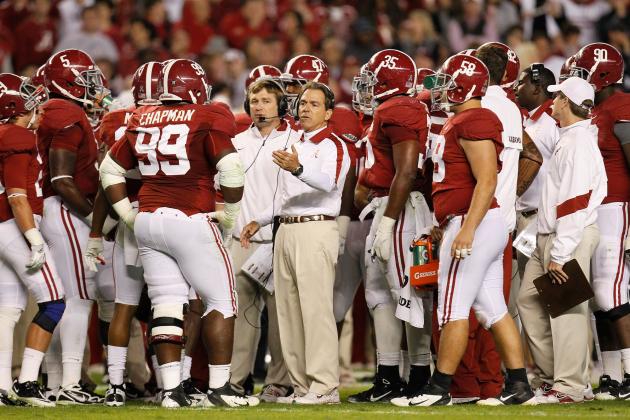 Kevin C. Cox/Getty Images

There are a few teams that can turn a spring game into a fierce competition all the way around and actually have you interested in the game. Alabama is one of those teams simply because of the depth they have on both sides of the ball. There are tons of players on this roster that were highly recruited and they all want to move up that depth chart.
I'm not sure we'll get many answers in the spring game, but I do know we should expect a great overall game with a lot of competing. These are the defending national champions after all, and they should provide one of the better spring games of the weekend.