Tito Ortiz Retirement Confirmation and Reflection Suggests New Era for the UFC
April 12, 2012

With Tito Ortiz's recent confirmation of his retirement from UFC, his leaving marks the exit of what UFC once was. His parting thoughts, however, open the floor for discussion about what it is becoming.
In an interview with Fighters Only, Ortiz confirmed what we all knew—that his upcoming fight against Forrest Griffin will be his last. He also took the opportunity to look back at his place as one of the founding fighters of the UFC.
"I am very thankful, when I look at my career, and I want to leave on my own terms. I am very happy with it; I want it to inspire people who have normal nine-to-five jobs, that they can achieve anything in this sport. I am proof of it."
Much of this career revolved around the persona of Ortiz as much as, if not more than, it did the fighter. His legacy had been established long ago, but since his last title shot against Chuck Liddell at UFC 66 in 2006, Ortiz has been 1-5-1. As he prepares for UFC 148, many fans appear hesitantly enthused about the fight as an event; however, nearly all seem eager to respect the fighter's last return to the ring as a tribute to his role in popularizing the UFC, especially as he fights the also-respected Griffin.
But when asked about how the UFC has changed since Ortiz's golden years, the fighter with a notorious past addressed how fighters' presences are obscured by the UFC.
"I think the brand of the UFC has taken over everything. Each one of these fighters, they come in and they fight and that's all they care about. They don't care about making a brand of their names and I think they should focus on that. Don't say no to interviews, go out and do as much PR as you can."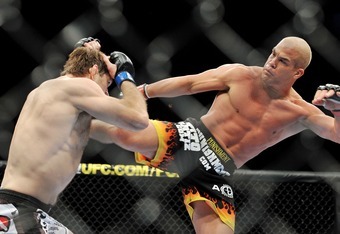 Jon Kopaloff/Getty Images
He followed with advice that reminds us of his polarizing figure. "Part of doing that is saying what is on your mind, saying the truth—like I was doing for the last 15 years."
Ortiz refers to a time when fighters were more important than the organization in which they fought. Fighters like Ortiz, including Ken Shamrock, Mark Coleman, Chuck Liddell and others, fought when the sport itself struggled to establish its identity. It pressed on against social and political pressure, but growth remained slow, especially in the U.S.
Like Ortiz, these fighters knew their careers depended on branding themselves as fighters, athletes and entertainers. A perfect example includes Ortiz, who defeated Guy Mezger of Ken Shamrock's training camp, Lion's Den, at UFC 19.  Ortiz subsequently began a war of words by mocking Mezger and publicly insulting Shamrock's esteemed camp. Shamrock responded indignantly, and their verbal rivalry grew enough to eventually gain the attention of USA Today and ESPN.
To completely capitalize on this, the two fought at UFC 40 where Ortiz defeated Shamrock by TKO. The event brought in 150,000 viewers via pay-per-view—more than three times the average number of buyers of UFC 34-39, according to Yahoo! Sports. Numbers like these are still telling when considering the importance of fighters' branding and out-of-ring charisma as the UFC developed.
In the same interview, though, Ortiz demonstrates—almost antithetically—why this is changing in response to a question about Dana White's influence as president of the UFC.
"I think Dana is made for this type of business, spreading the word of what UFC is about. It had that image of being a barbaric sport, two men enter one man leaves, but that image is long gone and now it is all about athletes, competing against each other to see who the best athlete is. Dana has worked hard to achieve that."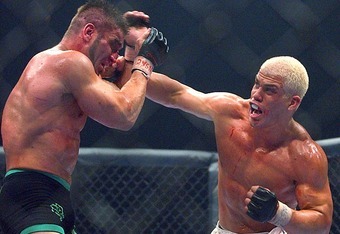 Arguably, White has worked to brand the fighters as much as the fighters have for themselves. The upcoming fight between Jon Jones and Rashad Evans at UFC 145 is the most recent example. The rivalry grows in its ubiquitous presence and breeds excitement as a result. Like Ortiz vs. Shamrock at UFC 40, there is no doubt that Jones vs. Evans will draw more than a few first-time viewers.
There is something about these personal rivalries that sparks interest in any sport. I'd even say it's more likely in a fighting sport, for as long as there has been fighting there has been enmity (in the case of development in social history, it's more likely that enmity came first).
But Jones vs. Evans is more than a simple rivalry—it's an opportunity to develop the sport as something worth watching for a greater public sphere.
As more fans consider the hype surrounding Jones vs. Evans overdone, manufactured or tired, there is indication that MMA as brought to you by the UFC will brand its fighters less as charismatic entertainers and more as athletes. This shift doesn't deny these athletes charisma, for, like all celebrities, a cult of personality is sure to remain attached to the public position.
The smartest way to control this presence for any athlete is, of course, branding.
All of this isn't to say that fighters shouldn't make a brand of their names. Many athletes have done this alongside their host organization and have done it well. Nevertheless, both organization and athlete have more opportunity to expand their brand if the target identity is similar for both. But, if White has changed the UFC's target to become a competition between athletes as Ortiz mentioned, its identity must move away from hosting brands like Ortiz's infamous persona (or, as a more current example, Rampage Jackson's) and more toward those of athletes marked uniquely by their performance.
Furthermore, unlike Ortiz's argument that fighters should collect any available PR and always say what's on their minds, a more controlled branding could help promote the sport as sport entertainment and not merely entertainment. This can allow more opportunity for fighters in their branding capabilities and, perhaps more importantly, allow the UFC greater eminence as a sports organization.