NHL Playoffs 2012: Vancouver Canucks vs Los Angeles Kings Series Preview
April 12, 2012

Rich Lam/Getty Images
Although it is a No. 1 vs No. 8 first round matchup, NHL fans know that nothing is guaranteed when the NHL playoffs roll around. This is one of the best parts of the NHL playoffs. In the NBA, a No. 1 seed would steamroll a No. 8 seed, but that is not necessarily the case in the NHL, and it certainly will not be the case between the Canucks and the Kings.
While the Canucks are being heavily favored by many coming into this series, there are many out there who will tell you that the Kings could definitely pull off the first round upset. Behind their strong goaltending, Los Angeles will definitely have a chance to beat the Western Conference favorites.
Here is a breakdown of the Western Conference Quarterfinal matchup between the Vancouver Canucks and the Los Angeles Kings.
Season series: Canucks win, 2-1-1
Nov 10: Canucks 3, at Kings 2
Dec. 31: Canucks 1 at Kings 4 
Jan. 17: Kings 3 at Canucks 2 (SO)
March 26: Kings 0 at Canucks 1
Playoff Schedule
 




GAME 1 at VAN, April 11, 10:30, NBC Sports Net
GAME 2 at VAN, April 13, 10, NBC Sports Net.
GAME 3 at LA, April 15, 10:30, NBC Sports Net.
GAME 4 at LA, April 18, 10, NBC Sports Net.
GAME 5 at VAN, April 22*, TBD
GAME 6 at LA, April 24*, TBD
GAME 7 at VAN, April 26*, TBD
*if necessary, all times Eastern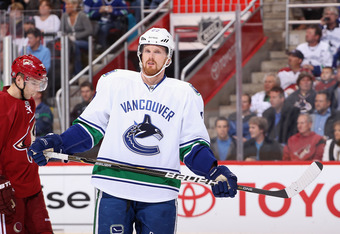 Christian Petersen/Getty Images
Key Injuries
Vancouver- LW Daniel Sedin (concussion, day to day)
Los Angeles- LW Simon Gagne (concussion, indefinite), C Jeff Carter (ankle, expected to play), C Brad Richardson (appendectomy, indefinite)
Preview
When trying to pull off such a big upset, everything has to start well on the defensive end. For Los Angeles, it can not get much better defensively than with goaltender Jonathan Quick. This season, Quick posted unbelievable numbers at the goalie position, as he only allowed 1.95 GAA and posted a 92.9 percent save percentage.
Because of Quick's outstanding numbers, the Kings are one of the best defensive teams in the NHL. They rank second in goals against per game with 2.1. The problem for Los Angeles comes in on the offensive end though. The Kings are 29th in the NHL in goals scored per game with only 2.3.
On the other side of the ice, Vancouver is great at just about everything. The Canucks are ranked fifth in goals scored per game with 2.9, they are ranked fourth in goals against per game with 2.3, they are ranked fourth on the power play at 19.8 percent and they are ranked sixth on the penalty kill at 86.0 percent.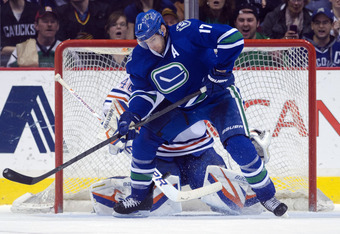 Rich Lam/Getty Images
There is only one way to describe the Vancouver Canucks: an all around great team.
Los Angeles was able to steal away two of the four games from Vancouver during the regular season, and I suspect they can get a couple from Vancouver in the playoffs, but there is just not enough goal scoring to take the whole series. Los Angeles will need some players to step up and score some big goals for them if they want to have any chance at winning this series. They will also need Quick to play some of the most amazing games of his life, if they want to win.
For Vancouver, it is all about maintaining the success. They just need to keep doing what they have been doing and they will be just fine in this series.
Here now is a look at the X-Factor for each team to have success in this series.
X-Factor for the Canucks: Ryan Kesler
All really good teams have great players such as the Canucks do with the Sedin twins. The really great teams though have players like Ryan Kesler.
Kesler is not one of the first names that comes to mind when you think of the Vancouver Canucks, but that does not matter, because he is one of the most important. Kesler scored 22 goals for Vancouver this year and added 27 assists to go with that.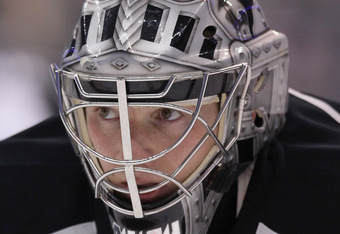 Jeff Gross/Getty Images
The Canucks posted a record of 16-3-2 in games where Kesler scored, which just shows how important he is to this team. When he gets going, the Canucks are the most dangerous team in the NHL, and they will be nearly impossible for a team to beat in a seven game playoff series.
X-Factor for the Kings: Jonathan Quick
It will obviously be vital for Anze Kopitar to lead the Kings with a big offensive series, but the biggest factor for the Kings is Quick. He has to be amazing for the Kings to win this series. The goals from the Kings offense will certainly be a necessity, but even if the offense gets going that does not guarantee them a victory.
If the Kings win this series it will be because of Quick. They can not get into a high scoring affair and expect to win. They have to be amazing defensively.
Quick posted 10 shutouts during the regular season, and they are going to need a few more of those from him if the Kings want to pull off the upset.
If a few goals find their way into the net for Los Angeles, Quick might just be able to pull off enough saves for Los Angeles to pull this series out.
Final Line
The Los Angeles Kings are great in one aspect of the game: defense. Unfortunately for them, the Vancouver Canucks are great in all aspects of the game.
Although a lot of people are smelling a potential upset here, I just do not see it happening. The Kings will certainly put up a major fight, but in the end they just do not have enough to knock out the defending Western Conference Champions.
Prediction: Canucks in six games