Fantasy Baseball Waiver Wire: 10 Scalding Starts You Should Ignore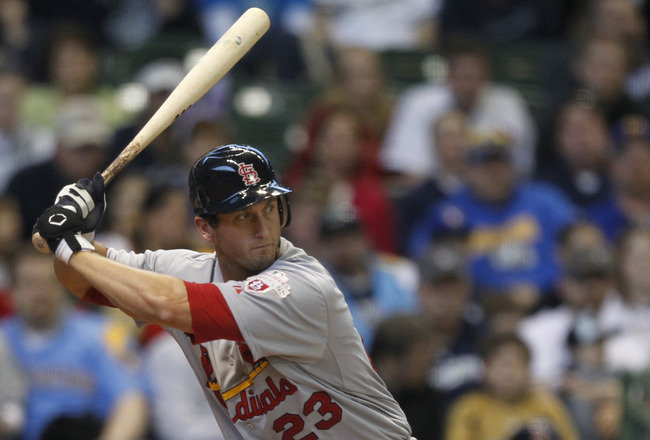 Jeffrey Phelps/Getty Images
I've learned over the years that there are a few truths to fantasy baseball within the first week.
Truth one: If your team is struggling within week one, it's almost impossible not to hit the panic button.
Truth two: If someone is having a hot start, it's almost impossible to not pick them up.
When combined, these can kill your fantasy baseball season. Panicking over your team, in week one, can cause you to sacrifice player value in order to pick up the flavor of the week.
Here's a list of 10 players to watch out for if you're hitting the fantasy panic button.
Yadier Molina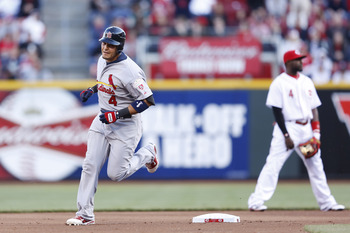 Joe Robbins/Getty Images
Stats So Far: .350/.409/.850, 4 R, 2 HR, 4 RBI, 0 SB
Molina's average has always been in fluctuation. He's not going to hit .350 for the season, but I can buy a .300 season from him. What I can't buy is the power.
His 14 home runs in 2011 was a career high, but right now he looks like he could hit 25 to 30. Don't buy it.

Adam LaRoche
Jonathan Daniel/Getty Images
Stats So Far: .400/.455/.750, 3 R, 2 HR, 6 RBI, 0 SB
After nine seasons I know Adam LaRoche, and this is not Adam LaRoche. The high average is not sustainable, and the early power surge seems unrealistic as well.
What is believable, the eight-to-two K/BB ratio.
Omar Infante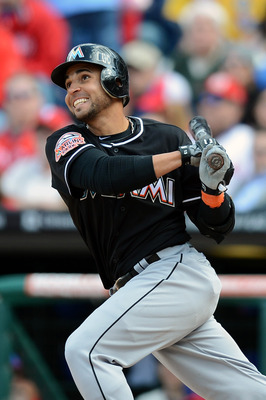 Drew Hallowell/Getty Images
Stats So Far: .333/.368/1.000, 5 R, 3 HR, 4 RBI, 0 SB
Just like Adam LaRoche, after his long career we know Omar Infante. Here's a player who could hit .300, but the three home runs seem ridiculous. Infante's career high was 16 bombs, all the way back in 2004.

Zack Cozart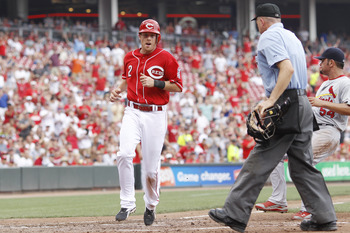 Joe Robbins/Getty Images
Stats So Far: .471/.550/1.000, 5 R, 1 HR, 2 RBI, 0 SB
Zack Cozart is a young stud with upside. Though he could hit .280 to .300 some day, it's foolish to think he could sustain such production as a rookie.
Follow Cozart throughout the season, but don't expect a rookie of the year candidate.

David Freese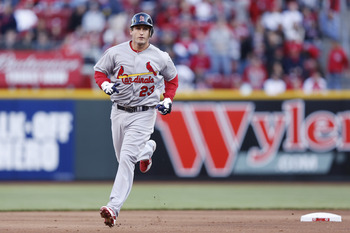 Joe Robbins/Getty Images
Stats So Far: .444/.464/.778, 5 R, 3 HR, 10 RBI, 0 SB
I've got a feeling I'll catch a lot of flack for this one. Freese is a good young player, and I'd even go as far as saying he could win a batting title.
However, the three home runs is not a sustainable pace. Freese has power that will probably top out around 20, not 40, home runs.
Ichiro Suzuki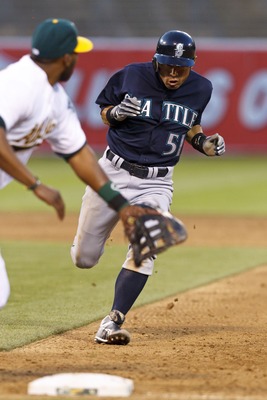 Jason O. Watson/Getty Images
Stats So Far: .360/.393/.480, 4 R, 0 HR, 3 RBI, 1 SB
Ichiro appears on the verge of a bounce back. The hits are coming in, and we'll have to wait and see if that's sustainable.
The thing that scares me is Suzuki hitting third in the M's lineup. Despite his nine hits, the usually speedy Ichiro only has three RBI and one stolen base. Those are the stats to watch moving forward with the outfielder.
Austin Jackson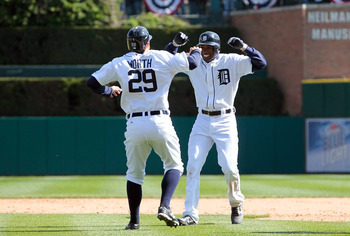 Leon Halip/Getty Images
Stats So Far: .563/.650/1.000, 7 R, 1 HR, 3 RBI, 0 SB
Just like Freese and Cozart, Austin Jackson is another young player with potential, but not as much as he's showing early on in the season.
The only believable things about Jackson's season are his seven runs from being on top of that stack Detroit lineup.
Carlos Lee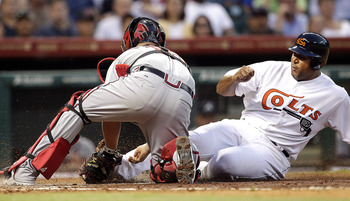 Bob Levey/Getty Images
Stats So Far: .389/.476/.611, 1 R, 1 HR, 6 RBI, 0 SB
Don't be fooled. Carlos Lee is a 36-year-old veteran who has shown two solid seasons of decline. Do not buy into anything about his stats.

Chad Billingsley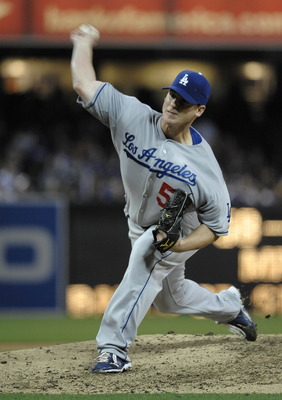 Denis Poroy/Getty Images
Stats So Far: 1-0, 0.00 ERA, 8.1 IP, 11 SO, 0.480 WHIP
Chad Billingsley used to be a solid prospect, but outside of a spectacular 2008, he's been mediocre in his career. The 11 Ks in his first start is particularly untrustworthy.

Billingsley could offer some upside this season, but don't expect an ace.
Frank Francisco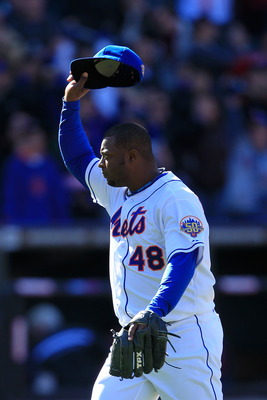 Chris Trotman/Getty Images
Stats So Far: 0-0, 0.00 ERA, 3 SV, 3.0 IP, 4 SO, 0.667 WHIP
The Mets alone have had an untrustworthy hot start, let alone their closer Frank Francisco. A WHIP under 1.00, and massive amounts of saves, should not be counted on from this guy.

Keep Reading