NHL Playoffs 2012: What the Season Series Between Penguins and Flyers Has Shown
April 12, 2012

Justin K. Aller/Getty Images
Introduction
There will be no love lost in the 2012 NHL Playoffs Eastern Conference first round matchup between the No. 4 seed Pittsburgh Penguins (51-25-6, 108 points) and the No. 5 seed Philadelphia Flyers (47-26-9, 103 points). Anyone that knows hockey knows such.
But what did we learn from the six regular season games between these two in The Battle of Pennsylvania?
Let's examine...
There is no real home-ice advantage
It's pretty simple. Over the past two seasons, Philadelphia has won in Pittsburgh, and Pittsburgh has won in Philadelphia, so neither team has a distinguishable edge in this series in terms of a home-ice advantage.
The Flyers went 2-1-0 this year and a perfect 3-0 last season (5-1-0 over last two seasons) at The Steel City's new CONSOL Energy Center, the lone loss coming last Saturday in the regular season finale with neither team really caring that much about a win with playoff seeding already determined.
The Penguins went 1-2-0 this season and 2-1-0 last year (3-3 over last two seasons) at the Wells Fargo Center in the City of Brotherly Love, but these statistics can be deemed somewhat worthless because Pittsburgh's Sidney Crosby was injured or out for a majority of those meetings.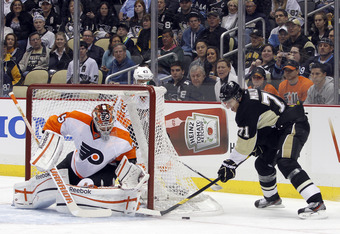 Justin K. Aller/Getty Images
This series should be very high-scoring
In the six games these two heated rivals played this season there were a total of 42 goals, or a gaudy average of seven goals per contest.
The Flyers outscored Penguins, 22-20 (3.67-3.33 GPG) in those six skates which included two 10-goal games and no shutouts.
With Philadelphia's Claude Giroux notching career highs in points (93)—the most for the Flyers since Eric Lindros hit that mark in 1998-99—goals (28) and assists (65) and the Penguins Evgeni Malkin scoring a career-high 50 goals and registering an NHL-high 109 points, it's no wonder it's no fun to be a goalie in this traditionally high-scoring match-up.
The Penguins need to score on the power plays
Pittsburgh went just 3-for-22 (14 percent) on the power play in the six regular season meeting with its Keystone state rivals and went three of those games without even scoring with at least a one-man advantage.
Philadelphia made much better use of its power play chances, going 6-29 (21 percent) and scoring exactly one power play goal in every game against the Penguins, a big reason it again won the season series.
The Flyers Jaromir Jagr still has it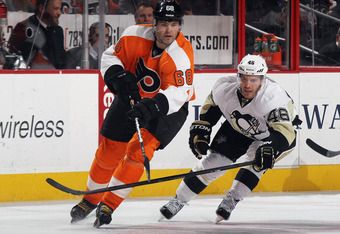 Bruce Bennett/Getty Images
The famous former linemate of the great Mario Lemieux, the now 40-year-old Jaromir Jagr returned to play in the NHL—and said Wednesday he will return for another year—this season and proved he can still get it done on the ice.
In six games against his former team, Jagr tallied four goals and had one assist and snapped a personal 15-game scoring drought last Saturday in Pittsburgh with one of those goals.
And for all the critics that said Jagr was too old to still be productive, well, you were dead wrong. This Czech still has game.
The Penguins need a healthy Sidney Crosby
It's like saying a plant need water: the Penguins need a healthy Sidney Crosby to be at their best, especially against a team as physical and competitive as the Flyers.
"Sid the Kid" played in the Penguins last three meetings with Philadelphia since returning on March 15 and without him his team would be hard-pressed to advance to the next round of the playoffs against such a tough team.
Crosby's appearance in Wednesday's Game 1 was his first in a playoff game since May 12, 2010, something the rest of the teams in the league gladly welcomed considering most experts tab Crosby as the best player in all of hockey.
In the end, either team can win
Despite its success over Pittsburgh over the last two regular seasons, Philadelphia knows better than to think it has the Penguins number this postseason and all bets are off in this series which is must-watch television.
In the end, the team that plays the most consistent hockey, remains injury-free and makes the least mistakes will end up moving on to the next round of the Eastern Conference playoffs and no one would be surprised if this series went the full seven games.
Either team can win this series, in which Pittsburgh opened up as a -190 favorite (Flyers +170) at the LVH SuperBook here in Las Vegas, and both teams and true blue hockey fans know it.

> Follow me on Twitter @KevinStott11.