New York Knicks: Keys to Postseason Success for Carmelo Anthony and Company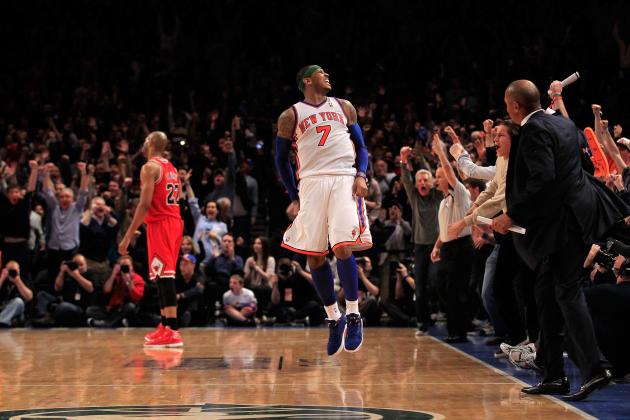 Chris Trotman/Getty Images

The Knicks are going to make the playoffs. There, I said it.
New York has not yet clinched a playoff berth, but as the saying goes, always look ahead, never behind.
The Knicks are currently latched on to the Eastern Conference's eighth and final playoff seed, and while they have shown some promise over the past 16 games, succeeding in the postseason is far from guaranteed.
That said, it's not out of the question, either.
Begin Slideshow

»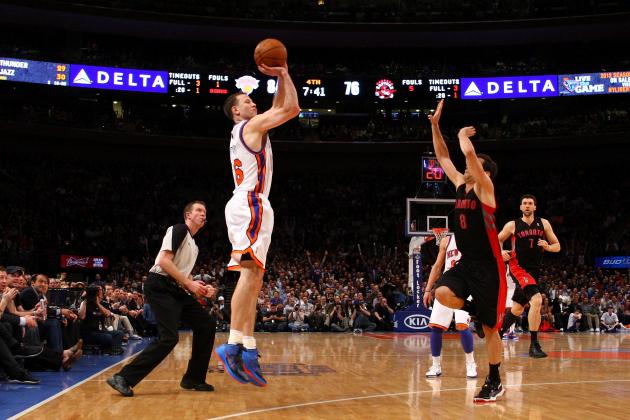 Chris Chambers/Getty Images

The Knicks are 26th in the NBA in three-point shooting, converting on just 31.9 percent of their attempts.
That's correct, the team with the league's most efficient three-point shooter (Steve Novak) is in the bottom five in three-point accuracy.
Aside from Novak, there isn't a single player for the Knicks who is averaging above 33 percent from downtown.
New York has the necessary talent to make a playoff run, but their accuracy from long range is crucial to that aspiration.
The Knicks need J.R. Smith, Baron Davis, Landry Fields and Carmelo Anthony to knock down threes. It forces defenses out of zone coverage, creates opportunities in the paint and most importantly, it sets the stage for an impressive playoff push.
Chris Chambers/Getty Images

There are only five players on the Knicks roster who are grabbing more than five boards per game, and one of them is currently watching from the sidelines.
New York is 17th in the league in rebounding, pulling down just under 43 per contest. And while the Knicks have remained a part of the playoff picture despite poor execution on the glass, they're fooling themselves if they believe that will fly when the postseason begins.
Tyson Chandler cannot be the sole body boxing out down low. It allows opposing offenses far too many opportunities to grab their own rebound, and has put the Knicks at a disadvantage in the second-chance points department.
However, if New York can put some additional bodies under the basket, the prospect of advancing deeper into the playoffs becomes greater.
Photo courtesy of knicksbricks.com.
Baron Davis and J.R. Smith are two players who have shown they can help the Knicks win games, but much too frequently, they've also shown how detrimental their unwarranted tendencies can be.
Both Davis and Smith are shooting under 38 percent from the field, and neither is converting on more than 30 percent of their three-point attempts.
They have both struggled to find their offense and subsequently have let that carry over to the defensive end on numerous occasions. And New York must keep their negative impact to a minimum.
Smith will have a green light no matter how poorly he is shooting, but the moment he starts to go south of south, Mike Woodson has to take him out or talk him off the ledge that is his field-goal percentage.
As for Davis, he must be reminded that his primary job is facilitate. His ill-thought fall-aways and lapses in judgement in transition are shortcomings he has to mitigate.
No one player on the Knicks is perfect, and Smith and Davis can be two of the team's biggest catalysts, but they're also their own worst enemies.
For the sake of New York's postseason experience, that tendency must be locked down.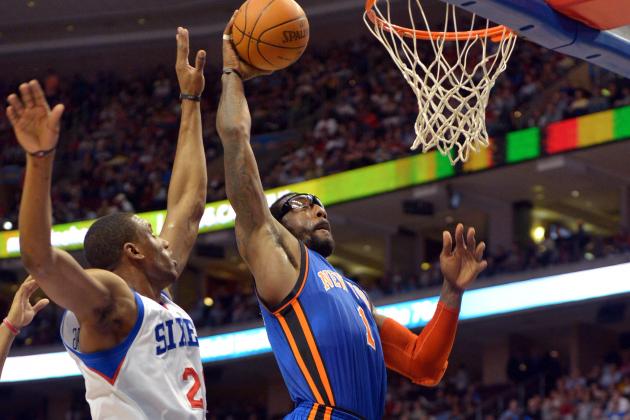 Drew Hallowell/Getty Images

Amar'e Stoudemire has been plagued by injuries his entire career, but he's a gamer, and not about to stand idly by as the team he helped resurrect plays out their postseason fate.
However, it would be ignorant to suggest that his return doesn't present somewhat of a predicament on the offensive end. Carmelo Anthony is averaging nearly 30 points per game since Stoudemire's trip to the sidelines, having found his comfort zone on offense.
So, how do the Knicks ensure that Stoudemire is given ample opportunity to be effective without disrupting Anthony's new-found continuity?
Pick-and-rolls between the two. They allow Stoudemire the opportunity to feast off the mid-range jumpers he has made a career out of, while also giving Anthony a chance to get to the rim, something he has been doing a lot lately.
Anthony has developed a penchant for passing and scoring. Running pick-and-rolls with Stoudemire keeps the ball in his hands and his options open—a reality he has thrived within.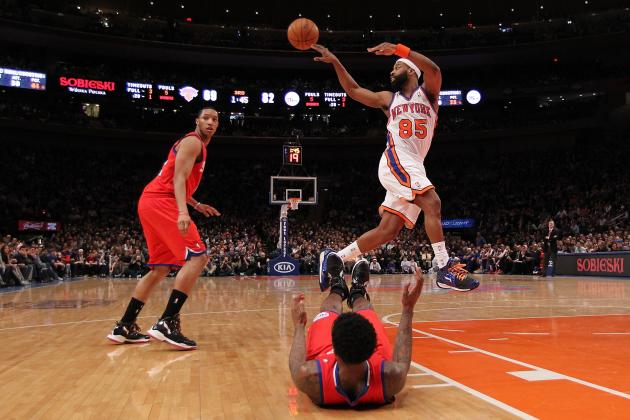 Nick Laham/Getty Images

Ball movement. It's a simple concept and one that comes naturally to the Knicks, yet they fail to take advantage of it for a full 48 minutes.
What has allowed the Knicks to jump out to large leads early in the game against teams like the Pacers, Bucks and Bulls?
Exactly.
New York thrives when the ball is being shared and the defense is forced to constantly shift.
That said, the team has a tendency to revert back to the overuse of isolations and one-on-ones in the second half. Not only does that take precious time off the clock, but it's predictable and allows the opposition to get in a defensive groove.
Again, it's simple; if the Knicks keep the ball moving all game, the wins will keep coming, even in the playoffs.
Chris Chambers/Getty Images

Not only has Carmelo Anthony put up 30 points per game since Amar'e Stoudemire was forced to the bench, but he's done so shooting just about 50 percent from the field.
The small forward is firing and hitting on all cylinders. He's gotten to the rim and both his high-post and long-range jumpers continue to fall.
For the Knicks to be successful in the postseason, the rejuvenated Anthony cannot disappear. He's scoring more because he has become a threat to pass and made plays on the defensive end that have allowed him to finish in transition.
It took nearly two-thirds of the regular season for Anthony to establish an identity within the Knicks' unselfish dynamic, and now that he's found it, he must ensure he never lets it go.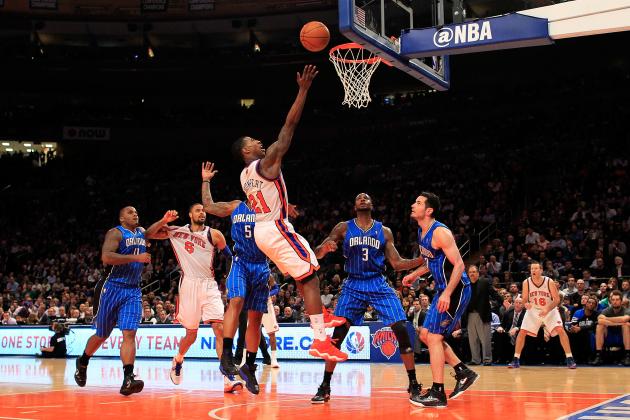 Chris Trotman/Getty Images

What makes Jeremy Lin so effective? Is it the heartwarming backstory? The offensive system instituted by Mike D'Antoni? Or perhaps, his previous sleeping arrangements?
While they may all play a role in the player he has become, it's his dribble penetration that helped the Knicks flourish after months of perishing.
Dribble penetration keeps opposing defenses on their toes. It forces the opposition to shift their focus inside, creating defensive lapses on the perimeter; it increases free-throw attempts and, most importantly, it can result in easy finishes at the basket.
Lin understands this, and the rest of the Knicks must follow suit in his absence.
Baron Davis broaches heroism when he gets to the rim or engages in the ever-effective drive-and-kick, but he doesn't do it nearly enough. And neither does J.R. Smith, Iman Shumpert or Toney Douglas. Even Carmelo Anthony could stand to deviate from his recently effective pull-up jumpers.
Plain and simple: Dribble penetration picks apart defenses while ensuring that higher-percentage scoring opportunities continue to present themselves.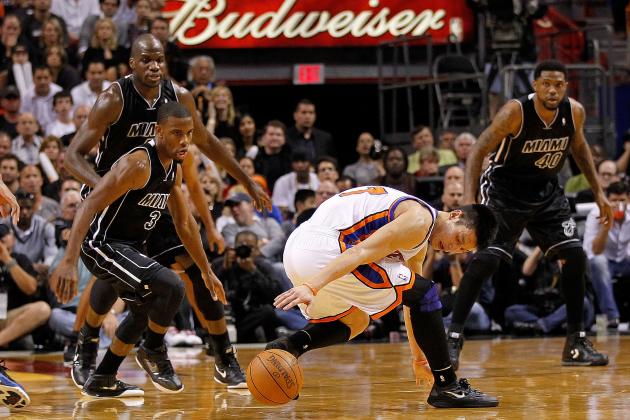 Mike Ehrmann/Getty Images

As it turns out, turnovers aren't just Jeremy Lin's Achilles' heel, but the entire Knicks team's.
New York is second in the league in turnovers committed behind the Thunder at over 16 per game. For the Knicks to make a serious postseason push, that number needs to plummet.
Come playoff time, the Knicks will be staring down the barrel of superior defenses. In fact, the NBA's top five defensive teams all hail from the Eastern Conference.
Uh oh.
No need for New York to panic, though. We've seen what they can do when they protect the ball—most recently in their overtime victory on Easter Sunday against the Bulls, where they had just nine.
Smarter decisions will lead to better ball protection. And better ball protection will lead to some highly sought-after playoff victories.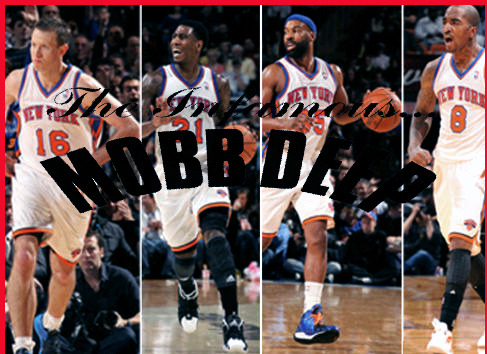 Photo courtesy of inflexwetrust.com.
Defense may win championships, but so does offense, and both are played by athletes other than the starters.
The Knicks' unusual bench concoction has emerged as one of the most deadly in the NBA. They thrive off hustle plays, get their hands dirty, provide instant energy and, most importantly, they often make us forget we aren't watching superstars.
Carmelo Anthony and Tyson Chandler will be vital to any postseason success the Knicks experience, as will Amar'e Stoudemire and Jeremy Lin upon their return.
However, as New York prepares to face the equally star-studded lineups boasted by the Bulls, Heat and Pacers, their second unit is what can give them a clear edge.
These guys play hard, and no, it's not always pretty, but it is effective.
And that's all that matters.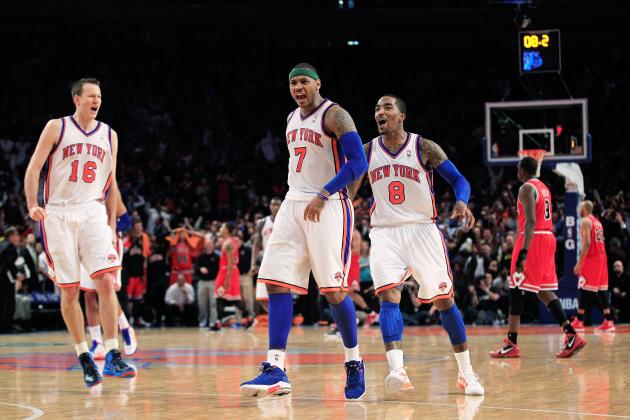 Chris Trotman/Getty Images

The Knicks have a tendency to start and/or end the game on fire. As for everything in between, though, that's been a crapshoot.
New York has fallen into second and third quarter lulls on an almost daily basis. Even when the game has playoff implications, as it did Wednesday night against the Bucks, the Knicks still fail to maintain that killer instinct all the way through.
Fourth quarter heroics have carried them this far, but if the Knicks continue to rely solely on their ability to play catch-up, hopes of making a deep playoff run will vanish.