Texas Longhorns Football: Is Mack Brown a Failure?
April 14, 2012

Jamie Squire/Getty Images
Calm down for a second.
Take a deep breath.
Before you make any comments that might compromise your character, let's sit back and have a discussion. 
I know, the unthinkable question has just been proposed: Is Mack Brown a failure?
Before we jump straight into the side against him, how about we take a look at the side supporting him?
Brown has a pretty good record of 141-39 at Texas, which comes out to a winning percentage of 78 percent. In fact, from 2001 to 2009, Brown did not have a season below 10 wins. Having been at Texas for 14 years, he is usually accredited with bringing the Longhorns back to relevance.
How did he do that? A National Championship, two Big XII titles and a 9-4 record in bowl games. He is also 3-1 in BCS games. One thing I cannot argue against is his efficiency in winning. For his ability to win, he was awarded the 2008 Bobby Dodd Coach of the Year. 
Reading some of this, it looks hard to attack this guy. After all, hasn't he basically done everything that should be required of him and then some?
Actually, no. Delving into these numbers and his history, his legacy gets knocked down off the pedestal a little.
Brown is usually commended for being a great recruiter. It is Texas, after all. There is certainly not a lack of talent in the state. The Longhorns also tend to be the ones who soak up all the recruiting.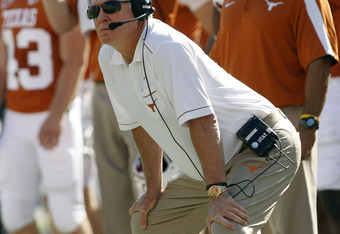 Erich Schlegel/Getty Images
Since 2002, Texas has always ranked in the top 25 for recruiting. Seven of those years, they have finished in the top 5. OK, he has great recruiting skills. But what has he done with all that talent? He has disappointed. 
For a team with so much talent, he should have at least won two national championships—or at least more than two Big XII titles. If you are bringing in the best talent in the best state for recruiting, you need to be able to carry a better resume. Brown has not.
I understand that teams have down years. It is something nobody can avoid. Brown doesn't tend to have many, but his team does seem to underachieve sometimes.
Brown has appeared in 13 bowl games in 14 years. He is 9-4 in those games. Sure, it looks good now, but once again, let's put this under the microscope.
Nine of those bowl games were less prestigious ones like the Holiday and Cotton, some of which he lost in. It is very frustrating for Longhorns fans to see their team go 10-3 or 11-2 and still not even make a BCS bowl. 
At first, I thought a response to my above assertion would be "The BCS system was and is broken!" which I could not disagree with. But then it hit me: Both times Texas went to the national championship, it had won its conference. Yes, that means it only won its conference twice in 14 years. While we hate the system, it isn't always wrong. That is the case with Texas.
Fans should have seen these troubles coming, though. One point people forget to touch on is that Brown is 9-17 against teams ranked in the Top 10. This does not bode well if you are a team trying to constantly be a title contender. That shows that Texas has trouble keeping up with the elite teams of the nation.
Another argument I hear in defense of Brown is that he isn't the sole guy to blame. I would have to agree with this, but it still doesn't help. A head coach needs to be effectively controlling his team, so going out and blaming assistant coaches and players for losing is sometimes justified, but not indicative of a very good head coach. 
Maybe I misled people with the title. He has had success and brought a lot to the Texas football program. That link above may be a little unfair to his personality, because he still does blame himself too. He is a good head coach; don't think I'm not saying that.
What I am saying is that Brown is a disappointment. Not a failure—a disappointment.
The amount that he has done is outweighed by the amount that he has missed out on. Expectations are high, and he does not always meet them.
In about five years, if he is not able to win a Big 12 championship or a national title, I think Texas releases Brown. 
Alright. Now you can bash me in the comments.