NHL Playoffs 2012: Pittsburgh Penguins vs Philadelphia Flyers Series Preview
April 11, 2012

Bruce Bennett/Getty Images
There is only one word that can be used to describe the rivalry between the Pittsburgh Penguins and Philadelphia Flyers—hate. They do not just dislike each other, they hate each other, and that is why this will be the best series of the first round of the NHL Playoffs.
Throughout the season series, the games were energetic, exciting and of course physical. And this playoff series will be much of the same.
Here is a breakdown of the Eastern Conference Quarterfinal matchup between the two hate filled rivals from Pennsylvania.
Season series: Flyers win, 4-2
Dec. 8: Penguins at Flyers 2-3
Dec. 29: Flyers at Penguins 4-2
Feb. 18: Penguins at Flyers 6-4
Mar. 18: Penguins at Flyers 2-3 (OT)
April 1: Flyers at Penguins 6-4
April 7: Flyers at Penguins 2-4
Playoff Schedule
 




GAME 1 at PIT, April 11, 7:30, NBC Sports Net.
GAME 2 at PIT, April 13, 7:30, NBC Sports Net.
GAME 3 at PHI, April 15, 3, NBC
GAME 4 at PHI, April 18, 7:30, NBC Sports Net.
GAME 5 at PIT, April 20*, 7:30, NBC Sports Net.
GAME 6 at PHI, April 22*, TBD
GAME 7 at PIT, April 24*, TBD
*if necessary, all times Eastern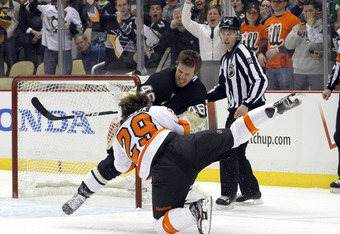 Justin K. Aller/Getty Images
Key Injuries
Philadelphia—D Chris Pronger (concussion, indefinite), D Andrej Meszaros (back, out for series), LW James van Riemsdyk (foot, out for series), C Daniel Briere (back, day to day), D Nicklas Grossman (lower body, expected to play).
Pittsburgh—None
Preview
This is hockey at its finest. A tough and gritty game that will push the physical and mental limit of each and every player involved.
Although it will be physical, do not get the mindset that this will be a defensive battle in which goals come at a premium. In fact, the Penguins ranked as the No. 1 goal scoring team in the NHL this year (3.3 goals per game), while the Flyers were No. 2 in the NHL this season (3.2 goals per game). Therefore, the series could see a lot of goal scoring in it, but if you do score the opposition will make sure your body pays the price.
Defensively, both teams are very similar. They each give up an average of 2.7 goals per game, which ranks near the middle of the NHL, and they also feature outstanding goaltending. Penguins goalie Marc-Andre Fleury had a 2.36 GAA this season with a 91.3 save percentage. On the other side, Flyers goalie Ilya Bryzgalov featured a 2.48 GAA this season with a 90.9 save percentage.
Of all the matchups this postseason, you can tell that this is one of the most even. These teams are both very similar in their style of play and their regular season series indicates this. The series will feature talent all over the ice, but I think that when two teams are so talented and so closely matched, it comes down to the X-Factors. Here are my biggest X-Factors for each team in this series.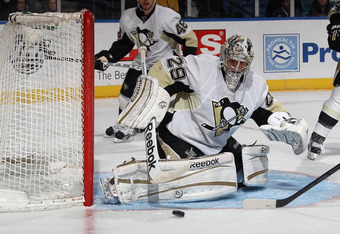 Bruce Bennett/Getty Images
X-Factor For the Penguins: Penalty Kill
You could definitely make an argument for Sidney Crosby being the biggest X-Factor in this series, but instead of telling you how great Crosby is, I am going to go a different route.
The Pittsburgh Penguins feature the fifth best power play in the NHL, while the Philadelphia Flyers feature the sixth best in the NHL. Once again, we see how even these two teams are. The difference though, comes in when we look at the penalty kill.
While the Philadelphia Flyers feature a penalty kill that is ranked at a mediocre seventeenth in the NHL, the Penguins feature a penalty kill that is ranked third in the NHL. In close games, it comes down to what team can capitalize the most on special teams. Which team can make the most out of their opponent's mistakes.
With the third best penalty kill unit in the NHL, I expect the Penguins to do a better job shutting down the Philadelphia power play, than the Flyers do in shutting down the Pittsburgh power play.
Ultimately, this will be the difference in the series,
X-Factor For the Flyers: Danny Briere
During the regular season, Danny Briere is a very good player. During the postseason, he is a great player. I am a big baseball fan, so I compare Briere to a Mr. October like player that you see in the MLB playoffs.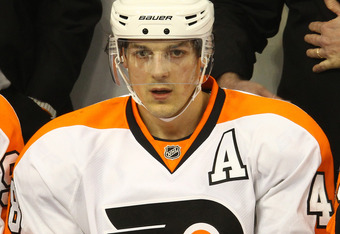 Tom Szczerbowski/Getty Images
In his 97 career playoff games, Briere has scored 96 points and 12 game winning goals. These are stats that are expected from superstars, and it seems that when the playoffs come around, Briere is ready and willing to fulfill that role for his team. 
This season, Briere scored 16 goals for the Flyers and added 33 assists along with that. While those numbers are very good, the Flyers will need that "great" effort from Briere in this series.
The biggest problem with Briere though, is that he is currently dealing with a back injury. He will suit up for Game One tonight against the Penguins, but whether he can be a major factor is unknown. Over the past two months of the season, Briere only has three goals, so whether or not he will be a major factor is a big question mark.
If Briere can step up big for the Flyers they will have a great shot at the series, but the big word there is "if."
Final Line
Like I have constantly been reverberating throughout this article, this is as close as a series can get. Two rivals who are extremely talented, extremely tough, extremely physical, hungry to win and filled with hate for the other will clash in a series that many are labeling an "Instant Classic."
This series has seven games written all over, and it will not disappoint. In the end though, the x-Factor for the Penguins will play a greater role than the x-Factor for the Flyers.
Prediction: Penguins in seven games