Kris Humphries: Grading the New Jersey Net and His Tumultuous Season
April 12, 2012

Chris Chambers/Getty Images
It turns out that Kim Kardashian's magical powers weren't the only reason for Kris Humphries much improved on-court play.
Before hooking up with Kim, Humphries was well on his way to an irrelevant NBA career after being selected 14th overall in the 2004 NBA draft.
But that all changed last season. With Kim at his side and a trade to the New Jersey Nets which resulted in more playing time, Humphries life on and off the court took a dramatic turn.
While Humphries showed he had major talent during his freshman year at the University of Minnesota, where he was named Big Ten Freshman of the Year and voted to the All-Big Ten First Team, his dominating college play did not translate early on in the NBA.
In his first six seasons, Humphries played two years for the Utah Jazz, three years for the Toronto Raptors, and split time in his sixth year with the Dallas Mavericks and Nets.
During that time he was never at the top of his team's depth chart, as he was behind the likes of Carlos Boozer in Utah and Dirk Nowitzki in Dallas. As a result, Humphries was relegated to a limited role off the bench that left him searching for his place in the league.
It's almost impossible to find a groove averaging 13 minutes a game, helping explain Humphries' mediocrity.
But then last season came, his first full season with the New Jersey Nets. Humphries raised his play enough to overtake the starting power forward spot, bumping his playing time to a career high 27.9 minutes per game.
Humphries had finally found his place in the league. Instead of trying to score every time he touched the ball or settling for ill-advised mid-range jumpers, he concentrated on rebounding, defense and playing closer to the rim, getting his points from dunks, put-backs or layups.
In the 2010-11 season Humphries averaged 10.0 points, 10.4 rebounds and 1.1 blocks per game. While some onlookers dismissed his raised play and effort as a fluke since it came in a contract year, his numbers have improved even more this season.
After just 72 days of marriage, the fairytale romance of Kris and Kim came to an abrupt end, leaving Humphries without a team and without Kim Kardashian's famous backside to deal with in the offseason.
Humphries' career season was not enough for the Nets to offer him a long-term deal. Just like Kim, the Nets went looking to upgrade from Humphries.
On the free-agent market were the bigger names of Tyson Chandler and Nene Hilario, both of whom came with steep price tags.
Whether the Nets were unwilling to pay Nene or Chandler, or whether the team was spurned by both is not known. In the end, the Nets and Humphries ultimately wound up reuniting. Why can't Kim and Humpries get back together!? Why!?
With less than a week before the season, the Nets and Humphries agreed on a very sensible one-year, $8 million deal.
Nene re-signed with the Denver Nuggets for five years at $67 million, while Chandler agreed to a sign-and-trade deal with the New York Knicks for four years and $56 million.
Humphries has outplayed both Chandler and Nene this season.
The Net is averaging 13.7 points, 11 rebounds and 1.2 blocks per game. Chandler is averaging 11.1 points, 10 rebounds and 1.5 blocks per game. Nene, meanwhile, is averaging 13.7 points, 7.8 rebounds and 0.9 blocks per game, but has missed upwards of 20 games due to injury and has since been traded to the lowly Washington Wizards.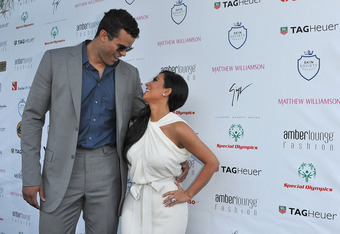 Pascal Le Segretain/Getty Images
When it comes to double-doubles, Humphries has 27 to Chandler's 18.
Humphries has been enjoying his career year amidst early-season boos raining down on him from Kardashian supporters. Who the hell knew there were so many? And where did they all come from?
A better question is, did these hardcore Kardashian supporters specifically go to the game to boo Humpries?
If they did, it backfired. Because the boos fueled Humphries, and before they can name all of their beloved Kardashian clan, Humphries would sometimes rack up another double-double on their team by halftime.
For the season, Humphries gets an A.
Just think, if Humphries changed his name to Roy Hibbert and ran to Indiana after having his heart crushed by Kim, he would have been named to his first All-Star Game this season.