Detroit Tigers Ace Justin Verlander Unravels in 9th; Tigers Lose, 4-2
April 11, 2012

Leon Halip/Getty Images
For eight innings, the ace of Detroit's staff was well in control of his second outing this season. Justin Verlander unraveled in the ninth, and the Tigers lost their first game this season.
They weren't going to win them all, but it was a bit shocking to see an otherwise-typical Verlander performance—a one-hit gem of sheer dominance—turn sour so quickly. A few singles, a walk and a wild pitch landed Verlander with his first loss and Tigers fans stunned.
Until the ninth-inning debacle, Verlander was cruising, racking up one consecutive scoreless inning after the next until his early season total reached 16, and perhaps that's where it should have ended—Verlander exiting after the ninth up 2-0.
Instead, Tigers manager Jim Leyland sent Verlander back out for the ninth inning to finish what he started; unfortunately, he returned to Detroit's bench under duress and losing 2-2. He was also responsible for the two runners still left on base for the bullpen to dispose of, which they too failed to do. 
The Rays' Jeff Keppinger led off the ninth with a single up the middle followed by Verlander's strikeout of Reid Brignac. At that point, the game was still well within Verlander's control, but Desmond Jennings followed Brignac's K with a single of his own, and Tampa Bay had runners at the corners with only one down. 
Verlander then walked Carlos Pena, mixed in a wild pitch and gave up his third hit of the inning to Evan Longoria—and for the first time in recent memory, Verlander was pulled in the ninth. Done. Another great performance that would again face a ninth-inning spoil.
It's tough to question Leyland's decision to let Verlander go back out for the ninth frame, but after Jose Valverde blew Verlander's near-perfect Opening Day start, who could blame him for trying to let his ace finish it. His pitch count was low, and he was almost flawless; Leyland really had no reason for concern.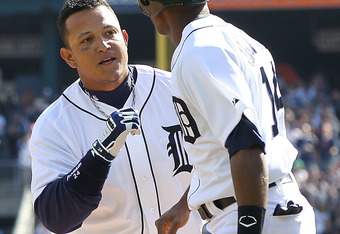 Leon Halip/Getty Images
Sometimes, the wheels just come off—today was one of those days. 
The Rays managed to scratch together one good inning on Wednesday afternoon, and it's all they needed to knock the Tigers from their undefeated pedestal. Both squads are now 4-1 on the season.
Tampa Bay starter James Shields (1-0) earned his first win of the season and proved he could be quite effective against a Detroit lineup that scored 30 runs in four games. Shields, a candidate in last season's Cy Young chase, scattered six hits over eight innings of work, allowing just two runs and rendering one walk and striking out five. 
Former Tiger Fernando Rodney earned the save in relief of Shields, throwing a three-up, three-down ninth to clinch Tampa Bay's comeback. 
Miguel Cabrera was the only Tigers hitter to have a multi-hit game, finishing 2-for-4 with an RBI. Austin Jackson continued to impress at the plate running his start-of-the-season hitting streak to five games with a single in the first. He also scored a run.
The rubber match between the Tigers and Rays will see Detroit rookie Drew Smyly in his first MLB start against the Rays' Jeff Niemann, who will also be getting his first start of the season for Tampa Bay. 
Box score stats provided by mlb.com.
Bleacher Report Featured Columnist J. Cook is a member of B/R's MLB Content Team and contributes regularly to the Detroit Tigers team page. He also covers key sport interest stories for all of Detroit's major sports teams.