WWE's Lost Art: How the WWE Has Killed the Relevancy of the Royal Rumble Match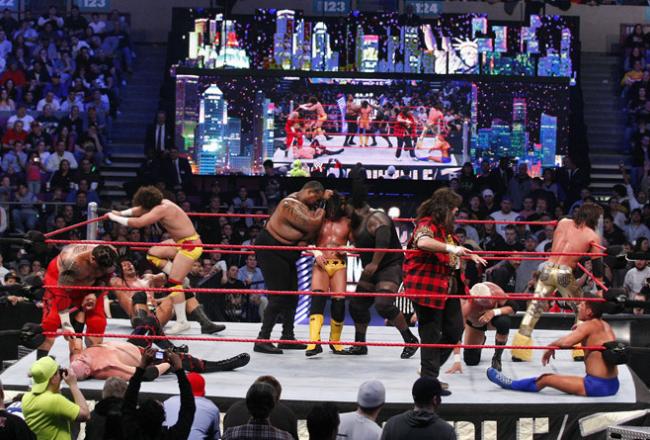 Photo courtesy of WWE.com

Once upon a time, the Royal Rumble was arguably the most important match in the WWE—one that wrestlers dreamed of winning and that catapulted superstars to new heights.
But that fairy tale is over.
Don't get me wrong—the Royal Rumble still matters as the first real step on the road to WrestleMania. It just doesn't matter nearly as much as it used to.
The Royal Rumble match was once a highly anticipated affair—a bout that used to have weeks upon weeks (and sometimes, months upon months) of buildup.
Superstars would battle each week on Raw or SmackDown to see where they would enter the Rumble. Win your match and you're near the end, but lose it and you could be entering at No. 1.
The idea behind this booking was to stress the importance of the Royal Rumble, your positioning in the bout and the opportunity to win it and go on to main event, WrestleMania 28.
You could tell that the Royal Rumble was a big deal and that it was a match that only one man could win and benefit from.
That just isn't the case anymore.
Look no further than the build to the 2012 Royal Rumble. If you're saying to yourself, "What build?" then don't worry, because I'm right there with you.
The build to the 2012 Rumble was essentially nonexistent.
Other than the match between R-Truth and The Miz, in which the loser would have to enter the Rumble at No. 1, there was literally no other sort of jockeying for Royal Rumble positioning.
There was no feuding between friends/tag teams over who would participate in the bout and who wouldn't, no huge match to determine who would get a favorable entry number, no rule that a wrestler who lost a previous match on the pay-per-view couldn't participate in the Rumble, etc.
No, the only thing we knew or cared about heading into the 2012 Royal Rumble was that The Miz was entering at No. 1 and that the winner was going to get a World title shot at WrestleMania 28.
The thing is, not even the guaranteed WrestleMania title shot that comes along with a Royal Rumble win means as much as it did, say, 10 years ago.
Just take a look at the last eight Royal Rumble winners and runners-up:
2005: Batista (winner), John Cena (runner-up)
2006: Rey Mysterio (winner), Randy Orton (runner-up)
2007: Undertaker (winner), Shawn Michaels (runner-up)
2008: John Cena (winner), Triple H (runner-up)
2009: Randy Orton (winner), Triple H (runner-up)
2010: Edge (winner), John Cena (runner-up)
2011: Alberto Del Rio (winner), Santino Marella (runner-up)
2012: Sheamus (winner), Chris Jericho (runner-up)
Here's a WWE "Did You Know?" segment for you: Did you know that, aside from Santino, every Royal Rumble runner-up since 2005 has gone on to compete for a World title at WrestleMania anyway?
That's equivalent to an NFL team losing the NFC Championship Game, and the commissioner saying, "Hey, you know what? You had a pretty good performance in the NFC title game, so we're just going to give you a free pass to the Super Bowl."
That's ridiculous.
Winning the Royal Rumble doesn't matter like it should when you can actually lose the match, but still somehow find your way into a World title match at WrestleMania.
It's killed the Royal Rumble match for me, personally.
While I still enjoy watching the match itself, any time there are two huge stars left as the last two wrestlers standing, then I just know that the outcome of match means diddly squat.
Should ONLY the Royal Rumble (and not the runner-up) winner get a World title shot at WrestleMania?
OK, Sheamus Brogue Kicked Chris Jericho to win the 2012 Rumble? I guess that just means that Y2J is going to have to find another way to get a WWE Championship match at WrestleMania.
It's the same old story year after year. History proves it.
You can lose the Royal Rumble and still get what only the Royal Rumble winner is supposed to get. I suppose that's not as bad as the general lack of effort put forth into the match, though.
The Rumble should be treated like the biggest match of the year. We should hear promos from guys about how much the Rumble means. We should see matches between guys just hoping to get a spot in the match.
Yet, we don't.
Instead, we see the primary build to the Royal Rumble center around the WWE Champion's beef with the interim Raw GM.
I wish that would become a lost art in the WWE…and that "lost art" was no longer the case for relevant Royal Rumbles.
Note: As part of the new WWE blog, I'll be asking all of the B/R wrestling readers for questions for a new mailbag that I will post on Fridays. It will be a slideshow featuring 10-20 questions and answers on a wide range of topics. You can submit questions either through Formspring or Twitter, and the best ones will be answered in the B/R mailbag.
This article is
What is the duplicate article?
Why is this article offensive?
Where is this article plagiarized from?
Why is this article poorly edited?