NHL Playoffs Preview: Pittsburgh Penguins vs. Philadelphia Flyers Game 1
April 11, 2012

As cold weather and snow return to the city of Pittsburgh during the early afternoon Wednesday morning, tonight's highly anticipated Pens/Flyers matchup is the only thing on anyone's mind.  After a few turbulent games during the final week of the season, these rivals are just scratching to get another shot at each other on the ice.
The Flyers, though, have been focusing heavily on criticizing the Penguins off the ice.  They have called Sidney Crosby names and made comments about the NHL's leading scorer and Art Ross Trophy winner, Evgeni Malkin, only to see no response from the Penguins through the media.  
Are the Flyers getting into the heads of the Penguins?  Maybe.  
Would you want to give two of the NHL's best players any more motivation to continue their dominance over the past month?  Probably not.
Philadelphia has their own stars to brag about as well.  Claude Giroux has certainly emerged as one of the top players in the NHL this season, coming in third for the Art Ross behind Malkin.  He is one of those players, like Crosby and Malkin, that could potentially change the game at any given moment.  He has electric hands and a great shot, earning all of the praise he has received since entering the league.
Let's break down these two cross-state rivals and see who really has the advantage.
OFFENSE
Pittsburgh leads the league in goals scored, with Philadelphia close behind in third.  This means that both clubs really know how to get the puck in the net at just about any given time.  
The Penguins seem to be slightly deeper with their strength at the Center positions in Malkin, Crosby, and Staal.  But, with Giroux and Jagr on the top line of the Flyers, they surely have some goal-scoring experience as well. 
Both teams have role players that seem to have emerged this season, earning career high marks in goals and points.  Pascal Dupuis had the season's longest scoring streak near the end of the season and has been on fire since the return of linemate, Sidney Crosby.  On the other side of the card, Scott Hartnell has tallied a career high 37 goals with most of them coming on the power play.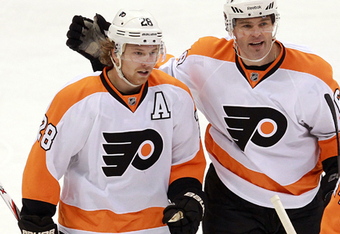 Both sides definitely have scoring threats, but the Penguins just have so much star power with Malkin, Crosby, Staal and Neal—just to name a few.  Edge: Penguins
DEFENSE
While their scoring is usually so proficient that the defense gets overlooked on occasion, both teams have solid defensive units.  Pittsburgh has Kris Letang and Brooks Orpik.  Letang is an all around player, contributing defensively and on the power play.  He sees more ice time than anyone on this Pittsburgh team for a reason—the guy is just good.  
Letang would have likely been in the running for the Norris Trophy had he not experienced a concussion earlier in the season causing him to miss some extended game time.  Orpik doesn't receive nearly as much praise for his efforts on the ice but is definitely just as important.  He lays big hits and plays lock-down defense.  Scoring with Orpik on the ice isn't common.  He is only second to Letang (+21) in plus/minus with a +19.
Philly's defensemen are also very effective.  After losing their captain, Chris Pronger, to injury earlier this year, things only got worse when a very solid defenseman in Andrej Meszaros went down as well. 
While they are slightly depleted, these guys still know how to play a physical brand of hockey.  Braydon Coburn is a big guy that likes to throw his weight around, and Kimmo Timonen knows how to play in the offensive zone.  Everyone else seems to fit in-between somewhere but are mainly noted for their size.
If Philadelphia wasn't as deterred by injuries at this position, they might get the edge due to depth.  Because Letang is healthy and playing very well and Matt Niskanen could be returning any day, the Penguins again get the edge here almost just because they are healthy.  Edge: Penguins
SPECIAL TEAMS
Pittsburgh and Philadelphia are fifth and sixth respectively in power-play scoring.  The big difference comes on the penalty kill where Pittsburgh ranks in the top three and Philly is left with the 17th spot.  Both PP units definitely can score the puck with the leagues top two scorers on the man advantage (Hartnell and Neal).  
Dan Bylsma has pushed and pushed for his PK unit to become solid over the past few seasons, and has succeeded.  Led by Jordan Staal, the Penguins just don't let up too many goals when they have a man in the box.  Lately, (and especially when playing the Flyers) these numbers haven't mattered too much.  In the playoffs, though, I imagine that all four units will be firing on all cylinders.
Again, the Penguins take the cake with this one.  Their power play is only ranked on spot above Philadelphia's, but look at their top unit—Crosby, Malkin, Neal, Kunitz and Letang.  That really shouldn't even be allowed.  With their penalty kill being so much better than the Flyers, Pens take this one easily. Edge: Penguins
GOALTENDING
Most hockey fans know that this is the area of the game that will take you as far as it goes.  Marc-Andre Fleury has arguably been the team's MVP according to GM Ray Shero.  With players like Malkin and Crosby on the ice, that's a pretty lofty compliment.  
Fleury has also been to two Stanley Cup finals, winning the second.  He carried the team through the playoffs during both of those runs and looks to do it again.  He has been outstanding this season and hopes to continue his solid play throughout this series.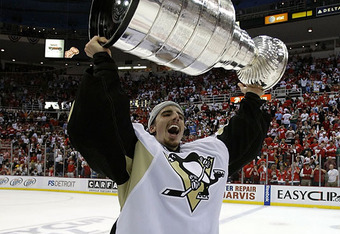 On the other side, Ilya Bryzgalov has been a different story.  Struggling through most of the season, he finished with an 8-0-1 stretch that included three shutouts.  The guy has finally found his groove and just in time.  He hasn't had much success in the playoffs, though, with a record below .500.  We have seen him make big saves and play extremely well, but we have also seen him play terribly.  
Which Ilya will we see this time?
Pens take this category due to Fleury's experience and Bryzalov's lack of playoff success.  Bryz might be the hotter netminder coming into tonight's game, but history goes to show that Fleury turns it up in April.  Edge: Penguins
CONCLUSION
With the Pens coming out on top in nearly every category, it looks as if they are the hard favorite to win this series.  That may be true, but this won't be easy by any means.  The fact that these two teams are bitter rivals really makes statistics and predictions fly out the window.  
This series will come down to the Flyers ability to knock the Penguins' stars off of their games.  If Sid and Malkin can play without too much agitation, this series could get ugly.  Prediction: Pens 4-2, win the series in five games