WWE Rumors: May Return for Rey Mysterio Would Breathe New Life into Midcard
April 11, 2012

Having missed the past several months due to knee surgery, Rey Mysterio appears to be getting close to a WWE return. If and when Mysterio does get back into the squared circle, it will be a major lift to a midcard scene that has been quite bland as of late.
According to Mysterio on Twitter, he is pushing himself to return to action by May. While there is no question that Mysterio is getting up there in age and has lost a step or two over the past couple years, he is still a better in-ring performer than the vast majority of the roster.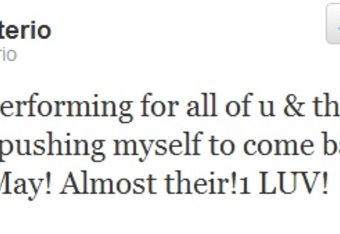 If you don't believe that Mysterio's return would be a major boost, look no further than the WrestleMania XXVIII card. The event itself was great as the main-event matches were spectacular, but the undercard left a lot to be desired. Randy Orton vs. Kane was decent, but nothing spectacular, and Cody Rhodes vs. Big Show wasn't anything to behold either.
Aside from that, the rest of the midcarders were stuck in the Team Johnny vs. Team Teddy match. Mysterio has been a world champion on a couple of occasions, and at his age, he doesn't need to hold the big belt ever again. With that said, though, it doesn't mean that he can't still be vitally important to the company.
In addition to his popularity and merchandise sales, Mysterio simply brings a lot to the table. I've never been his biggest fan since he's bland on the mic, but I would never downgrade his ability to work a match. It may be somewhat unbelievable at times when he is using his high-flying maneuvers to take down much bigger opponents, but a David vs. Goliath story is always a crowd-pleaser.
When you look at the WWE's roster currently, it appears to be quite top heavy. The main-event scene is littered with the likes of John Cena, Randy Orton, CM Punk and returning stars like Brock Lesnar and Chris Jericho. There isn't much rhyme or reason to the midcard, especially since there aren't really any good faces at that level.
Mysterio would automatically be the torchbearer as far as faces go in the midcard and he would have a number of possible feuds. Two of the more intriguing options would be against either The Miz, or Christian when he returns. A feud with The Miz in particular would be great because he needs some credibility and would look great if he were to go over Mysterio.
That isn't to say that Mysterio should be jobbed out to every midcard heel that needs a win, but his primary concern should be putting guys over at this point. He can still pick up some wins, put on great matches and look good in the process, but some of the younger guys need the rub and they would get it by beating him.
When you consider the entire package, Mysterio is truly invaluable to the WWE. He appeals to the Latin fans, he appeals to children, he's a veteran and he has a repertoire that nobody else can replicate. He is one of a kind in so many ways that the WWE hasn't really been able to find a suitable replacement for his role during his absence.
Cena vs. Lesnar and Punk vs. Jericho are going to continue to lead the way in the coming weeks, but a good midcard is needed to make for a complete event. If Mysterio's estimate is correct and he is a month or so away from competing, then the current product is about to get even better.