Toronto Blue Jays Discussion: Is It Time to Worry About the Bullpen?
April 11, 2012

Brad White/Getty Images
After the second straight game where the Toronto Blue Jays bullpen had some issues following a young starter pitching a gem, the question must be asked: Is there something wrong here? Is it too soon to look for a change?
In the first five games, there have been three terrible bullpen showings (albeit with some great ones thrown in as well).
This isn't to say that the bullpen has been bad, but to have two blown saves and one rocky ninth inning yesterday does mean something for the team that promised huge improvements in the bullpen.
It has not been all bad as Luis Perez and Carlos Villanueva have pitched a combined nine innings of three-hit ball, so they are definitely on their game.
I am definitely worrying too much after only five games. The Jays should be at least 4-1 and not 3-2.
Let's begin quickly with last night. Kyle Drabek pitched a beautiful game showing excellent command and an excellent two-seam fastball.
The game was all but over with a 7-1 lead until Casey Janssen looked very shaky after getting the first two outs in the ninth. After striking out Cody Ross and Jarrod Saltalamacchia, the Sox followed with single, walk, single, double.
This isn't necessarily something to worry about, but having three issues in the ninth in five games is worrisome.
Now let us look at Sergio Santos. Frankly, I think he will be fine and he has admitted that upon further review, he has been overthrowing in his last two games, yet he retains "the utmost confidence in [him]self to go out there and get the job done."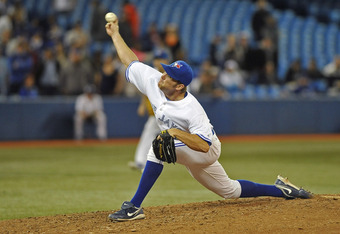 Brad White/Getty Images
Following today's game, Santos will leave the team for the birth of his child and will return on Saturday. He will only miss one game with an off day on Thursday.
Santos' ERA stands at 15.43 and he has blown his first two chances at saves. The walks, (four) have been worrisome as well as the lack of K's (one).
So what do you think? Will Santos regain his composure and be fine as the Jays closer? Is this even worthy of a discussion?  Now is your chance to discuss with fellow Jays fans.
I like the bullpen setup the way it is with Francisco Cordero in the eighth   and Santos in the ninth  with Jason Frasor and Jannsen sprinkled in. I have always been a fan of Perez and think that Aaron Laffey is a solid lefty addition to the 'pen. I think it is too soon to worry.
However, that doesn't mean that I am not nervous about the problems in the ninth.
Get at me on Twitter @the__ste (double underscore)