Tampa Bay Buccaneers Are Now Thin Enough to Win 'Biggest Loser'
April 11, 2012

Larry French/Getty Images
The Tampa Bay Buccaneers are thin—really thin, probably thin enough to be a runaway winner on the NBC show Biggest Loser.
The already questionable secondary dropped a couple hundred pounds yesterday when Tanard Jackson was sent packing.
In case you're counting heads, that leaves the following players on the current roster at the safety position: Larry Asante, Ahmad Black, Cody Grimm and Devin Holland.
That's it, boys and girls.
Yikes!
You've got Sean Jones and Corey Lynch from last year as unsigned, unrestricted free agents.
There are 40 unsigned free-agent safeties out there, guys like Deon Grant and Lito Sheppard. And what about Bob Sanders? Does Sanders have any gas left in his tank, or have injuries basically forced him into retirement?
When you look at the rest of the list, you find guys like the greatness that is Sabby Piscitelli, and no doubt that will leave you feeling just giddy.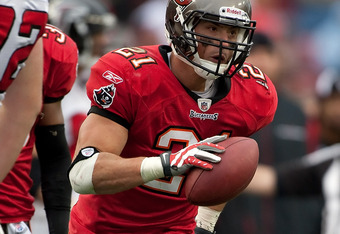 J. Meric/Getty Images
If you think safety is thin, think about the running back position for a moment. You've got LeGarrette Blount and Mossis Madu. THAT'S IT!
That's not enough guys to make it through the first mini-camp.
Linebackers? Yeah, we got lots of stinkin' linebackers:
Quincy Black, Adam Hayward, Dekoda Watson, Mason Foster, Jake Cutrera, Rennie Curran, Mike Balogun—yeah, we have plenty of linebackers, don't need any more. Forget about drafting anyone.
Anyone have Derrick Brooks' cell-phone number?
Yeah, that linebacker roster wouldn't make you lose sleep at night if you were the Bucs defensive coordinator, would it?
Cornerbacks? The Bucs have corners out the ying-yang.
Ronde Barber, Eric Wright, Aqib Talib, E.J. Biggers, Myron Lewis. Yeah, the Bucs have corners. Biggers and Lewis are great, aren't they? And Talib's about as dependable as a set of tires with 100,000 miles on 'em.
Thin?
This team is so thin it could become a super model.
This team is so thin it's on the bulimia suspect list.
This team is so thin that it makes anorexic look fat.
You get the idea.
But with the release of Jackson, the message is loud and clear at One Buc Place.
Get with the new program, get with it fast and you'd better not just like being a Buc, you'd better LOVE being a Buc.
End of story.