Francis Carmont Talks UFC in Sweden, Remembering Dreams, and More
April 11, 2012

We've all been stressed out at one point or another.
But few can understand the stress a mixed-martial artist undergoes leading up to his UFC debut.
Enter UFC middleweight, Francis Carmont (17-7).
"I think if you ask any fighter, they'll tell you that their first fight in the UFC is always the most stressful," Carmont told Bleacher Report.
Carmont didn't waste any time making his name known as he breezed through UFC veteran Chris Camozzi en route to his first win inside the Octagon.
But Carmont now has bigger fish to fry.
Enter UFC newcomer Magnus Cedenblad (10-3).
Cedenblad will be making his own debut at the big stage when he meets Carmont in a preliminary bout at UFC on FUEL II, when the UFC travels to Stockholm, Sweden on Saturday, April 14th.
Carmont knows the pressure Cedenblad is going through and plans to spoil his homecoming party.
That's right, Carmont will be entering enemy territory, as Cedenblad is a native of Sweden.
"It doesn't matter to me where we fight. I always fight in front of a hostile crowd," said Carmont. "I can't fight at home in France because it's still illegal to fight there."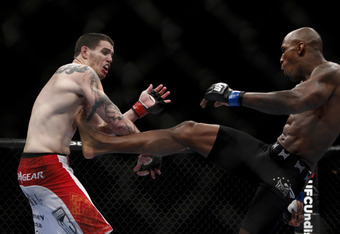 "Nonetheless, Sweden is a great country. To be a part of this first UFC event in Sweden is a great pleasure of mine," said Carmont. 
The challenge for Carmont will be defeating himself when action begins on April 14th—in that Carmont sees his doppelganger in Cedenblad, as he believes they both possess a very similar style. 
"We have more or less the same style and attributes. The key for me will be to impose the pace of the fight," said Carmont. "It's definitely going to be an interesting matchup for me."
"In MMA, it's quite hard or nearly impossible to predict the outcome of the fight. There are so many ways to win," said Carmont. "The goal for me is to bring back the victory to Montreal, Canada, where I currently live and train." 
As Carmont continues to progress in his career, he hopes to remain the same person he was when he strapped on the gloves for the very first time. 
There's one ingredient to accomplishing this—remembering your dreams.
"I never put any limits to my dreams. I want to become a champion some day."
For additional information, follow Garrett Derr on Twitter.