The 9 Most Unappreciated Players in NFL History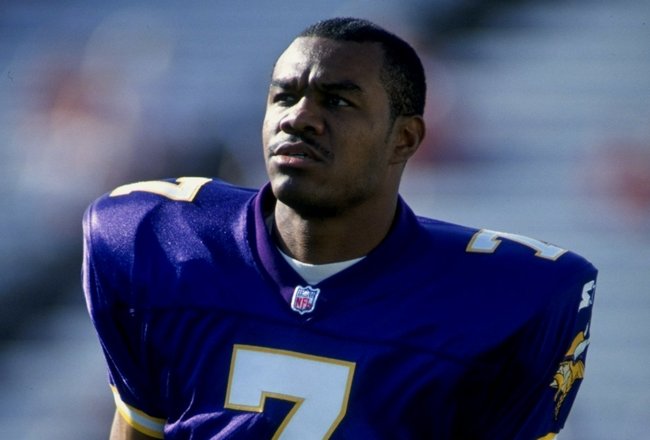 Scott Halleran/Getty Images
It's hard to imagine paying someone hundreds of thousands of dollars and not appreciating them, but in the world of the NFL, it certainly happens.
While you won't see names like John Elway, Barry Sanders or Lawrence Taylor on this list, there will definitely be some extremely talented players who never seemed to get the credit they deserved.
Here are the nine most unappreciated players in NFL history.
9. Len Dawson, Pittsburgh Steelers/Cleveland Browns/Kansas City Chiefs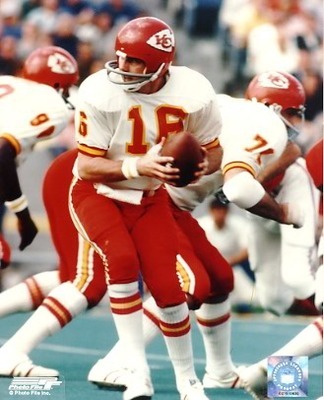 As the oldest member on this list, Len Dawson is widely forgotten as one of the premier "winners" at the quarterback position in the league.
While it took him a few years to get to his winning ways, once Dawson joined the Dallas Texans/Kansas City Chiefs, he instantly made his mark on the league. He led the Chiefs to four championships during his career with the team, and Kansas City has yet to win another championship since Dawson retired.
Too many people forget and don't appreciate players who played back in the day, and as one of the best quarterbacks of that time, Dawson is also one of the most unappreciated players in NFL history.
8. Curtis Martin, New England Patriots/New York Jets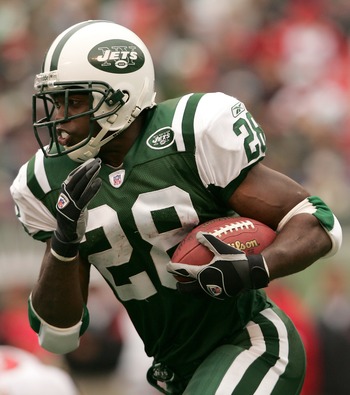 Nick Laham/Getty Images
Even though Curtis Martin was consistently one of the league leaders in rushing yards during his career, he never really got the respect and recognition he deserved. The way the media and fans react to Martin reminds me a lot of how they currently react to Maurice Jones-Drew.
No matter how dominant Martin was during a game or season, he was always overlooked by someone else. The fact that he has over 10,000 rushing yards doesn't seem to matter. The fact that he has the fourth-leading rusher of all time doesn't seem to matter.
In fact, when most people think of the best running backs in NFL history, the name Curtis Martin never enters their mind. That is a travesty.
While Martin may not have been as dynamic as Barry Sanders or as powerful as Jim Brown, his overall statistics and consistency prove that he was an incredibly talented and unappreciated player.
7. Andre Reed, Buffalo Bills/Denver Broncos/Washington Redskins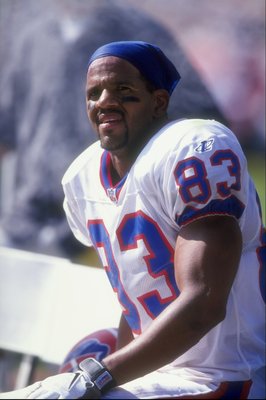 Todd Warshaw/Getty Images
When talking about the great Buffalo Bills teams of the early 1990s, it's easy to remember players like Jim Kelly, Thurman Thomas and Bruce Smith.
However, no one seems to remember Andre Reed and his 27 receptions and 323 receiving yards that he had in those four games. For that reason, Reed is one of the most unappreciated players in NFL history.
In the biggest game of the season is where the best players come to life. Just look at players like Joe Namath, Tom Brady and Jerry Rice—all brought their absolute best to the Super Bowls they played in.
Even though Reed was impressive during the regular seasons of his career, he truly shined in the Super Bowls he participated in.
On top of that, Reed still hasn't been inducted into the Hall of Fame. As one of the better receivers in NFL history, it's a tragedy for Reed to continue to get overlooked.
6. Henry Ellard, Los Angeles Rams/Washington Redskins/New England Patriots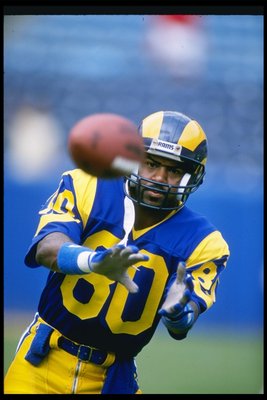 Allen Steele/Getty Images
As one of the most athletic wide receivers to ever play the game, Henry Ellard was constantly unappreciated over the course of his career. Ellard was such an athletic phenomenon, that he actually qualified for the 1992 Olympic trials for the triple jump.
On the field, Ellard was as consistent as they came. He had seven 1,000-yard receiving seasons, and finished his career with over 13,000 receiving yards.
Where Ellard really made his mark on the field was by his superior route-running. He was widely considered the greatest during his time at running precise and clean routes.
The ability to run routes in currently unappreciated by most common fans of the game, so the fact that Ellard was one of the best ever in that category, solidifies his position as totally unappreciated.
5. Kevin Greene, L.A. Rams/Steelers/Panthers/49ers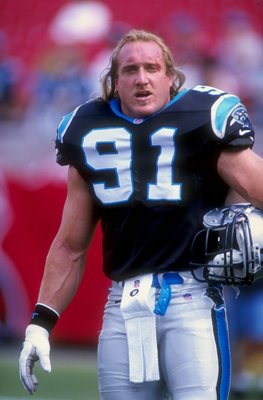 Scott Halleran/Getty Images
The only part of Kevin Greene that was ever properly appreciated was his hair.
His 160 career sacks, or the fact that he was a true leader for every team he played for, were never truly appreciated. In fact, no linebacker in the history of the league has more sacks than Greene had during his career.
Not only was Greene one of the greatest sack artists over the course of his career, he was also one of the greatest to ever play the game. He consistently put pressure on quarterbacks and forced teams to game-plan around him.
The fact that he was only voted to five Pro Bowls during his 15-year career, just goes to show that people never really appreciated what they were watching on the field. Now Greene is the linebackers coach for the Green Bay Packers, and everyone is starting to appreciate what he is able to do with a player like Clay Matthews.
4. Larry Centers, Arizona Cardinals/Redskins/Bills/Patriots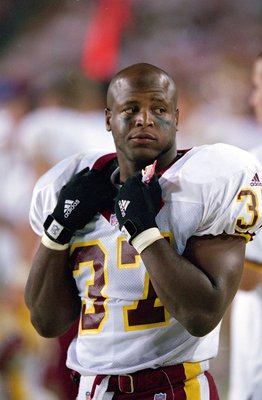 Doug Pensinger/Getty Images
If you were to name the most unappreciated position in the NFL, fullback would likely be one of the top positions. However, that doesn't mean that fullbacks aren't able to make great contributions to their teams.
One of the best and most productive fullbacks to ever play the game was Larry Centers. He finished his career with 2,188 rushing yards and a whopping 6,797 receiving yards. His 827 career receptions is currently the second greatest by a non-receiver in NFL history (Tony Gonzalez is first).
Centers absolutely deserves recognition for being a top producer, regardless of position, over the course of his career. It's truly unfortunate that he continues to be unappreciated because of the position he played.
3. Ken Riley, Cincinnati Bengals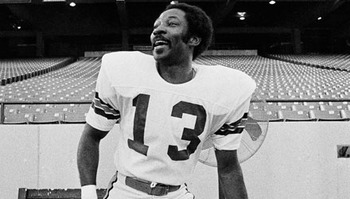 As the only player on this list to play his entire career for one team, the only place that Ken Riley may be appreciated is in Cincinnati. The rest of the football world knows little about how great of a player Riley was.
Riley played cornerback for the Cincinnati Bengals for 15 years. He recorded 65 interceptions over that time, which was good enough for fourth all-time when he retired.
However, because Riley played for a smaller-city team and wasn't a media hit, his contributions to the game are constantly overlooked. While there is little doubt that Riley's impact on games and his overall statistics are incredible, he has yet to be enshrined in the Hall of Fame.
2. Randall Cunningham, Philly Eagles/MN Vikings/Dallas Cowboys/Baltimore Ravens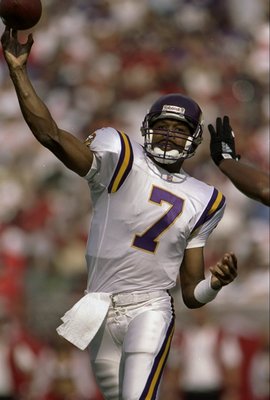 Tom Hauck/Getty Images
Before there was Donovan McNabb, Michael Vick and Cam Newton, there was Randall Cunningham. While he may not have been as athletic as the aforementioned players, Cunningham was still quite the dual-threat quarterback during his career.
Cunningham spent the majority of his career with the Philadelphia Eagles, where he was voted to three Pro Bowls. The truth was, however, that Cunningham definitely deserved to be voted to more Pro Bowls during his time with the Eagles.
After retiring following the 1995 season, Cunningham made an incredible return to football with the Minnesota Vikings, where he made his fourth and final Pro Bowl in 1998. Throughout all of his impressive statistics and abilities, few recognize Cunningham as an elite quarterback during his time.
The fact that he still remains on the outside looking in to the Hall of Fame, goes to show how unappreciated Cunningham truly is.
1. Brian Mitchell, Washington Redskins/Philadelphia Eagles/New York Giants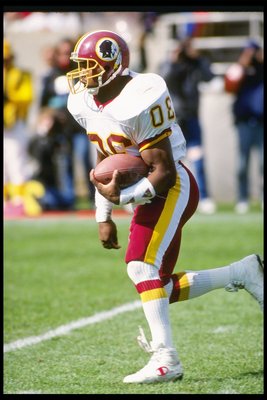 Jonathan Daniel/Getty Images
Can anyone name the player who sits behind Jerry Rice with the second-most all-purpose yards in NFL history? Yeah, it's Brian Mitchell.
While Mitchell may not be a common name to many, as one of the greatest return specialists in NFL history, he most certainly should be more well-known. He was dynamic and electric with the ball in his hands, and was a key contributor in the Washington Redskins winning Super Bowl XXVI.
Mitchell currently has the second-most career special-teams touchdowns (13), and only trails Devin Hester in that category. Considering that NFL.com ranked Hester as the 32nd best player in the NFL for the 2011 season, Mitchell certainly needs to be considered one of the better players to play the game.
While people tend to overlook and forget the type of impact a special teams player like Mitchell can make, they are completely wrong in their thinking. Mitchell deserves all the recognition in the world, but he never gets it.
He is the most unappreciated player in NFL history.
Keep Reading