Chicago Bears Free Agency: Ranking the 5 Best Moves of the 2012 Offseason
April 11, 2012

Mike Ehrmann/Getty Images
Anytime an organization undergoes a power shift at the top—which the Chicago Bears did by replacing Jerry Angelo with Phil Emery—focus will center around the transactions made under the new leader's watch.  
That's the case in Chicago, and star middle linebacker Brian Urlacher has been keeping a close eye on the goings-ons of his team, and he's publicly pledged support for the early work of Emery.  
Emery took over a Chicago franchise that dipped to 8-8 in 2011 after hosting the NFC Championship game a year previous, a regression that was due in part to a crippling string of injuries on the offensive side of the football, most notably to quarterback Jay Cutler and running back Matt Forte. 
The Bears are much closer to contending than some may give them credit for, and Emery appears determined to guide them back on the track in an expedient manner.  
And while it's the move that Emery has not yet made—inking Forte to a long-term deal—that has some Bears fans up in arms (my suspicion is he will get this done in plenty of time for training camp), let's take some time to focus on what he's accomplished so far in his first offseason as the Chicago shot caller.
Here are Emery's five best moves of the offseason thus far. 
5. Re-signing defensive lineman Israel Idonije
While the Bears were unsuccessful in a supposed attempt to sign Mario Williams, they were able to retain the versatile Idonije on a one-year deal. His return comes one season after recording 52 tackles and five sacks; and he's an important part of a defensive line rotation that has the potential to be very good if the Bears can add another pure pass rusher in the draft.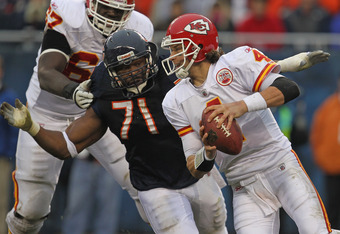 Jonathan Daniel/Getty Images
Idonije is popular amongst his teammates and the city of Chicago, and he also has a knack for blocking kicks. This signing, although one that didn't draw national headlines, was an important one for Emery.
4. Signing special teams maven Eric Weems
With the NFL electing to move kickoffs five yards forward last season, the role of core special teams players was projected by many to decrease in importance.  
That's a debate worth carrying on later, but it surely didn't impact the role Weems had with the Atlanta Falcons, his former team (and where Emery used to work). He's a stud special teamer with the ability to return punts and kicks (he's taken two kickoffs to the house in his career), cover them and hold up as a blocker to boot. 
We fixate our attention on positions of glamour in the NFL, often lauding personnel men for adding explosive receivers or sack artists. That's all well and good, but building a roster also involves finding grinders like Weems, whose role extends much further than any statistic can measure.
3. Singing reserve running back Michael Bush
I know this is difficult (see: impossible) for most to do, but try your best to detach the signing of Bush from the ongoing Matt Forte contract dilemma. Because, if you can, you'll realize how critical this move was for Chicago's roster.
Bush isn't your typical run-of-the-mill backup—he's a starter who will play in a reserve role behind Forte, and he is a difference-making runner who can wear defenses down. He'll lighten the load for Forte and provide the kind of late-game punch that opposing defenses won't often be able to withstand.
Losing Forte was devastating to Chicago last season, especially because Marion Barber was not cut out to be a featured back in his absence. With Bush in tow, Bears fans don't have any reason to worry about a déjà vu scenario.
2. Shoring up the secondary 
To put it nicely, the Bears weren't very good in the secondary in 2011. The fact that Brandon Meriweather played a feature role says enough, as do the numbers: Only four teams allowed more passing yards than Chicago in 2011.  
Enter a pair of veteran cornerbacks, Kelvin Hayden and Jonathan Wilhite. Neither one is a star but each can provide depth and competition at cornerback. Add the re-signing of Tim Jennings, and Emery has patched together what should be an improved position group for 2012.  
Chicago will pick 19th in the upcoming draft, and it remains a possibility that they will address the secondary at that time. But in landing this trio of corners, they've at least set the wheels in motion to ensure that 4,065 passing yards won't happen again in 2012.
1. Trading for Brandon Marshall
In the move that rocked the NFL world in the early part of the offseason, Emery splashed onto the scene by shipping a pair of third-round picks to the Miami Dolphins for the chance to reunite quarterback Jay Cutler with the most talented receiver he's every played with—Brandon Marshall.
It's indisputable that Marshall has off-field baggage, and it's imperative that the coaching staff in Chicago maintains a watchful eye on him. But the Bears have long been desperate for a top receiver, and Marshall is precisely that.
Keep these numbers in mind: 206 catches, 2,590 yards, 13 touchdowns. That's the production that Marshall generated in the final two years of Cutler's time in Denver. Both were cast away from the Broncos, and neither one has played with a player at the other's position that is of the same caliber since.  
This is a reunion that could yield downright scary results.