Borussia Dortmund vs. Bayern Munich: Who Will Win the Pivotal Bundesliga Clash?
April 11, 2012

Mike Hewitt/Getty Images
Today is the day.
And as long as you don't call the bottom of a rock your home or give a damn about Bundesliga, you must have heard about it. The arguably best teams in Germany—consequently in positions No. 1 and No. 2 in the league—match up tonight to fight for the Bundesliga championship.
So it is worthwhile to see in what form they are and what their chances are to win it, but let's begin with a little history.
Hardly ever in Bundesliga history was there been a championship pre-decision that was more dramatic. I say pre-decision because statistics show that if Dortmund wins, they have an advantage that no team in history of the Bundelsliga ever caught up (six points ahead with four games to go).
On the other hand, if Munich were to win it, they would lead for the first time since the 19th gameday due to their better goal difference. And knowing Bayern Munich it is unlikely they trip up in the final spurt to give back the lead. So even though there will be 12 more points handed out after tonight, it is safe to assume that tonight in front of a live crowd of 80,720 the fight for the Bundesliga bowl will, in fact, be decided.
To further the excitement, the teams are playing at their absolute best throughout most of the season. Borussia Dortmund, for one, is playing their best season in club history. Dortmund have been undefeated in their last 23 Bundesliga matches with only five draws amongst them.
Compared to Munich, they are playing slightly better since returning from the break (32 vs. 26 points in 12 games) despite the fact that their superstar Mario Götze is not playing due to a groin injury (he will not start tonight, either).
Nonetheless Bayern Munich is playing just as persuasively, and they are competing for the triple: Bundesliga, Champions League and DFB Cup. They won their last five Bundesliga matches showing the strength and character they are known and feared for.
So who has an edge? I doubt everyone who is certain how tonight will end. This will be the seventh time the two teams compete as 1st and 2nd. History gives Dortmund an edge with three wins, two draws and two losses.
But how much does that mean in a game like this?
If Dortmund can't stop Mario Gomez from scoring, Bayern are very like to win: they never lost when he has. Both teams are extremely successful in scoring with 69 (Munich) and 66 (Dortmund) goals scored in 29 games this season.
Their strength continues in front of their own goals, too, allowing only 19 (Munich) and 22 (Dortmund) goals. No team in the Bundesliga scored more or allowed less—another indicator how far ahead but also how similar these two teams are.
Apart from statistics, it will also be interesting to see how the differences in coaching style will translate into playing on the field tonight.
On one hand we have the uber composed Jupp Heynckes. He is a 66-year-old veteran who won the Bundesliga twice before with Bayern Munich (1989, 1990). Those achievements are accompanied by a Champions League title with Real Madrid in 1998. Before his coaching career he was a successful scorer for Borussia Mönchengladbach, Hannover 96 and the German National Team. He won four Bundesliga titles, a world championship and a European Championship.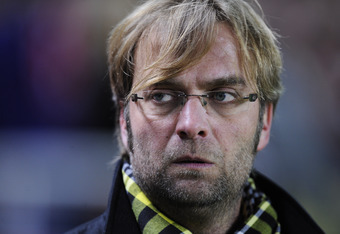 David Ramos/Getty Images
Jürgen Klopp, on the other hand never played Bundesliga level soccer himself. He is not what one would call a composed coach. In celebrating goals, he rivals every single player on the field and he is visibly devastated by every goal his team allows.
He is 22 years younger (you did the math: 44 years old) and his only success stories so far is making it into the Bundesliga with his only other coaching gig with FSV Mainz. And then there was last year, when he won the Bundesliga with Borussia Dortmund after starting coaching the team in 2008. Few people remember how little money was put into Dortmund's roster and how much this team was struggling when Klopp first joined it. The club was near bankruptcy in 2004 resulting in massive cuts. When Klopp started, they just finished the season 13th.
So tonight will show if Dortmund can continue to compete on the highest level and possibly who will be this year's Bundesliga champion.