Brock Lesnar Returns: Pros and Cons of the Return of the 'Next Big Thing'
April 11, 2012

After being away from the squared circle in the United States for the past eight years, Brock Lesnar finally returned to the company where he was once dubbed "The Next Big Thing." Lesnar and WWE agreed to a one-year contract sometime during the weekend of WrestleMania in Miami, Fla. The following night, Lesnar made his return to WWE Raw.
The second Lesnar's familiar theme song hit the speakers of the American Airlines Arena, the fans in Miami jumped to their feet with shock and excitement. Not only was this a long-awaited return, but this was Brock Lesnar. 
Not just the Brock Lesnar who spent the past few years competing in the UFC, but the "Next Big Thing," the "Manster," the youngest WWE Champion in the title's almost 49-year history.
Obviously, WWE chairman Vince McMahon loves publicity and Lesnar's name has attracted so much of that through his many ventures over the years. Lesnar was a NCAA National Champion for the University of Minnesota in 2000 prior to signing with WWE.
Following his tenure with WWE, he tried out for the Minnesota Vikings in 2004, which led to him being a late roster cut prior to the 2004 season.
Lesnar then competed in New Japan Pro Wrestling, due to a no-compete clause in the United States after he left his WWE contract early for the NFL, before becoming a successful MMA fighter recording an 5-3 career record and winning the UFC Heavyweight Championship in 2009.
The question I raise is whether or not the agreement between Lesnar and WWE is a smart deal for both sides. Without knowing more about Lesnar's past, one would assume this is obviously a major steal for McMahon and WWE, but in my opinion, there are many pros and cons when weighing the deal.
Pros: With Brock Lesnar, you get media and fan attention from the pro-wrestling, MMA and overall sports realm. This may come as a surprise, but there are some fans (such as myself) who love either WWE or UFC and hate the other. However, the name Brock Lesnar is well-known by both fanbases.
Lesnar was a main-event superstar in WWE from his debut in 2002 to 2004. Between the Attitude Era of "Stone Cold" Steve Austin and the current PG Era of John Cena, there was the dominance of Brock Lesnar.
During his short time of his previous tenure, Brock Lesnar was a three-time WWE Champion, the winner of the 2002 King of the Ring tournament, and the winner of the 2003 Royal Rumble match.
Pro Wrestling Illustrated named him the "PWI Wrestler of the Year" and the "PWI Most Improved Wrestler of the Year" in 2002, while ranking him No. 1 for the "PWI 500 Best Singles Wrestlers" for 2003.
As a Heavyweight Champion in UFC, Lesnar also gives WWE a chance to spark an interest amongst MMA fans. While many fans may seem skeptical about Pro Wrestling, a popular name like Lesnar's would help, if nothing else, give WWE a chance to showcase their program for a new audience.
Lesnar's success and brash persona made him extremely popular (and also hated) amongst UFC and MMA fans. True loyalists may decide to follow Lesnar's return to WWE, a chance Mr. McMahon would salivate over.
Cons: If I wrote this article a week ago shortly after Lesnar's return, I doubt this part of the blog would be so long and detailed. However, being the fan that I am, I have read plenty of articles, blogs, and reports on the signing since the Raw from April 2.
Not only have these articles shined a light on past problems involving Lesnar, but it also made me predict future rifts as the two move forward.
Obviously, Brock Lesnar's psyche is in question. Lesnar has been described as a guy who doesn't like the spotlight. WWE and UFC have both run pieces on Lesnar's home life and training regimen, in which on numerous occasions, he explains that he is a quiet person who prefers seclusion and solitude.
Upon his return, Lesnar attacked John Cena, the face of WWE and a main-event superstar. How will Lesnar deal with being thrust back into the main-event picture?
Another question may be, "Will Brock Lesnar decide to pursue other interests?" Lesnar left WWE eight years ago, and as many people say, "old habits die hard." Who's to say that Lesnar won't have an urge to return to UFC?
Lesnar retired in 2011 following complications from a past illness known as diverticulitis, however, if medically cleared, there is always a chance Lesnar could change his mind and return.
Also, hypothetically speaking, Lesnar could develop an urge to leave his comfort zone and try another sport, as he did with professional football. It would be difficult at this point for him to do so given his past health problems, as well as that he is now 34 and not 25, but who knows for sure with Brock Lesnar. Only Brock Lesnar truly knows the answer.
The most important argument against WWE's re-signing of Lesnar is how he works with the rest of the WWE locker room, as well as, "How much does Brock Lesnar really respect the wrestling business?"
Lesnar was fortunate enough to get a major "push" by WWE to main-event status from the very beginning. Even after being absent from professional wrestling in the United States for eight years, it seems as though Lesnar is still receiving the same push from WWE to be a major superstar.
How Lesnar is pushed may rub some of the younger superstars and veterans on the roster who haven't seen a similar treatment the wrong way. Lesnar is a huge name in the wrestling industry and the sports world, and will be treated as such.
However, it's hardly fair to have a guy that basically turned his back on the company being treated much greater than loyal members of the roster who risk their bodies, lives and careers every day for the WWE.
The main problem Lesnar may have with talent is working with his current rival, John Cena. On screen, two rivals will make a believable case at displaying hatred during a rivalry in hopes to build up a storyline and produce interest in the pay-per-view matchup.
During Lesnar's reign as WWE's top superstar, an up-and-coming John Cena was skyrocketing to the top. Cena's then-rapper character built up a rivalry with Lesnar on screen, and according to some reports (one here from PW Torch), off screen.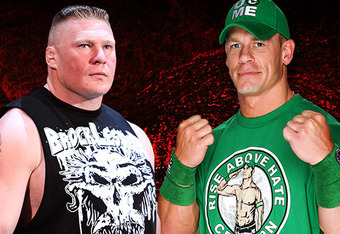 Many wrestling websites have reported that the heat between Lesnar and Cena is actually real, as Lesnar would frequently try to keep Cena from reaching the top of the WWE ranks by complaining about the young superstar to WWE officials.
This proved to be unsuccessful, as John Cena has been the most successful WWE superstar of the last decade, although many critics could argue that this was after Lesnar's absence.
As I watched last night's episode of Raw, knowing that there may be some truth to this accusation, I wondered how obvious it would seem when the two would be involved in a promo or match together. I think we all got our answer as Lesnar legitimately hit John Cena in the mouth and busted his lip open.
Now, many skeptics of pro wrestling may argue against this, but the fact is, as much physical damage may be done inside a wrestling ring, you don't intentionally closed-fist hit a man in the mouth without reason.
I have heard during many shoot interviews that veteran wrestlers have punished greener talent for working a bad match, but the altercation between Cena and Lesnar was a simple promo where Cena angrily responded to Lesnar's previous attack by slapping him and Lesnar would retaliate.
I don't personally think WWE intended on Lesnar punching Cena the way he did and I feel that Lesnar's actions are a breach in the Wrestling code. I feel as though Lesnar is not, "One of the guys" but rather a guy looking out for only himself.
I also feel that intentionally trying to injure the "face of WWE" and Vince McMahon's biggest money generator is a foolish decision that would be handled differently if it were anyone other than Lesnar, once again causing friction between Lesnar and the locker room.
Verdict: Overall, I feel like everyone deserves a chance at redemption and to prove that they have changed for the better. There are some glaringly obvious red flags with Lesnar, but the chance to bring back a legendary superstar who can still compete is too good of a chance for WWE to pass up.
The questions remain as to whether Lesnar will be truly dedicated to the company, but his stature will improve the ratings, as well as the product. For his past decisions and even somewhat poor mic skills, Lesnar is one of the most talented superstars to grace the WWE ring and has a very popular character to generate fan support, ratings and money for the WWE.
As for Lesnar, I feel like the WWE is the best place for him to be. Other than my complete bias of love for the WWE and hatred of UFC and MMA, the obvious choice was made for Lesnar to return. He is physically unable to compete at his peak in UFC. Lesnar is a professional wrestler first and foremost in the eyes of many fans and can have an equally successful career if he decides to continue in WWE.
Although the details of his current contract are not officially released, many say Lesnar has a much shorter schedule of working events and traveling than many superstars in WWE. This will not only make his comeback easier, but also keep both sides happy. Lesnar gets a less hectic work schedule and the WWE brings back "The Next Big Thing"