NHL Draft Lottery 2012: Why the Edmonton Oilers Should Not Draft Nail Yakupov
April 10, 2012

Bruce Bennett/Getty Images
The Edmonton Oilers won the first overall pick for this summer's draft, despite the Columbus Blue Jackets having nearly a 50-percent shot at getting that pick.
This will be the third consecutive year the Oilers selected first overall. (Surprisingly, this has happened before, from 1989 to 1991, when the Quebec Nordiques selected Mats Sundin, Owen Nolan and Eric Lindros).
The State of Edmonton's Future
The Oilers' previous two No. 1 picks, Taylor Hall and Ryan Nugent-Hopkins, are already showing signs of being NHL superstars.
The 20-year-old Hall totaled 53 points over 61 games this season, an improvement from the 42 he totaled over 65 in his rookie season.
His pace from this season equals 71 points over a full season.
Nugent-Hopkins totaled a similar amount to Hall, scoring 52 points over 62 games this year. He is just 18 years old.
Most teams do not have two 70-point scorers. The Oilers have two under the United States' legal drinking age.
Comparably, this season's Art Ross Trophy (NHL leader in points) winner Evgeni Malkin did not even play in the NHL until age 20. He only scored 85 points that season and won his first scoring title two seasons later with 113 points in 82 games.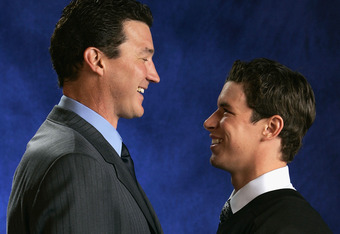 Brian Bahr/Getty Images
So, if Malkin can go from 85 points at age 20 to 113 at age 22, there's no reason to think a 20-year-old Hall will not be totaling 90 points or more by the 2013-14 season.
Similarly, when Sidney Crosby entered the league as an 18-year-old, he totaled 102 points in 81 games, a pace of 1.26 points per game.
Over the past two years Crosby has been scoring at a pace of 1.63 points per game, which equals 134 points over 82 games.
If that is how Crosby developed, why couldn't the 18-year-old Nugent-Hopkins grow to be a consistent 100-point scorer as well?
What is most impressive about the Oilers' offensive future is that it does not rest on the shoulders of these two young players alone; 21-year-old Jordan Eberle was nearly a point-per-game player with 76 points in 78 games this season.
Sam Gagner is a 22-year-old averaging more than 40 points per season so far.
Basically, the Oilers' offensive future is already stacked.
Why Not Yakupov?
The top prospect in this draft is widely agreed to be Nail Yakupov, a dynamic scoring forward who totaled 170 points in 107 games over two seasons with the Sarnia Sting of the OHL.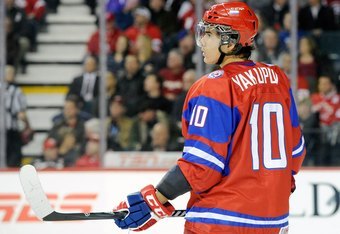 Richard Wolowicz/Getty Images
He sounds great and would be a fine choice for most other teams in the NHL, but what is clear about the Oilers is that they do not need more offense. In a few years, Hall and Nugent-Hopkins could be 90- or 100-point players, with Eberle close behind at 80, plus Gagner adding depth with 40-point seasons.
This isn't even considering who else the Oilers might keep, such as 28-year-old Ales Hemsky, who has scored more than 70 points in a season before.
Edmonton does not need any more offense.
Their top defensive prospect, according to Hockey'sFuture.com, is their second pick in the 2011 draft's first round, Oscar Klefbom.
Hockey's Future lists his potential at merely "a top four offensive minded defenseman," nothing close to what the organization's offensive talent would be heralded as.
What Should They Do?
Draft a defensemen.
Edmonton's priority should be acquiring the top defenseman in this draft class, Ryan Murray of the WHL's Everett Silvertips.
Murray is listed by NHL.com as the second overall prospect behind Yakupov. So picking him first would not be a huge shock, though it would certainly be a surprise considering the high praise for Yakupov.
There is a chance that Murray could drop to the third pick if forward Mikhail Grigorenko were taken before him.
Edmonton should look to trade the top pick to drop down one or two spots in the draft; they would be drafting the defenseman they need while also picking up a small asset in the trade.
Maybe they do not need to risk losing Murray, but they definitely do not need another forward.
B/R Featured Columnist Jason Sapunka covers the NHL. He is available on Twitter for updates and commentary.