3 Ways Arkansas Firing of Bobby Petrino Will Affect Nebraska
April 11, 2012

Wesley Hitt/Getty Images
Yes, you read that right. When Arkansas fired head football coach Bobby Petrino on Wednesday, it set off shockwaves that could ultimately impact Nebraska's football program.
Seem far-fetched? Here's three ways the Children of the Corn could feel the seismic shift from Fayetteville all the way in Lincoln.
Eliminating a Competitor
In Bo Pelini's four years as head Husker, Nebraska has yet to play in a BCS game. Certainly, the goal this year, as in years past, will be for Nebraska to arrive in the BCS Promised Land by winning the Big Ten title.
But you don't have to win a conference title to play in a BCS game. Ask Michigan and Virginia Tech last year. But keep in mind that Arkansas ended 2011 rated sixth in the final BCS poll. The BCS rule that prevents more than two teams from a conference to receive BCS bids meant Arkansas wasn't going to get an at-large bid over LSU and Alabama. But with a load of talent returning, the Razorbacks looked like a preseason top-10 team and an early favorite to be in the running for one of those BCS spots Nebraska so covets.
Not anymore. Arkansas will have to do a coaching search on the fly, and the upheaval may cost the Razorbacks recruits. It will certainly require the installation of a whole new football culture in Fayetteville, and making such a transition in such a hurry and under such circumstances will be a daunting task. While the Arkansas administration may have done the right thing by sacking Petrino, it may also have cost the Razorbacks a successful 2012 season.
Which means Nebraska will have one fewer competitor for a BCS bid.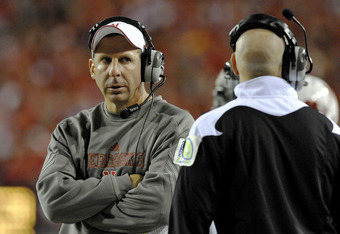 Eric Francis/Getty Images
Ramping Up the Speculation
Hey, remember when the LSU job opened up? Or the Miami job? Or the Ohio State job? Yep, media speculation had Pelini as a candidate for each of those jobs. And while Pelini ultimately stayed put, the speculation about him leaving Lincoln for greener pastures upset the fanbase and proved a distraction to matters on the field.
Now the Arkansas job is opened, and here's what Pete Thamel of the New York Times had to say on Twitter about who would be on the short list of people to replace Petrino as head Hog.
Pete Thamel @PeteThamelNYT

First three names off the top of my head for Arkansas: Paul Rhoads, Gary Patterson and Bo Pelini. (emphasis added)
Didn't take long, did it? So, Nebraska fans, brace yourselves for a week or two of Pelini fielding questions about whether he's interested in the Arkansas job, whether he's talked with Arkansas, whether he's been to Arkansas and whether he's fully committed to Nebraska. That should be fun, especially given how much Pelini loves to answer questions like that.
Thought you'd have a pleasant afternoon watching the spring game and hearing Pelini's thoughts on the performance? Think again. Get ready for some serious media distraction.
And that's assuming he doesn't take the job. If he does, he could compete with Dana Altman for the most awkward press conference ever.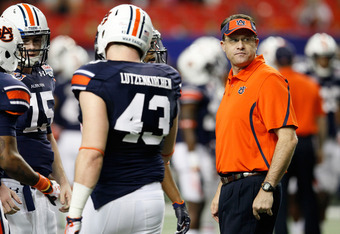 Kevin C. Cox/Getty Images
Lightening the Schedule
Well, let's say Thamel is wrong and Pelini doesn't get the Arkansas job. One of the prime candidates for the job would be Gus Malzahn at Arkansas State. Malzahn makes a lot of sense for Arkansas. He's a former player and a former offensive coordinator for the Razorbacks. He had a lot of success as the offensive coordinator for Auburn, so he knows how to win in the SEC. (Hint: "Recruit" Cam Newton.) And, no disrespect to Arkansas State, but it's hard to imagine Malzahn turning the Razorbacks down to stay in Jonesboro.
Which, if it happened, would be a bit of a gift to Nebraska. Arkansas State comes to Lincoln in 2012, and the Red Wolves looked to be a sneaky-tough game on the schedule. The Red Wolves won the Sun Belt Conference last year and went to a bowl game, losing to Northern Illinois. Malzahn has recruited well and is an innovative offensive mind.
Plus, as one smart and particularly handsome observer has noted, the Red Wolves fit the profile of a team Nebraska unexpectedly loses to at home. While that outcome was never likely, Malzahn's departure from Arkansas State would make the Red Wolves far less of an upset threat in Lincoln.
If you would like to contact me directly to schedule an interview, ask a question or to get my recipe for a killer peach cobbler, you can send an e-mail to patrickrunge@gmail.com. (DISCLAIMER: Peach cobbler recipe might not be all that killer.)
Or, you could always…Follow @patrickrunge