Bobby Petrino Fired: Where Arkansas Football Goes from Here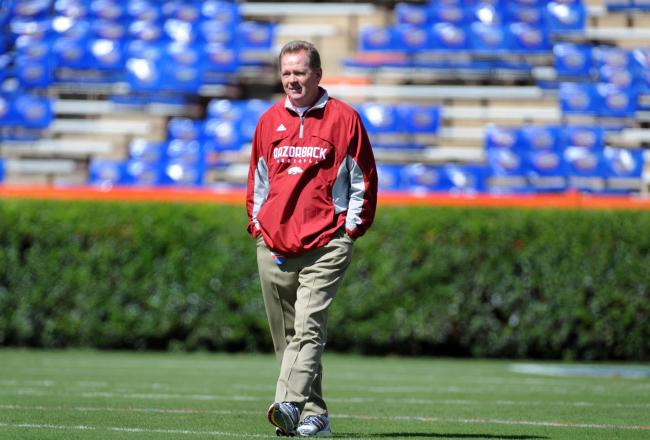 Al Messerschmidt/Getty Images
Bobby Petrino is out at Arkansas, which means the athletic department has conducted their review, got their necessary information in only a few days and the Petrino Rally on Monday night fell short.
This was not a popular decision to deliver, and it will be heavily scrutinized by a fair amount of the folks in red. In the end, however, it was a rather easy one to make as more details surfaced. Also, Arkansas learned that athletic director Jeff Long is one hell of a man and certainly capable of making tough decisions.
Long delivered further factoids of what was going on behind the curtain in Hogville. We learned that Bobby Petrino hired 25-year-old Jessica Dorrell, his admitted mistress, out of a pool of 159 total applicants. No need to further address what exactly that means or read between the lines. We also learned that Petrino gave Dorrell $20,000 in cash, although the extent of this payment remains somewhat mysterious. At this point, do we need anymore details?
Petrino deceived the university in the days leading up until the police report regarding the incident was released and the cat was officially out of the bag. It was at this moment that he came forward, but it was also likely too late.
The lies, which seemed like the grand items of note as news surfaced, take a backseat to the items Jeff Long discussed at the press conference on Tuesday evening. Petrino's actions alone might have been enough to get him fired, even if he had come forward the day of the crash. The manipulation of a vacant position within the university is an incredibly serious internal violation. Petrino's deception was just another item on the checklist at this point.
This was no longer a question about what was morally right or wrong or allowing Petrino an opportunity to learn from his mistakes. His personal life crossed paths with the university when he allowed it to happen. At that point, there was no going back, which is why he let it get to this breaking point. And, oh, did it break.
In the short-term, Arkansas will be forced to pick up the pieces in a hurry and move on. Taver Johnson will be the interim coach, but the coaching search for the university began shortly after Jeff Long poured himself a much-deserved glass of scotch after a long few days. The timing is tough, but Arkansas is also a marquee job that will have plenty of interest from those that are out of the game and those that are currently leading other programs through spring practice.
Recruiting is something that could be impacted, but it's impossible to know by just how much. If Arkansas is able to bring in a respected football mind before the end of next season, which is not an easy task at this point, it might not be as bad as some might believe. It's easy to say the sky is falling right now, but sometimes, opportunities present themselves unexpectedly. Just look at Urban Meyer and Ohio State
The one item that cannot be questioned throughout this time is the talent that Arkansas has. They have their quarterback, they have their running back and they also have time to let this kind of drastic change set in. Arkansas will be a BCS contender in 2012 without Bobby Petrino, which is how it will be and how it should be.
This article is
What is the duplicate article?
Why is this article offensive?
Where is this article plagiarized from?
Why is this article poorly edited?