2012 Possible Atlanta Falcons Draft Pick Profile: OT Donald Stephenson
April 10, 2012
Left Tackle

Oklahoma University
Combine Measurements

Height: 6'5-1/2". Weight: 312 pounds.  
Arm length: 34-7/8". Hand measurement: 9-7/8".
40-yard dash: 4.94 sec. 20-yard split: 2.83 sec. 10-yard split: 1.68 sec.
20-yard shuttle: 4.78 sec. Three-cone Drill: 7.52 sec. Bench reps: 19 reps
Vertical jump: 35.5" Broad jump: 9'6"
Stats
2007 - Redshirted
2008 - 7 games, 0 games started
2009 - 0 games, 0 games started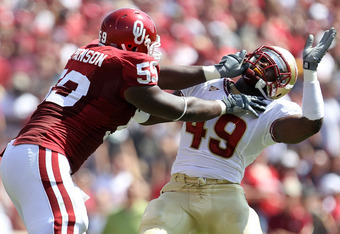 Ronald Martinez/Getty Images
2010 - 14 games, 10 games started
2011 - 13 games, 13 games started
Scouting Report
Strengths
Stephenson has unparalleled athleticism to go with ideal size for the pro game at 6'6" and weighing in 312 pounds. His first step off the ball is extremely quick and he can use his bulk to overpower players in the running game.
He looks good popping out of his stance and is quick off the line in pass protection. He gets good punch and has great speed in his kick-step. His main issue is technique and inexperience, though, as he would do well to learn behind a true pro in a good scheme.
Weaknesses
He has trouble maintaining leverage in the running game. He has massive technique issues and needs to truly understand the game before he can be promoted to a starting player. His best bet would be to learn behind a technical genius for a year or two.
Overview
He wasn't the best student and lost a year of football due to academic eligibility concerns. He is, however, a two-year starter at left tackle and looks like he could be an excellent player on the field with proper coaching.
How he would fit into the Falcons' plans
Stephenson is a quick, strong offensive tackle who fits in best as a left tackle. He's a project and wouldn't start right away but he would be someone who could surprise as he has first-round athleticism with fifth-round production.