Washington Nationals: Davey Johnson Needs to Settle on Brad Lidge as Closer
April 10, 2012

Patrick Smith/Getty Images
Brad Lidge and Henry Rodriguez could be closing games for the Washington Nationals for a while.
That can't help but be the initial reaction when news comes out that closer Drew Storen was set to visit orthopedist Dr. James Andrews on Tuesday for an exam. Any pitcher's name in the same sentence as "Dr. James Andrews" usually doesn't carry good news with it.
But maybe there's some good news regarding Storen's sore right elbow. According to MASN.com's Dan Kolko, team doctors don't believe Storen has suffered any ligament damage in the elbow.
However, there is a loose body floating around in there, which is what's causing the soreness. The object in question is probably a bone chip. And if so, it will need to be removed via arthroscopic surgery.
So the Nats are looking at having Storen out through at least the All-Star break. The team cites Jason Marquis' surgery in 2010 as a reason for optimism. As CSN Washington's Mark Zuckerman reminds us, Marquis had bone chips removed from his elbow and was back in three months. 
I would point to Detroit Tigers pitcher Mike Maroth, who underwent a similar procedure in May 2006, and effectively missed the rest of the season. Obviously, recovery time depends on the pitcher.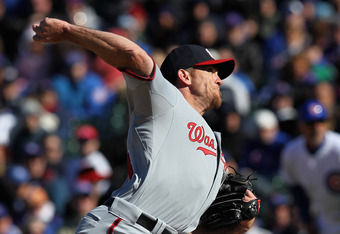 Jonathan Daniel/Getty Images
Fortunately for the Nationals, as I wrote two weeks ago, general manager Mike Rizzo did a good job of making sure his bullpen had enough quality relievers to cover such an injury.
Signing Brad Lidge to a one-year deal originally looked like a depth move. In light of Storen's elbow issue, it might be the smartest move Rizzo made this offseason.
Manager Davey Johnson said he intended to split the closer role between Lidge and Henry Rodriguez in Storen's absence. But he may eventually have no choice but to make Lidge the primary closer, whether he announces it formally or not.
Rodriguez showed in Monday's loss to the New York Mets how volatile he can be with a game on the line. He struck out Scott Hairston to end the eighth inning, but walked pinch-hitter Mike Baxter to begin the ninth. Then on a sacrifice bunt attempt by Ruben Tejada, Rodriguez threw the ball away, allowing Baxter to advance to third.
(Even worse for the Nats, second baseman Danny Espinosa took an elbow to the head covering first on the play, and is out for Tuesday's game, according to Kolko.)
Rodriguez then left a fastball over the plate that Daniel Murphy smacked into right field to drive in the game-winning run.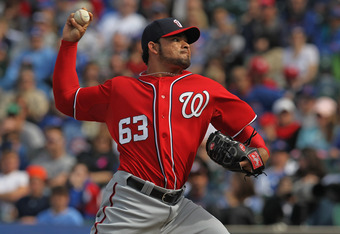 Jonathan Daniel/Getty Images
It was hardly a "pretty frickin' bueno" performance. 
Of course, it was just one game. And plenty of closers have had a bad ninth inning early in the 2012 season.
Rodriguez will get the call in the ninth again. The days of Lidge making 70 appearances are probably over. So he'll need to mix Rodriguez in with him, if save situations or tight late-inning situations keep coming up. 
But I'm willing to bet Johnson is glad he has Lidge available to bring in on most nights.