The Pittsburgh Steelers Sign Veteran TE Leonard Pope, Solve One Problem
April 10, 2012

Jamie Squire/Getty Images
With 10 picks in the upcoming NFL draft and a real, if cursory, need to bring on another tight end this year, it seemed that would be the place the Pittsburgh Steelers would grab one. Considering their salary cap situation, a free-agent tight end didn't appear to be on the Steelers' radar at all.
Apparently, that wasn't the case.
The Steelers announced on Tuesday that they signed veteran tight end Leonard Pope to a one-year deal. Pope was a third-round draft pick for the Arizona Cardinals in 2006 and was most recently a member of the Kansas City Chiefs.
The signing of Pope fills a very real need for the Steelers. Until today, they had two dedicated tight ends on their roster—Heath Miller and Weslye Saunders. Saunders is set to serve a four-game suspension at the start of the season, leaving no backup for Miller nor any other player to take on the play-specific blocking and receiving assignments of Saunders.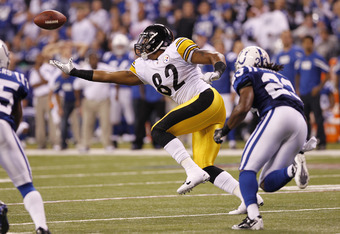 Joe Robbins/Getty Images
New offensive coordinator Todd Haley is the reason why Pope made the move from the Cardinals (where Haley was offensive coordinator) to the Chiefs (where he was again offensive coordinator before becoming head coach for most of the 2011 season). Haley is clearly familiar with Pope's skills and was able to convince the team's brass and head coach Mike Tomlin that he'd be worth some of the team's limited cap space.
In his career, Pope has notched 102 receptions for 973 yards and nine scores, has lost just a single fumble and missed only nine games in his six years in the league. Last year was Pope's most productive in terms of yardage, with 24 catches for 247 yards, though his highest scoring total came in 2007 when he had five touchdowns.
Pope isn't a flashy or explosive playmaker, but that's not what the Steelers generally look for in a tight end. Instead, they look for reliability, consistency in both catching and blocking and the ability to contribute from day one.
Pope has all of those attributes and makes for a smart and safe free agency addition. That's not to say that the Steelers won't take a tight end in the draft—they'll need a successor to Miller eventually and Saunders can't do it alone—but at least they've managed to meet a need this free agency period, one that's been particularly quiet for the team thus far.