Fantasy Baseball 2012: Hot-Starting Hitters to Stay Away from
April 10, 2012

Elsa/Getty Images
Hope springs eternal during the opening week of the MLB season, as much on the actual diamond as in the world of fantasy baseball. Part of the challenge for fantasy owners at the outset of the season is sorting through the long list of fast-starting hitters and figuring out which ones are legitimate and which are bound to fade.
Of course, not even established stars like Miguel Cabrera, Matt Kemp and Evan Longoria are likely to hit at a .400 clip or rack up more RBI than games played.
At least those guys can be counted on to be uber-productive players throughout the season. The same can't exactly be said for these three hot hitters, all of whom are good bets to fade well before the seasons shift into the summer.
Austin Jackson
The Detroit Tigers shocked the baseball world with a sweep of the Boston Red Sox over the weekend, a feat in which Austin Jackson played an integral part. The 25-year-old center fielder emerged with an eye-popping .563 batting average, boosted by four extra-base hits and four walks.
But while those numbers are strong in their own right, it's important to consider the source and against whom said source compiled them. Jackson had the benefit of swinging against subpar performances by supposed Red Sox aces Josh Beckett and Clay Buchholz, both of whom were good 'n terrible in their season debuts.
More importantly, Jackson's history suggests that he's anything but a patient hitter, having struck out 351 times and walked just 103 times in his two previous major league campaigns. He'll have a productive year atop the lineup for the Tigers, scoring 90 or more runs and stealing 20-25 bases.
Don't be surprised, though, if his average dips down closer to the .250 or .260 range while his whiff count explodes.
Ryan Sweeney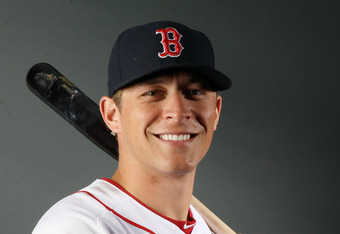 Elsa/Getty Images
Austin Jackson wasn't the only outfielder who caught fire at Comerica Park last week. Ryan Sweeney was lighting up the Red Sox dugout during that series, and he has continued to do so against the Toronto Blue Jays, upping his average to .467.
For all of his early feats, Sweeney hardly fits the profile of your prototypical right fielder. He's never hit more than six homers in a major league season and has never stolen more than nine bases.
In other words, Sweeney is neither speedy nor powerful, and while he doesn't strike out all that often, his unusually high batting average on balls in play over the past few seasons suggests that his hot-hitting start is as much a fluke as any.
And once the average goes, so too will the rest of Sweeney's fantasy productivity.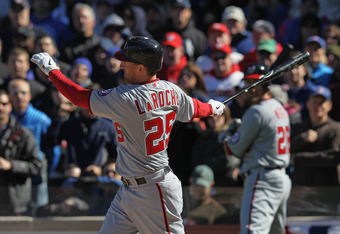 Jonathan Daniel/Getty Images
Adam LaRoche is due for a bounce-back year after hitting just .172 in 43 injury-plagued games with the Washington Nationals in 2012.
But this big of a bounce-back? Like, a .467-swingin', home-run-hittin', run-drivin' recovery?
Don't hold your breath. LaRoche has the power to hit 20-25 homers with a mid-.200's average, albeit while whiffing far more often than walking, especially against teams better than the moribund Chicago Cubs.
LaRoche isn't a poor pickup per se, but he wouldn't warrant you going out of your way to clear room for him at first base on your roster.