Arkansas Razorback Football: Fans Rally Around Coach Bobby Petrino
April 10, 2012

Wesley Hitt/Getty Images
Monday night, over 200 fans gathered in on the University of Arkansas campus in support of head football coach Bobby Petrino. 
Last week, Petrino made headlines after he was placed on administrative leave for withholding information about who was involved in the motorcycle crash that he was injured in earlier in the week. This crash has proven to be Pandora's Box for Petrino and the university, with the revelation of an alleged "inappropriate relationship" with a newly-hired 25-year-old, Jessica Dorrell, and the attempted cover-up involving Petrino's personal security.
Speculation has been swirling as to whether or not University of Arkansas Athletic Director Jeff Long will choose to allow Petrino to continue on as the head coach after the review.
Late Monday afternoon, University of Arkansas athletic department spokesman Kevin Trainor said "There are no new updates to report. The review is still ongoing."
The Adulation of Winners 

The Petrino scandal has created a debate among sports fans and analysts alike as to whether or not he should be fired based on his actions or allowed to keep his position at the university based on his performance as a championship coach.
Since hiring Petrino in 2007, the Razorbacks have seen four winning seasons and a Cotton Bowl Championship in 2011. Many Arkansas fans question what will happen to their winning football program if Petrino is indeed fired in lieu of merely being reprimanded for his actions. 
As the Razorback fans chant the infamous "Woo Pig Sooie!", joyously toss tee-shirts in the air and shout in honor of the shamed coach,  one must wonder if the reaction would be different if Petrino's record had not been 21-5 in the last two seasons.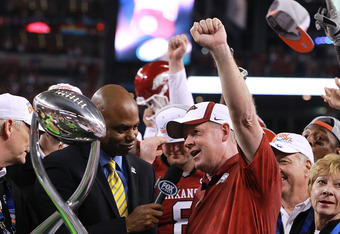 Ronald Martinez/Getty Images
While there is most definitely an outcry for the firing of Coach Petrino based on the immoral acts of a married man, we cannot deny the fans the shouting from the rooftops to allow him to stay. Why? Because we are a society that embraces winning. Obviously, no one is condoning his behavior, but the very fact that Petrino has placed the Razorbacks back on the map makes it a bit easier to look the other way. 
Let's consider the actions of such greats as Tiger Woods, Barry Switzer, Kobe Bryant, Charles Barkley, Ben Roethlisberger and Michael Vick. Each and every one of these men had once been totally enveloped in scandal and managed to overcome it. Each and every one these men were temporarily hated for their actions and then once again loved for athletic prowess or expertise. We love winners. As long as they do not fail with a ball or clipboard in their hands, the scandal will eventually blow over and they will be publicly acceptable once again. 
Food for Thought 
Charles Barkley once said, "I'm not a role model."
In a society that has a tendency to idolize sports figures for their athletic talent and not for their character as a human being, is it fair to quickly become judgmental when these same individuals make poor personal decisions and fall from grace?
In keeping with Barkley's infamous quote, should individuals with such high visibility simply be allowed to be human, or do they have a moral obligation to behave differently due to their position in the limelight? When the sports pages tend to be as filled with as much scandal as they do statistics on some days, it might be a safer bet to just allow athletes and coaches to do exactly what they are paid to do and not worry about the rest.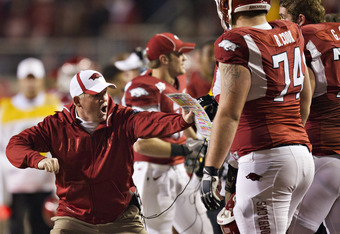 Wesley Hitt/Getty Images
Forgive and Forget

The waiting game continues as athletic director Jeff Long continues with his review of the situation. Petrino played the university athletic department for the proverbial fool not once, but twice in that he had Dorrell ( a woman that he allegedly had an inappropriate relationship with) hired and then wasn't forthcoming with information on Dorrell being his passenger on April 1; thus, the university press release. This is all a bit hard to overcome. 
Hog fans show their support of Coach Petrino with a rally and even a growing Facebook fan page with a current membership of over 21,000. While everyone sits in wait on Long's decision, the ultimate question remains as to whether winning will save Petrino or if that fateful motorcycle ride was indeed worth $3.53 million a year.
*All comments were gathered firsthand by Angelique Christina. She is a staff writer for So6ix Magazine, JackColton.com and the Communities at the Washington Times.  
.