Big Ten Football 2012: Ranking the Big Ten Tight Ends
April 10, 2012

Jeff Gross/Getty Images
Every Tuesday, The Big Ten Blog will rank the top players at each position for each team in the Big Ten. Today, we're going for the men who are expected to block linemen on one play and stretch the secondary on the next: the tight ends.
12. John Rabe, Minnesota
Rabe started six games for the Gophers at tight end last season and is the odds-on favorite to keep the starting role in 2012. He's also got a bit of versatility, having lined up at H-back at times, so this gives Minnesota some more flexibility on offense. 
11. Evan Watkins, Northwestern
Watkins faces the daunting task of replacing all-conference super-back Drake Dunsmore. He's got the size to make it work at 6'6" and 245 pounds, but he was a quarterback until bowl practice last year. Expect Pat Fitzgerald to take advantage of that fact and use Watkins' arm in a couple trick plays this year; how often Watkins is a receiving target remains to be seen. 
10. Crosby Wright/Gabe Holmes, Purdue
Wright, a former walk-on, will fight for a full-time starting role in 2012 with junior-to-be Holmes. Wright caught 16 passes for 223 yards and two scores, while Holmes added 11 catches for 133 and another touchdown. Wright will likely see the field more, but Holmes has the talent to make a major push here. 
9. Garry Gilliam, Penn State
Gilliam hasn't played in nearly two seasons, having missed the last 22 games with a torn ACL and MCL, then suffering a setback with a knee infection that cost him the 2011 season. He's back, he's huge (6'6", 277 pounds) and he's got one of the best minds for using a tight end in head coach Bill O'Brien guiding him.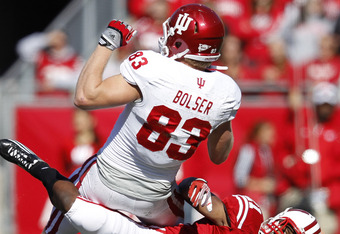 Joe Robbins/Getty Images
8. Ted Bolser, Indiana
With Indiana suffering an exodus of sorts at wide receiver due to graduation, Bolser should step into a major role of production in 2012. He's made 13 starts over the last two seasons and 41 catches for 572 yards and seven TDs—though, most of those came in 2010, when Ben Chappell was throwing him the ball and not Tre Roberson, who stepped into the starting role as a true freshman last year.
Both Roberson's and Bolser's numbers should see a bump in 2012. 
7. Brandon Moore, Michigan
Moore has bided his time quietly behind a loaded depth chart at tight end for Michigan, but with Kevin Koger's upcoming graduation, Moore's in line to emerge as a senior leader.
Michigan's hurting at WR, especially past the starting three, so expect to see Moore used often as a safety valve for Denard Robinson. He's also improving as a blocker, and for that, Robinson and RB Fitz Toussaint will thank him.
6. Jon Davis, Illinois
Davis, who is Illinois' returning starter at TE, emerged as a legitimate target during Big Ten play last season, even as a true freshman. Look for the game to slow down for Davis as he improves his play overall, and with that should come some big games, as Illinois searches for a go-to receiver in the absence of A.J. Jenkins.
Davis has the physical skills to be that man in the middle.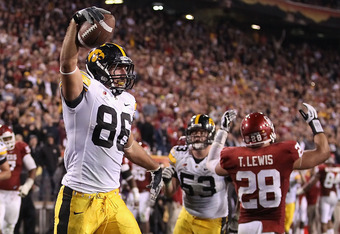 Christian Petersen/Getty Images
5. C.J. Fiedorowicz, Iowa
Fiedorowicz was one of the top tight end recruits in the nation in 2010, and he's now into his junior season with more expectations on him than ever. In terms of sheer athleticism, Fiedorowicz is just about the best among B1G tight ends, but his production didn't pick up until late last season.
As Iowa adjusts to a more pass-oriented offense, the Hawkeyes will likely want to lean on Fiedorowicz to the tune of four catches a game or so. If he's got it in him, he'll rocket up this list.
4. Dion Sims, Michigan State
Michigan State is going to miss Brian Linthicum at tight end in 2012, but Dion Sims is about as good a replacement as you can ask for. He's huge at 6'5" and 275 pounds, showed good receiving skills as a freshman before a broken wrist curtailed his catching ability last year and is a beast on the line.
He should have a great rapport with new starting QB Andrew Maxwell, as both spent time with the second unit last year, and it's fair to expect a big year from Sims, who'll be a matchup nightmare for a lot of teams.
3. Ben Cotton/Kyler Reed, Nebraska
Ben Cotton is the returning starter in terms of "guy who's on the field first," but if Cotton is No. 1 on the Nebraska depth chart with his 11 starts, Reed is 1A; the two have combined for nearly equal playing time and receptions—and Reed even notched four starts of his own last year. They're both seniors in 2012, and they'll both play often and keep catching a couple passes a game or so. It wouldn't be a surprise if one of these guys bumps up his stats and gets some all-conference recognition in his senior year.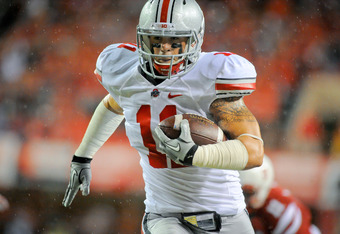 Eric Francis/Getty Images
2. Jake Stoneburner, Ohio State
Ohio State didn't have much production from their receivers in 2011, particularly when it came to getting in the end zone. But what scoring there was came mainly from Stoneburner.
Half of Stoneburner's 14 catches were touchdowns, and many of those were the result of runs after the catch. Stoneburner's got a wide receiver's agility in the open field, and Urban Meyer is going to love using him in the new spread offense as Braxton Miller matures as a quarterback.
1. Jacob Pedersen, Wisconsin
As a sophomore in 2011, Pedersen gave the Wisconsin offense some much-needed versatility at tight end, catching 30 passes for 356 yards, and his eight receiving touchdowns were second in the nation for tight ends. He also blocks like a truck and is a major factor in Wisconsin's ability to move the line of scrimmage on rushing plays.
There'll be a fierce competition for first-team All-Big Ten, but in terms of the complete package at tight end, Pedersen is best out of an absolutely loaded conference.