Alabama Football: 4 Players Who Must Step Up with Trent Richardson in NFL
April 10, 2012

Ronald Martinez/Getty Images
While the departure of Trent Richardson certainly hurts Alabama, it is not the end of the world. The Tide has plenty of improving, talented players on offense who can and will make up for the production Richardson leaves behind.
Here are four of them.
Eddie Lacy, RB 
Richardson's departure makes room for Lacy to sit atop the running back depth chart. Those are pretty gigantic shoes to fill, but Lacy will need to do so in order for the Crimson Tide to continue experiencing the type of success they did in 2011.
Lacy is a different type of back than Richardson, yet he still very effective. He is an absolute speedster with terrific elusiveness and can break a long run at any time. He endured turf-toe last year, so his effectiveness was hindered. Still, he finished with 674 rushing yards and seven touchdowns on only 95 carries (7.1 YPC).
The only real concern about Lacy performance-wise is that he often does not take care of the ball. He will have to improve in that regard in 2010, and if he does, watch out. 
Dee Hart, RB
Hart, one of a few possible backups for Lacy this year, is one talented player. Unfortunately, we haven't seen much of him, as he tore his ACL before his freshman season. The former 5-star recruit is only 5'9" but he's very strong and possesses great speed.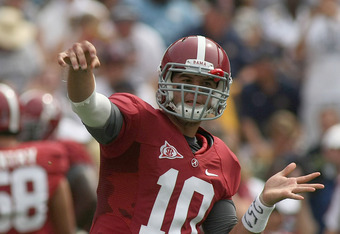 Greg McWilliams/Getty Images
Hart is extremely versatile and will likely be often used in the passing game. With Lacy not playing in spring ball, as he is still recovering from surgery, Hart has been seeing more action. His numbers weren't great from the first spring scrimmage (13 carries for 32 yards), but it's nice to see him out there. He still possesses the ability to do some amazing things on the football field. And Alabama needs him to do just that this season.
Kevin Norwood, WR
The passing game as a whole needs to improve now that Richardson is gone, and Norwood is one of a few who can make that happen. As a sophomore, Norwood did not get too much playing or very many looks, only recording 11 catches during the season. Still, in that limited time, Norwood showed flashes of great play, and after Marquis Maze went down in the title game, it was he who stepped up, grabbing four balls for 78 yards.
He will be a top receiver this year for the Crimson Tide, along with Christion Jones and Kenny Bell. If Norwood can build upon his title game performance last year, the Tide should be in good shape.
A.J. McCarron, QB
The man who will be delivering the ball to Norwood also needs to have a big year. But McCarron does not just need to step up in terms of throwing the ball better, but from a leadership standpoint as well, now that he is an upper classman. And good news for Tide fans: He seems to be doing so.
"Yeah, you can see a very (big) difference from him," cornerback Dee Milliner said. "He's poised. He's calm now. He's a great leader out there on the field. Vocal."
Considering the youth on the outside, it is especially important that McCarron is taking more control. And even though 'Bama has a great crop of running backs, the loss of Richardson will force the team to air it out more. After an efficient season in 2011, in which he threw 16 touchdowns to only five interceptions, McCarron seems poised to post better numbers this season.