Los Angeles Lakers: 5 Things Laker Fans Worry About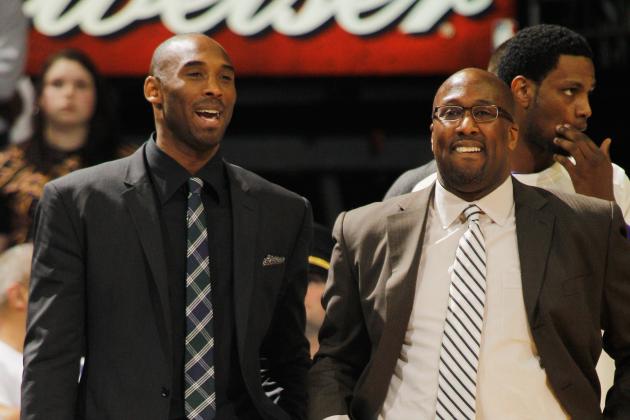 Chris Graythen/Getty Images
Kobe Helping a Befuddled Mike Brown
With only eight games left in the season, Lakers' fans have acquired an unusually long list of worries about this team.
Usually a team improves over the span of a season unless crippled by injuries. The Lakers have been surprisingly injury free considering the age of their starters. Perhaps the inability to run fast or jump high has saved players from injuries suffered by younger more athletic players.
On Sunday, the Lakers lost to an undermanned, inferior Suns team by 20 points without Kobe Bryant. This would be alarming on its own, except the Lakers had a miracle comeback against an even more undermanned last place Hornets team in New Orleans two nights later.
With the help of the struggling and generally inept Clippers, the Lakers will win their division once more. But the Lakers are on a pace to lose more than 25 games in a truncated season, which is more than you would expect of them in a complete 82 game season.
All this despite only one change in the starting lineup, Ramon Sessions at point guard, that was an upgrade over the aging and slower Derek Fisher.
Why is this team playing so poorly? And why are Lakers' fans so worried about this team? Here are five things fans are worried about that are unlikely to change before the end of the season or in the playoffs.
Begin Slideshow

»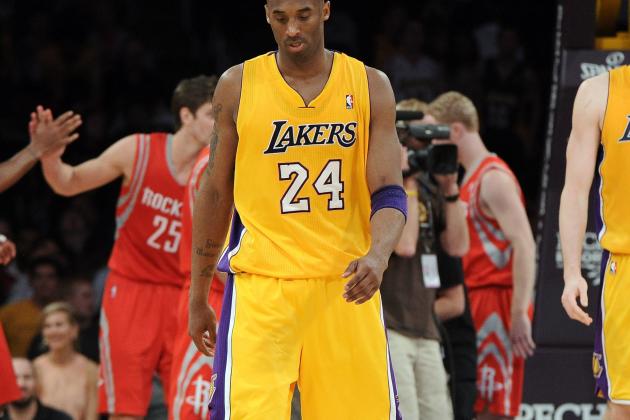 Harry How/Getty Images
Kobe with an Injury
The single biggest worry for every Laker fan is Kobe Bean Bryant missing games either from injury or a suspension. Even those fans critical of Kobe's number of shots and shot selection merely want to curb Kobe, not see him out of the lineup.
For the first time in more than 130 games, that worry has been realized by, of all things, a shin injury. After a broken nose, a severed tendon on his shooting hand and countless other injuries, it was an accidental lick to the shin that was Kobe's undoing.
Fans have watched Kobe play so many games hurt, when other players would not, that a sense of invincibility has surrounded the stubborn Bryant for years. But as he gets deeper into his 30's, and the number of games played mounts, Kobe will start missing more games in future seasons.
The Lakers have not had an effective back up for Kobe for some time now. Worse yet, the only small forward on the team than can play the two guard position effectively is Matt Barnes.
Andrew Goudelock is a rookie and not prepared to play the position regularly. As much as I like Goudelock, his future is at back up point guard because he lacks the height to play most of the 2-guards in the league.
Steve Blake's future with the Lakers is doubtful as fans watch a rapid decline in his skills and decision making at both the point and shooting guard positions. If the Lakers intend a backcourt consisting of Darius Morris and Goudelock, then Laker fans should really be worried. In the end, Goudelock and Morris will be competing for the same roster spot.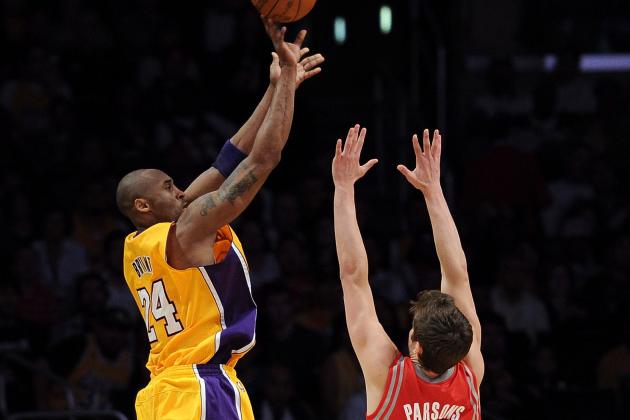 Harry How/Getty Images
Kobe's Jumper
The most frequent criticisms of Kobe Bryant are his shot selection, lack of passing, number of shots taken and his declining shooting percentage.
The worry is that Kobe is restricting the team and the growth of individual players. This mantra of Kobe "haters" are generally unfounded because those numbers are deceptive.
Kobe's declining shooting percentage can be attributed to a poor offense that permits defenses to double team Kobe constantly, shooting last desperation shots at the end of quarters and players who pass him the ball with less than six seconds left on the shot clock because that player can't or won't shoot the ball in pressure situations.
In some games, fans can count as many as six to eight shots a game that Kobe is forced to shoot because others will not. When the Lakers offense breaks down, the team almost certainly goes to Kobe. If you extrapolate Kobe's misses and adjust his shooting percentage to compensate, his overall shooting is no better or worse than any previous year.
Lately, fans and commentators have dug up a statistic that proves, in their minds, that when Kobe shoots below .450 for a season, the Lakers do not go very far into the playoffs.
It is an interesting statistic that is being used to prove the wrong point. In the years Kobe has had a poor percentage, he also had a poor supporting cast including such failures as Smush Parker and Kwame Brown. Kobe could have shot 70percent those seasons and the Lakers would have lost in the playoffs with Parker and Brown on the floor.
The complaints about Kobe's passing and lack of assists are also misplaced. If Kobe had teammates who could shoot better, Kobe would have averaged at least two more assists a game in the past seven years.
How may jump shots has Metta World Peace missed this year after passes from Kobe?
If you look at the Lakers three point shooting percentage over the past seven years, it is easy to see why Kobe doesn't pass as much as he did during the Shaq years. Poor shooting by other Lakers' players must give Kobe nightmares.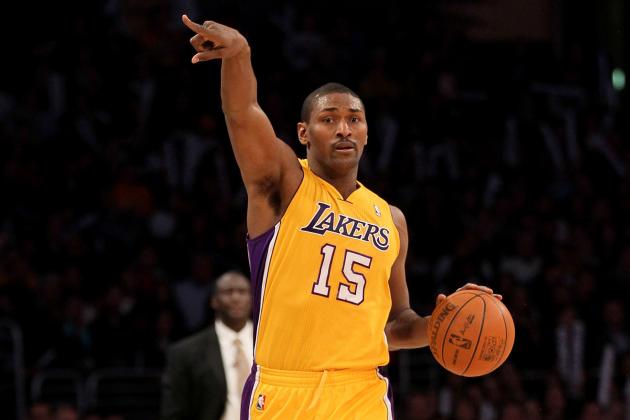 Stephen Dunn/Getty Images
Metta World Peace trying to be a Point Guard
Every fan I talk to openly criticizes Mike Brown's offense, known in this column as the "Wooden Indian" offense, because players just stand around and watch Kobe.
It is amazing that 57 games into the season the Lakers still run an almost unidentifiable offense. Sometimes it looks like they are running the classic NBA passing game, and at other times it looks like the Lakers' starters are reverting back to classic triangle sets when Brown's phantom offense breaks down.
Fans who were happy to see the triangle offense go must be suffering from regret as the season progresses. The answer to the Lakers' offensive woes is not "more energy" and "getting to those 50-50 balls more."
The Lakers need better offensive coaches to develop a coherent offense that the team can be confident in running, especially down the stretch of close games. If Brown cannot perform this task, he should be fired or at the very least compelled to hire an offensive coach that can produce results.
It is clear, after watching Brown's lack of offense in Cleveland and this year's Lakers offense, that Brown is a dismal offensive coach.
If that is true, then it is likely that Lakers' fans and management will come to the same conclusion. While Kobe has Brown's back for the time being, will Kobe have Brown's back if the Lakers are sent packing after a first-round playoff sweep by a lesser team?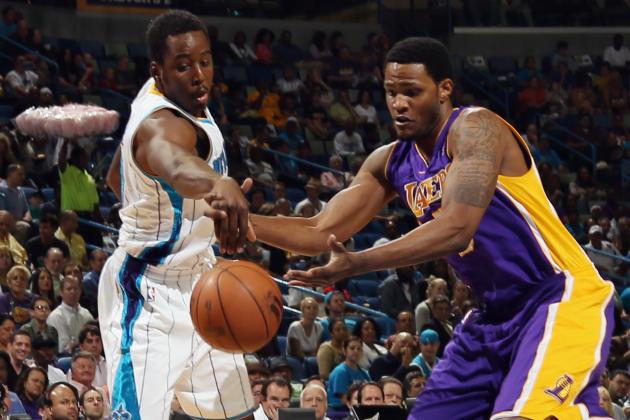 Chris Graythen/Getty Images
Ebanks on Defense
In the last few weeks, the Lakers defense has taken a dramatic step backward giving up more than 108 points a game after averaging about 89 points a game early in the season.
Mike Brown blames the increase in a change of tempo and the Lakers not getting back on defense because of the change. Brown ignores the fact that Laker starters are old and slow and have not been getting back on defense since early in the season.
The Lakers have given up more fast break points this year than arguably the last three years combined. Their vulnerability to fast point guards was exposed by Dallas last year in the playoffs. It was hoped that Ramon Sessions would cure some if this with his apparent speed, but he is not enough alone.
Now every team attacks the Lakers leaving them vulnerable to young teams. This flaw is punctuated by the number of young teams at the bottom of the standings that the Lakers have lost to already this year.
Fans get tired of watching Gasol and Bynum jog down the court after missed shots while opposing centers run the court to get better low post position or fast break dunks. Fans are amazed and annoyed at how many fast break points the team has given up to opposing centers.
This lack of speed and effort is punctuated by the difference in team speed when the Lakers' bench is on the court or Brown substitutes Matt Barnes and Josh McRoberts for the slower Pau Gasol and Metta World Peace. While Bynum is not slow, his season has been punctuated by attitude problems that often give the appearance that he picks his spots to run instead of hustling on every play.
In older years, the Lakers guaranteed themselves a good record by dominating the teams at the bottom of the standings, while winning more than their share against contenders. In the playoffs, they dominated lesser teams.
Fans are also amazed that the Lakers do not run a zone defense more, especially when they see young teams shooting poorly from the perimeter. Fans that watch opposing teams run the zone successfully don't understand why the Lakers don't run it also.
Fans want to see a zone defense with the twin towers of Gasol and Bynum guarding the low block, Metta at the free-throw line while Kobe and Sessions chase the ball. A zone would arguably be more effective with the speedy Barnes in the middle.
While this is not a defense the team could or should run for significant minutes, it ha situational value, and Lakers' fans worry that the defense will only get worse without some variation of a zone defense ready to run when appropriate.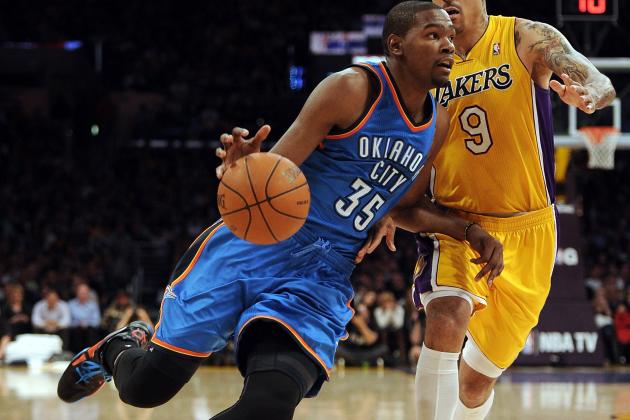 Harry How/Getty Images
Mat Barnes on Defense
On Saturday night against the Phoenix Suns, the Lakers bench got outscored 58 to 10, an unforgivable number for bench players who wish to remain on the Lakers' roster.
Every Laker fan looks forward to upgrading the Lakers' bench every year, only to suffer disappointment.
In the past, it was Phil Jackson's compressed bench rotation and his refusal to play younger players, no matter how skilled they were.
Now the complaint is Mike Brown's puzzling choice of substitutes that changes at his every whim producing unpredictable minutes that make it difficult for bench players to be prepared.
While Brown was saddled with no preseason to speak of and a new cast of characters, Lakers' fans worry that Brown has got little out of his bench in terms of offensive production because of his poor coaching.
Watching the Lakers' bench is interesting. Some players look involved while others look distant and detached. This is always a sign that the coach has lost his players. In the Suns and Hornets game, Kobe sitting on the bench in a suit looked more animated than the rest of the disinterested looking bench.
That does not bode well for this team and is a topic of constant concern and criticism for worried fans. At this point in the season, the Lakers' bench has become a lost cause because Brown will do nothing to correct his coaching deficiencies.
When fans look at the bench, they ask, "Where is the offense going to come from?" With Andrew Goudelock sitting on the bench and Steve Blake shooting poorly, the team can't look to either Josh McRoberts or Matt Barnes to carry the second unit's offense.
With the ongoing changes in rotation and the mix-matching of players, the second unit's defense has become nonexistent as demonstrated against the Suns who spread the court and cut the Lakers' bench up in ribbons.
It is too late in the season for the second unit to bond into a cohesive defensive team, even if Brown were to settle on the same rotation. The Lakers' bench will continue to be a disaster requiring Brown to play only eight players in the playoffs. And, whose fault is that?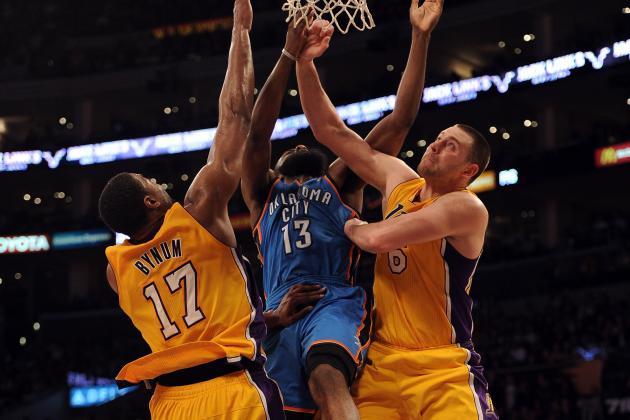 Harry How/Getty Images
Porous Lakers' Defense
For the first few months of the season, Laker fans expected the team to get it together for the playoffs and be competitive. After the trade for Ramon Sessions, false hopes of playoff glory were inflated to a new level only to be burst by reality.
Steady improvement was not an unreasonable expectation for a team that won back-to-back titles with almost the same lineup. But those championship teams had a superior coaching staff that appeared prepared for almost anything, except rocket-fast point guards who could penetrate.
In the last month, fans have watched their dream of going deep into the playoffs evaporate for all of the reason set forth in this article. For many it was frustrating to watch a team fail to grow as the season progressed.
Instead of being remembered as a season of possibility, it will be remembered as a season of chaos, disunity and poor coaching.
While many feel that it is too early to declare this team a disaster, the results of the season, to date, prove otherwise.
Does any fan believe that this team is better than last year's team that got swept by the Mavs? Do any fans believe that this team is well-coached?
And worst of all, is there a fan who sincerely believes that this team has any chance at winning the Western Conference, let alone the NBA Title?
Sadly, the only question left is when this team will be sent packing from the playoffs and whether they will be swept.
If the Lakers can't beat the easy teams, how can fans expect them to beat the better teams.
A first-round series loss to a lesser team is not unlikely. But a second-round match up against likely opponents, Oklahoma City or San Antonio, spells certain doom for a Lakers' team unprepared to play the Suns, Hornets and other lesser teams.