Arizona Basketball: Is Mark Lyons the Wildcats' Best Option at Point Guard?
May 24, 2012

Streeter Lecka/Getty Images
There will be no getting-to-know-you period for Xavier-transfer Mark Lyons at Arizona. It is a guaranteed one-year fling.
Lyons, who chose Arizona over Kentucky and Kansas, owns a final year of eligibility when he graduates from Xavier this summer, and that year is set to be used immediately.
He used everyone's favorite loophole—a rule that allows graduate students (usually redshirt seniors like Lyons) who have already completed degrees at previous institutions to transfer to another school if their current school does not offer their desired area of study. It was the same rule that landed Arizona's football team the nation's third-leading tackler, former Akron linebacker Brian Wagner.
Arizona was looking for a player in Lyons' exact situation—a veteran who can run the point for one season before Duquesne-transfer T.J. McConnell takes over that role in 2013. 
McConnell is the point guard of the future. The junior-to-be, who will have to sit out this season, opted to play for Sean Miller over Virginia's Tony Bennett.
But the present at PG is still in question.
With a vacancy at the position with the departure of Josiah Turner to SMU, it seems a natural fit for Lyons—who will likely have to play there, according to ESPN, if he's going to make an NBA roster—to take over instantly.
It's probably Lyons' gig if he can make the transition. 
The New York native averaged 15.1 points, 3.2 rebounds and 2.8 assists last year as a shooting guard, as the Xavier PG post was occupied by star Tu Holloway.
And he was recruited to Xavier by Miller.
"Very seldom do you leave a player as a coach and then get a chance to coach him again," Miller said. "I'm excited to have his experience.

"He's one of the most competitive kids that I've been around and I look forward to him sharing that senior mantle with Kevin Parrom and Solomon Hill."
On the surface, it appears a perfect fit.
But his commitment doesn't come without issues. Although Lyons was signed out of high school by Miller, he never played under the current Arizona coach, as Miller jetted out of Cincinnati in favor of Tucson the next season.
Lyons clashed with Miller's close friend and current Xavier coach Chris Mack, eventually leading to his departure from the program.
Said Mack, via Cincinnati.com:
"After our end-of-season meeting with Mark it became apparent that a change for both parties was the right thing moving forward," Mack said in (a press release).

"During our meeting expectations were outlined for his fifth and final season, areas in which I believe needed improvement. Mark did not recognize these expectations as being important and ultimately it was decided that a change of scenery would be in his best interest. I wish Mark well."
He was also involved in the Cincinnati vs. Xavier tussle that blighted the early college-hoops season.
There is a chance that Lyons will be unable to conform to his new role—or that whatever the vague issues were with Mack will re-emerge.
There are also other players already on the roster with substantial experience in the PG slot at Arizona who could prove superior options.
Jordin Mayes regressed as a sophomore, but many of his issues were caused by injuries to his feet. Those limited his mobility, and he seemed to labor at times. Still, he's experienced, a reliable ball-handler and a dangerous three-point shooter when healthy.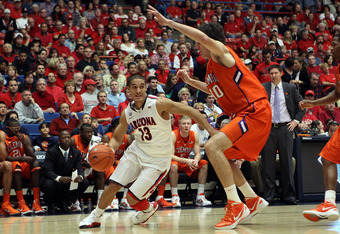 Christian Petersen/Getty Images
Nick Johnson is also small for the 2-guard spot. At 6'2", Johnson seems to be more of a playmaker than a shooter, his stroke fading late in the season. He also played well as the floor leader (except his shooting), when pinned with that duty upon Josiah Turner's suspensions.
It's possible that either of them could take on the bulk of the point-guard duties, with Lyons emerging more suited for the off-guard job—his area of focus during his stay at Xavier. 
Lyons is not locked in as the starter at this point. Miller said as much:
No one's going to promise any of these guys before they show up at Arizona that they're the next starting 2-guard or starting point guard. One of the things I'm excited about is we have some hungry guys in our locker room right now.
But given his reason for transfer was to get a chance to showcase his point guard skills for the next level (I mean, to pursue a graduate degree in a field not offered at Xavier), the money is on him taking over up top.
The outlook at the point after this year appears very healthy.
Miller referred to McConnell as among the best point guards in the country after Duquesne visited the McKale Center earlier this season. And the two have family history that spans several decades. 
He's a clone of Miller, a former standout point guard during his college days at Pitt, in terms of style and background.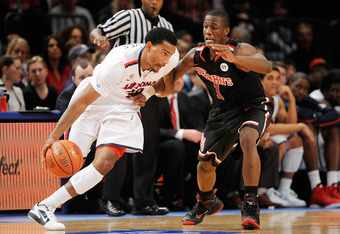 Patrick McDermott/Getty Images
McConnell's commitment added another layer to the situation involving controversial freshman point guard Turner, and whether or not he would ever return to the program.
There was not a scholarship available for McConnell to fill at the time of his commitment, meaning a transfer was necessary in order for him to join.
According to TucsonCitizen.com, the NCAA limit is 13 scholarships. However, because Arizona is still on scholarship sanctions from infractions made during the Lute Olson era, Miller can carry just 12 on the roster at this time.
Someone had to leave. Turner seemed like the most obvious candidate. And that's exactly what happened, though he left Arizona without a true point guard during McConnell's transfer year.
But a few hours after Turner, junior post Kyryl Natyazhko also said goodbye to Tucson to pursue pro opportunities, and thus a slot was opened for Lyons to slide in.
Arizona now must hope that the on-court evolution of the new member of the backcourt plays out as smoothly as the scholarship situation.