6 Boxers You Should Pick to Have Your Back in a Bar Fight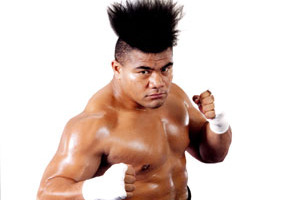 Photo Courtesy of jumpingpolarbear.com
There is the always interesting discussion among fight fans on who you would pick from the sport of boxing to have your back in a bar fight.
Of course, everyone is entitled to their own individual opinion on who they feel is most qualified to properly get their back should they need a pugilist wing man in a big bar fight with you as one of the main event headlinerst.
This debate has appeared many times among the various boxing fight forums, where many provided their picks and explained them.
So, for those who want to enter into this hypothetical yet intriguing,scenario, let's make the list of six boxers you should pick to have your back in a bar fight.
Begin Slideshow

»
Big George Foreman in his prime was not the same smiling teddy bear grill spokesman that he is today.
In fact, Foreman was the complete opposite: A terrifying, mean beast who destroyed and punished everything in his way in the heavyweight division at a time when it was full of real true elite athletes. Many consider his era to be the greatest era of top heavyweight opposition in all of history.
Foreman had incredible destructive power and that power was mostly the reason why he easily walked through so many top technically superior fighters in his generation.
Until his first career loss to Muhammad Ali, he virtually knocked out all of his opponents in the first few rounds, and that even included other all-time hall of fame greats such as Ken Norton and Joe Frazier.
They say when a fighter grows old and they lose all of their skills and talent inside the ring, that their power is always there and the last remaining weapon.
This is definitely true with Big George, as he became the oldest heavyweight champion in history by knocking out Michael Moorer in 1994 in the 10th round of their championship title fight.
Moorer was easily out-boxing him for the first nine rounds until Foreman gave it one last rally in the 10th round knocking him out with one single right hand on the chin.
Even today, in his '60s, despite the now re-invented commercially friendly image that Foreman has, I bet he could knock out all the "D-bags" in your local dive bar should he be provoked.
David Tua was one of the most devastating knockout punchers in all of heavyweight boxing history.
Tua has held numerous records for fastest knockout victories of former heavyweight champions Michael Moorer in 30 seconds and John Ruiz in 19 seconds.
If you have seen Tua in his prime, he not only swung to knock out his opponents but also he swung to punish them and his massive comic book villain-like physique. His ginormous arms and legs allowed him to generate vast power when he would hit his opponents.
In 2003 , The RING magazine ranked him as the 48th greatest puncher of all time.
I actually had the honor of chatting with Tua quite frequently a few years back and he would tell me a lot of great stories about his career, and even the unfortunate downside that the sport of boxing has behind the scenes.
At the peak of Tua's career he was living the good life and he showed me pictures of his Aston Martin and mansion, but at the same time he always made it clear to me that he preferred those who remained grounded and humble.
In fact, Tua told me that if he saw his opponents being too cocky and rude in the pre-fight conferences, then he would take them out even harder.
He told me that in one of his biggest matches (with a fighter I won't mention), he saw that his opponent was being real arrogant and rude to everyone, the media and even his own trainer and team.
So when this opponent began to trash talk him at the weigh-in, Tua whispered into his ear some choice words about what he'll do to him once the bell rang and he said he sensed genuine fear. Of course, that opponent got knocked out early. Very early.
David expressed to me all of the unfortunate things that he encountered in his career, such as the legal and financial disputes that he had with his management and promoters that ended up causing much of his downfall.
He even would tell me how his eyesight was really deteriorating from the damage he accumulated in the ring.
Anyone who's met or talked to Tua knows he's a real down to earth guy, surprisingly enough since he is definitely an amazing beast inside the ring.
One of the discussions we laughed about was how when he was younger and he would be out on a date that no one dared to flirt with his girl since he appeared so intimidating.
So with all of that being said, David Tua would be one elite pugilist that everyone should want to have their back in a bar.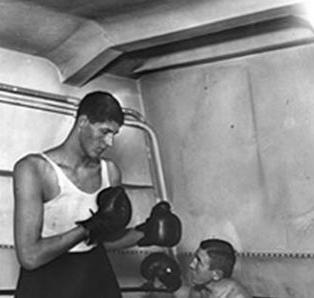 Photo courtesy of BoxingRec
Gogeo Mitu is in the Guiness Book of World Records for being the tallest boxer in history.
Some records list him as tall as 7'9".
His nickname was "Goliath of Romania," being of Romanian descent.
When so many boxers fail to live up to their monikers, Mitu definitely lived up to his.
As a professional prize fighter, he was actually pretty decent with a record of 11(8)-2-1, losing to only two world champions, Primo Carnera and George Godfrey.
Hey Mitu might not be Floyd Mayweather or Sugar Ray Robinson in terms of his fighting ability, but he could fight, and his intimidating monster height would deter many of those wanting to throw down with you at the bar.
Many average-sized folks appear to have gigaphobia, a fear of extremely tall people.
So from our last draft choice selection for our bar-hopping entourage of pugilists who have our backs, we go from the tallest boxer in history to the tallest and heaviest heavyweight champion in history, Nikolai Valuev.
Valuev was a two-time world heavyweight champion with a great record of 53(34)-2, losing only to top elite champions David Haye and Ruslan Chagaev.
Prior to coming over to the U.S. to further market his career, fight fans here in the states would be itching to see actual footage of this so-hyped giant beating everyone in Russia and Germany not named Klitschko.
One of his promoters at the time was the infamous Don King who would promote him as a giant, and even a mythical creature that the public must come and see fight as if he was a circus freak show headliner.
Valuev, of course, disapproved of how Don King was promoting him and hyping him up to the new American audience, but he got that title shot right away against Monte Barrett in 2006. That was the first time much of the American audience actually got a chance to see him fight.
He was a good fighter, a legit world champion, and I can guarantee you, if he was standing next to you at the bar, no one would try to mess with you. His 7', 323 lbs body frame makes him look like he is guarding some sacred treasure in one of the Lord of The Rings flicks.
Vitali Klitschko goes by the moniker "Dr. Iron Fist," and yes, he lives up to the name.
Once holding the record for highest KO percentage of a heavyweight champion, he now still holds the second highest KO percentage of 87.23 percent just behind Rocky Marciano at 87.76 percent.
Whenever Vitali fights in LA at the Staples Center, I am always there. He's exciting to watch. He goes for the knockout and throws several combinations with bad intentions that someone his size normally could not pull off being 6'7" of solid muscle.
Vitali takes pride in his iron chin and the fact that he has never been knocked down in a fight.
In case you did not know, he and his brother Wladimir pretty much have been monopolizing the heavyweight division for the last several years and the only reason why we don't have one unified undisputed heavyweight champion is because both brothers have pretty much all the belts and they vowed to their mother that they would never fight each other.
For younger brother Wladimir, that probably is a good thing.
If you think boxing is dead then you probably have never seen a Klitschko fight in Germany.
Whenever either brother fights, its like a full-scale, multi-million dollar rock concert where 50,000 seat soccer stadiums sell out to maximum capacity in a matter of hours.
In fact, whenever I meet a hot German chick or Ukrainian chick at the bar, I always use the "Klitschko line" and believe it or not it always works.
I always asked them hey do you know who the Klitschko brothers are? Then boom! They eat it up every single time!
In addition to Vitali getting your back and destroying anyone who might try to start with you, he speaks numerous languages, so he could spit game to a wide selection of international honeys who may be visiting, which obviously is a major plus as a wingman.
Also he holds a PhD in Sports Medicine so he can help you stretch properly and help you rehab from previous fight injuries that you endured before you guys became bros.
Mike Tyson is the original "Baddest Man on the Planet", and ever since he was in his prime in the late 1980s, there has never been a fighter in boxing or any other combative sport that has lived up to that title, even though it has been thrown around a bit such as when UFC's Brock Lesnar was at the peak of his career a few years back.
Tyson is famous for his great power and intimidation factor which provided for real entertaining exciting heavyweight fights, something today we do not see all that often.
The RING ranks him as the No. 14 Greatest Heavyweight of all time, also the No. 16 greatest puncher of all time.
Many consider Tyson to be the most exciting and successful boxing attraction ever and the last true great heavyweight champion the sport has seen.
Even today, you cannot escape the endless comparisons to Tyson whenever a new up and coming fighter comes along and starts exciting the crowds or starts knocking everyone out.
Just take a look at how many fighters today still use the nickname "Tyson" as their moniker.
If Tyson had your back in the bars, then you would be surely covered.
Half the people would be scared to death of him while the other half would probably be hounding him for autographs and photo ops.
Actually most of the hot chicks in the bar would probably be drawn to you because they see you are rolling with the ever famous Iron Mike.
So there you have it fight fans. This is my six-man pugilist entourage for hitting the bars and who I pick to have my back in a bar fight.
The criteria and qualifications for my six-man team consisted of:
1. Over all physical size
2. Intimidation factor
3. Knockout percentage
4. Durable chin
5. Heart
6. Any benefits of helping me get hot chicks
So now that you have seen my list. Who would be included in your list?
Which six boxers would you select to be part of your bar hopping pugilistic bro team to have your back should a big brawl go down?
Leave a comment on this article and break down why you selected who you did my fight fan friends.
King J is the Bleacher Report Boxing Community Leader and a Featured Columnist.
Follow on Twitter: @KingJ323
Subscribe: http://www.youtube.com/KingJ323