Cameron Wake Would Be Wise to Hold Out until the Miami Dolphins Re-Sign Him
April 10, 2012

Scott Cunningham/Getty Images
The Miami Dolphins would be foolish not to give Pro Bowl defensive end Cameron Wake a long-term deal, and Wake should hold out until he gets one.
Already short on talent at several positions, especially after trading away Pro Bowl wide receiver Brandon Marshall, the Dolphins can't afford to lose both their best player on offense and their best player on defense, even if the holdout doesn't last the whole season.
But if the latest news from Adam Schefter is an indication of things to come, a holdout could last a long time.
Dolphins Pro Bowl DE Cameron Wake, seeking new deal, was not present at start of Dolphins' voluntary off season workout program today.

— Adam Schefter (@AdamSchefter) April 10, 2012
NFL.com's Jason La Canfora writes that Wake's agent declined to comment as to the reason behind his client's absence from the program.
The Dolphins are transitioning from a 3-4 base defense to a "hybrid" look, and it would appear the eventual goal is to switch to a base 4-3. Wake has excelled as a 3-4 "rush" outside linebacker, and has done well when asked to put his hand on the ground as a true defensive end.
If there are true question marks about his ability to transition to the 4-3, it would be understandable why the Dolphins would want to wait on giving him a new contract. On the contrary, it's quite clear that he'd transition beautifully into their new front. An interesting tidbit is found in La Canfora's post:
Wake, who played at Penn State, signed a four-year deal with Miami out of the Canadian league that averages just $650,000 a season. He received a modest $500,000 signing bonus.

Wake reached the Pro Bowl in 2010, with 16 sacks, and last year, he had an aggregate of 90 sacks, QB hits, QB pressures and holding penalties drawn, according to ProFootballFocus - by far most in the NFL. (Julius Peppers, who makes $14M a season, was second in the NFL, with a total of 74 such plays).
Wake was by far the most dominant player at his position in 2011, and was paid pennies on the dollar compared to others at his position. This success is no flash in the pan, either, as Wake has been wildly successful since the caged animal broke out of the CFL and into the NFL in 2009.
The Dolphins aren't in deep cap trouble this year, but only have around $6.4 million in space according to Pro Football Talk, and that money will mostly be used to sign their draft picks. Signing Wake to an extension would mean a little maneuvering now, but it would prevent them from having to use the franchise tag on him in 2013, which could fall somewhere in the neighborhood of around $13 million.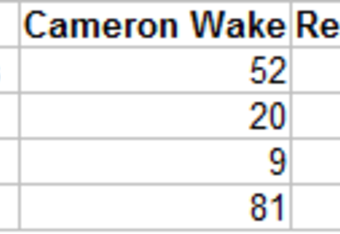 Wake is the Dolphins defense. Without him, they're really short on talent, specifically on the defensive line where the only noteworthy talents besides Wake are defensive tackles Jared Odrick and Paul Soliai. They have a solid group of linebackers, but elite pass rushers are a rare commodity.
If the Dolphins want to pass off a rebuilding stage, they'll need to eventually start putting their money where their mouth is. That would start with putting their money into Wake, who is clearly the present and future of the Dolphins defense.