MLB Draft 2012: Carlos Correa and 5 Studs You Need to Know
April 10, 2012

Now that baseball season has started, fans are more focused on the present rather than the future. But keep in mind that the 2012 MLB draft is just a few months away.
The theme for this season is not only favorable to the Washington Nationals (finally), after the 500-foot home run machine Bryce Harper and now Opening Day ace Stephen Strasburg, but rather depth, like the usual MLB drafts.
Thankfully, more and more products of the college and minor league system are having national impact, which is like adding lighter fluid to a barbecue—kids are only going to get better and better.
Here are the studs you need to know headed into the 2012 MLB draft. Enjoy.
Byron Buxton (Appling Country High, Ga.; Outfield):
Buxton is the talk of this year's draft as the likely No. 1 pick to the Houston Astros. He carries that coveted five-tool talent, and seeing as how Houston can use just about anything to get back on track, Buxton would be an excellent place to start. 
MLB Comparison: Jason Heyward
Buxton is similar to Heyward in the sense that they are both five-tool athletes. See for yourself in Buxton's All-American video and home run derby.  
Joey Gallo (Bishop Gorman High, Nev.; Infield/RHP): 
Gallo is a beast at 6'5'' and 205 pounds, coming off of a .588 batting average, reaching base exactly two-thirds of the time he was at the dish.  
MLB Comparison: Tim Hudson 
While at Auburn University, co-founder of the original "Big Three," Tim Hudson played all 65 games either on the bump or in the outfield, pitching 15-2 with a 2.97 ERA while batting .396 with 18 homers and 95 RBI.
Kyle Zimmer (University of San Francisco, Calif.; RHP):  
Zimmer is a projected top-10 pick in this year's upcoming draft, and rightfully so. The 6'4'' flamethrower deals in the 92-96 range, occasionally hitting 97 mph on the gun.    
MLB Comparison: Jarrod Parker
Newly acquired Oakland Athletics RHP Jarrod Parker was a top-10 pick in 2007, and is a matter of days from being called up from Triple-A to the big leagues. 
Carlos Correa (Puerto Rico; SS): 
Hailing from the famed Puerto Rico Baseball Academy, Carlos Correa has made plenty of noise in the MLB scouting pool.
Usually, shortstops than can hit for both power and average develop the missing piece later down the road in either the minors or once they are established in the league. Correa on the other hand, clearly has five tools early on and is primed for development.  
MLB Comparison: Troy Tulowitzki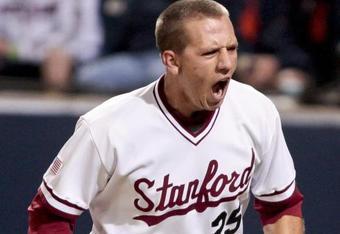 Both are over 6'4'' and have terrific range at short, but where the comparison is most clear is at the dish. Tulo is one of the top shortstops in the league and a purely enjoyable talent to watch. He has 90 homers since 2009 and is sure to hit between 30 and 40 once again this season. 
Stanford Standouts Stephen Piscotty (3B) and Mark Appel (RHP): 
Piscotty is one of the top athletic hitters available in this year's draft. Plus, he could end up playing first base, giving the franchise a built-in replacement for Todd Helton very soon. 
College Baseball Daily has Piscotty at No. 7 in the nation. 
MLB Comparison: Evan Longoria 
Mark Appel has a unique four-pitch combination in his arsenal. His fastball is near the 94-95 mph range, occasionally breaking 97, along with a nasty circle change, slider and two-seamer.  A truly unique pitch combo with a unique windup.   
MLB Comparison: Ian Kennedy