Ozzie Guillen Suspension: Comments Are Insensitive but Not Suspension Worthy
April 10, 2012

Drew Hallowell/Getty Images
I understand completely why some people are upset over the pro-Fidel Castro comments that Miami Marlins manager Ozzie Guillen made in a Time Magazine interview. I went to college at the University of Miami and lived in Miami for four years while I got my college education. 
With that being said, his comments are not anything that warrants a suspension from the Marlins.  Suspensions are given out when a player or manager gets in an altercation with an umpire, or when someone breaks the rules in some way.  Guillen did not break any rules.
Guillen also did not break any laws.  The last time I checked, we lived in a country that claims to have freedoms, and one of those paramount freedoms is the freedom of speech.  Our country was founded on that principle.
The reality is that if we truly live in a free country, then Ozzie Guillen can stand up for something he believes in, and someone else can feel the complete opposite, and neither person would get in trouble.  Then we live in the land of the free.
However, the key point is Guillen also has a right to his own opinion.  He has a right to feel admiration for Castro and voice it, because we have the freedom of speech.  He said the same thing to Men's Fitness magazine in 2006.  He also has very pro Hugo Chavez opinions and has even been on Chavez's radio show in Venezuela.
So his apology is not sincere.  He is apologizing because his employers want him to, and the community he lives in got upset.  It will not change his true feelings.  So an apology is pointless, although he should not have to apologize for expressing an opinion.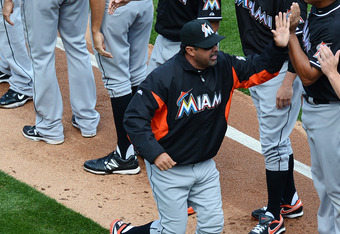 Drew Hallowell/Getty Images
I don't have to agree with him and neither do you.  One of my best friends from college is a big fan of Adolf Hitler and the Nazi's regime in the 1940s.  He has been a close personal friend of mine for over 10 years now.  What's my point?  My point is that I'm Jewish, and his opinion doesn't bother me. 
Obviously, I don't agree with him, as half of my family is Jewish, but that doesn't mean that we can't be friends.  It's just words, and despite his feelings, he has and will remain a good friend of mine.  He has a right to his opinion and I have a right to disagree with him.  That's the beauty of our country and opinions.
Ozzie Guillen expressed admiration for Fidel Castro.  That doesn't mean the MLB or the Marlins should suspend the guy for expressing his opinion.
What is he being suspended for?  Speaking his mind or stating something he believes?  What kind of message does that send to young children?  Don't ever have a controversial opinion or stand up for something you believe, or you'll get in trouble?
Ozzie Guillen is a victim of what I like to call the politically correct police.  He got suspended because the politically correct world we have become has said that they do not want him expressing a positive opinion on Fidel Castro.  That's where the problem lies, not in what Guillen said, but in how people are reacting to it.
Why can't the guy have a controversial opinion?   It's just words, and as the old saying goes, sticks and stones will break my bones, but words will never hurt me. 
I'm not an Ozzie Guillen fan, so to have to defend him, pains me.  As a Phillies fan, I would love to see the Marlins do poorly this season, but this guy is getting killed for expressing his opinion.  And that's something I don't understand at all. 
I believe in the Constitution and the freedom of speech.  My question is, do you?