Ozzie Guillen and the Miami Marlins: A Political Frenzy
April 10, 2012

Mike Ehrmann/Getty Images
Ozzie Guillen has created another media frenzy with his mouth. Guillen is no stranger to controversy from his days in Chicago—including use of a homophobic slur to describe a member of the Chicago media.
However, this time Guillen crossed a line a that should never be crossed—discussing Castro in Miami.
For those of you that do not know what he said, Guillen made comments a few days ago about Fidel Castro, namely that he admired the Cuban dictator.
Those comments set off a media frenzy in South Florida. I lived in Chicago when Guillen was with the White Sox and now am in South Florida, and I have followed Guillen very closely as a player and manager.
However, I will no longer support Guillen. My mother was born in Havana, Cuba, and fled the country at a young age due to political injustices. My maternal grandparents sacrificed everything to provide my mother and uncle the best life possible in the United States. My mother's family lived more than comfortably in Cuba, but that lifestyle was uprooted when Castro started to gain power.
As a young child, I was fascinated with the stories my grandparents would share with me about Cuba: the beautiful beaches, the spectacular nightlife, the food and all other wonderful aspects of Cuban culture.
Those stories soon changed as I became a teenager. I remember having to do a school project on my family and thinking I knew everything I needed to know.
My father told me the story of how his family found their way to New York City from Ireland, and my mind was blown. I remember thinking: Wow, they took a boat from Ireland and your grandmother did the trip by herself. I was speechless.
Then I asked my mother about her journey from Cuba to the United States, and it was not how I remembered hearing it as a child. The painful story coming out of her mouth nearly had me in tears.
There was the part where my grandfather was in hiding for a period of time. My mother told me how she did not recognize her father when they were reunited because my grandfather found it more important to get my grandmother, mother and uncle out of Cuba. Those are just two parts of the heart-wrenching story.
Their journey included stops in Spain and Miami before finally settling in Queens, New York.
While I never endured the struggles my mother did early on in her life, just hearing the stories of Castro and his cruelty have made me develop an uncanny displeasure for the man and what he stands for.
Now, for Guillen to speak so freely about his love and admiration for Castro raises a few questions on my end.
First, how can the phrase "I love Castro" be taken out of context?
Second, why even comment on politics? It isn't your job.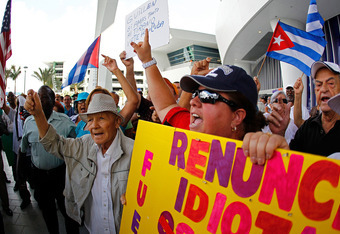 Mike Ehrmann/Getty Images
Third, if you "love" Castro, then do you "love" Hugo Chavez, socialist leader of Venezuela, Guillen's native country?
Fourth, if you were thinking in Spanish and were worried about how your thoughts would be expressed in English, why wouldn't you get a translator?
I find it very hard to believe the phrase "I love Castro" was taken out of context.
The wrath of Castro has gone on for over 50 years, and by making these statements Guillen opened a lot of unhealed wounds amongst the Cuban population not only in Miami and South Florida, but with Cubans everywhere.
Guillen's apology was a nice gesture, but it was not enough to heal the wounds amongst certain segments of the Cuban population. Yes, Guillen was suspended five games by the Marlins, but is that enough?
While I think the firing or resignation of Guillen would be excessive, I am not opposed to having the Marlins and Guillen put together some sort of "Awareness Day." This event would allow members of the community to come and share their stories and struggles with political oppression to further understand the atrocities of political injustice not only in Cuba, but all over the world.
Political injustice has torn families apart, and the insensitive comments made by Guillen only show how out of touch some people are with the hardships and inhumane circumstances some people must live with on a daily basis.