Stanford Football: 10 Things to Expect from the Cardinal and White Spring Game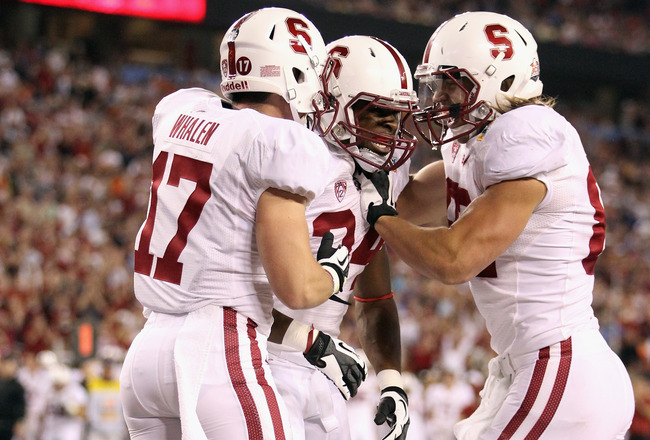 Christian Petersen/Getty Images
The Stanford Cardinal have been sweating it out long enough, and it's about that time to showcase what they've improved on throughout those spring practices. The spring game will take place on April 14 and is a chance for every player to prove themselves in a game-like atmosphere what they're capable of.
The spring game is just a warmup for the team to see what they need to work on and where their strengths are. It's also a chance for players at the bottom of the depth chart to improve their ranking on the team. Overall, it should be very beneficial for everybody and answer a few questions head coach David Shaw and company had going into it.
Here are 10 things to expect for the Stanford Cardinal spring game.
Defensive End Position Will Be a Battle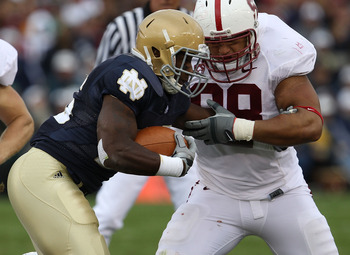 Jonathan Daniel/Getty Images
Stanford only lost one defensive end in Matt Masifilo, but there may be two positions open as the spring game is ready to kick off. Josh Mauro and Henry Anderson are the ones competing for the spot, but they've been playing so well in spring that junior Ben Gardner's position may be up for grabs as well.
"We've got three guys trying for two spots," defensive line coach Randy Hart said. "Whoever wants to play the hardest will get the final spots."
While everybody may be watching the quarterback battle, defensive end is a position you should pay attention to as well.
Kyle Olugbode to Remain in Competition for Safety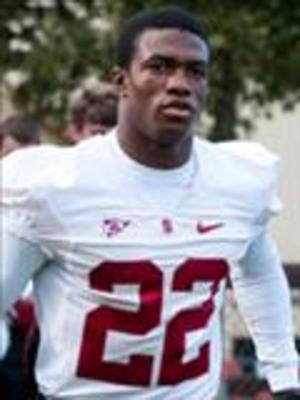 stanford.scout.com
Kyle Olugbode spent time at Bellarmine College, where he played running back and the safety position. He led the Bells to the CIF Division I state title game by rushing for over 1,000 yards and intercepting four passes on defense. Now, he gets his chance to play in the defensive backfield for Stanford and already has David Shaw's attention.
"Kyle is battling," Shaw said. "He's a physical, tough kid. He rushed for a million yards his senior year (at Bellarmine). A lot of people know him because he's from around here. It's going to be a battle because we have two more guys coming in as true freshmen."
Olugbode is a tough worker and has the ability to play either free safety or strong safety. For somebody who's been doubted and couldn't even receive a Division I scholarship, I wouldn't bet against somebody like him who has the work ethic and the skills to succeed.
Kelsey Young Will Earn More Playing Time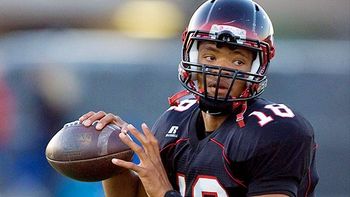 Kelsey Young may not be known by the college football world quite yet, but the playmaker has some skills that could earn him some valuable minutes this season if he continues the good work.
"He's a great athlete. He could play corner, he could play safety, he could play running back, he could play receiver. Possibly in the return game. What we're going to do is make sure he has some kind of package," Shaw said.
It's not clear where the Cardinal is going to use him, but with his speed and versatility, he is for sure a much-needed playmaker in the Pac-12.
Young is a 4-star recruit from the 2010 class who was recruited as a running back. He has a great combination of speed and power and should be a fun player to watch this spring and once the season starts.
Ricky Seale to Possibly Crack That Top 4 RB Depth Chart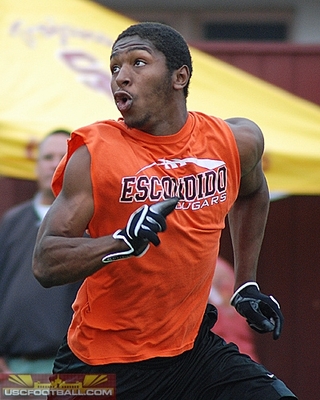 xxsportsradio.com
Stanford has a talented running back tandem as it is and is very deep at the position. But don't just assume that it's going to remain as it is, as Ricky Seale is making a strong case for playing time.
"The way he is running the ball he is going to force us to put him on the field. That is what we tell all the young guys. Don't look at the depth chart. When you get a chance to play, make the most of it and Ricky is doing that. The way he is running the ball right now, we will find a spot." David Shaw said.
Seale is a talented runner with solid speed and great field vision, although he only received six touches last season and rushed for 23 yards. He's making a strong case to sneak into the top four running backs and could even receive time on special teams to take advantage of his playmaking abilities. He was also a cornerback in high school as well, so don't be surprised if he ends up on defense either.
Serious Compeition at the Offensive Line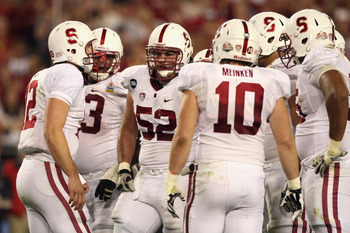 Donald Miralle/Getty Images
Stanford has most of their offensive line intact, but there are a few giants they have to replace in David DeCastro and Jonathan Martin. The right guard has been a battle between Khalil Wilkes and Kevin Danser, and coaches like what they see from both players.
"That competition has been the absolute bright spot of spring," offensive line coach Mike Bloomgren said.
At left tackle, players like Brendon Austin and Cole Underwood are battling it out for that position. You also have a fantastic recruiting class coming in during the fall that could compete for playing time as well. Overall, this is a battle that may last into August before it is decided.
Kevin Anderson to See a Lot of Time at Linebacker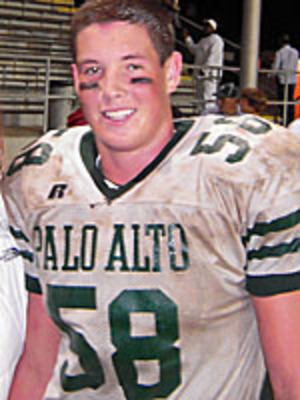 stanford.scout.com
Stanford returns eight starters on the defensive side of the ball, but that doesn't mean there won't be competition for those positions. Redshirt freshman Kevin Anderson is really making a name for himself in practice early on and has already been made aware that he will see the field this season.
"Kevin is a hard-nosed kid out of Palo Alto High School with a high motor," Shaw said. "He's physical, strong, relentless. He's difficult for us to block. He's going to be special and he's in a group of special outside linebackers. Anderson is going to play this year. He cares too much and has too much heart."
Anderson is a former 3-star recruit, but gives it his all on every play and has great size for the linebacker position at 6'4", 230 pounds. Wouldn't be surprised to see him play some defensive end as well.
Quarterback Battle Won't Have an Answer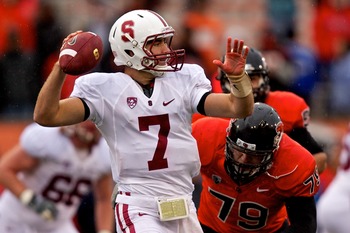 Craig Mitchelldyer/Getty Images
Stanford was blessed with one of the best quarterbacks college football has ever seen in Andrew Luck. Now that he is preparing for the NFL, the program is stuck scrambling to try and find his replacement.
Who will it be? Well, nobody knows right now, and you won't find out anytime soon.
"I want them to finish spring in competition mode. And I want them to start fall camp in competition mode," head coach David Shaw said. "I don't want to name a starter the week of the first game. I'd like to do it before that so we can start to settle in."
Shaw called the competition "neck and neck."
We do know that it's likely going to be either Brett Nottingham or Josh Nunes, but everything after that will be determined in the fall.
Wayne Lyons to Show Us Why He'll Be a Starter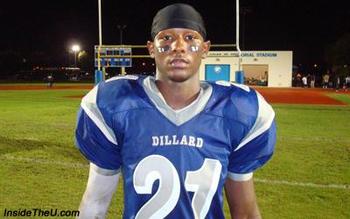 theringer.com
If there is one player I'm excited to see on the defensive side of the ball, it's without question Wayne Lyons. Simply because David Shaw kind of set huge exceptions for him when he said he'll eventually end up as a finalist for the Thorpe Award.
Lyons is continuing to practice and recover from a foot injury that kept him out for most of the year, but he said he should end up being a starter by the time the season arrives.
"I'm hoping to," Lyons told Scout.com on whether he'll be a starter this year. "Most likely I probably will be, but I'm working hard to get to that spot right now. I'm still in the second rotation, but I feel if I keep working hard and I keep proving that I belong with the starting group, then I'll move to the starting group."
Lyons is a playmaker on defense and can play numerous positions. His speed and solid coverage skills make him a very attractive option, and he should be able to hold his own during the spring game.
A Motivated Team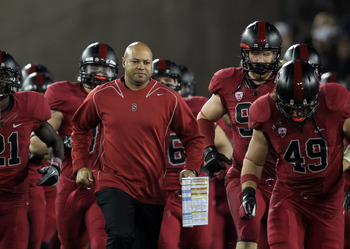 Ezra Shaw/Getty Images
Let's be honest, nobody expects Stanford to be as great as they were the last couple of seasons. Nearly everybody in the country believes that most of that success was because of quarterback Andrew Luck, and now that he's gone, the Cardinal will go back to being just another sub-par team in the Pac-12.
According to ESPN writer Ted Miller, he says that the Stanford players are fully aware of the doubt.
It's pretty clear that the not-entirely-unreasonable questioning of whether Stanford can remain an elite team post-Andrew Luck is serving as motivation in the locker room. While the topic is hardly obsessed over, it's also fair to say everyone is aware of the widespread doubts heading into 2012.
Although this may just be a spring game, you can expect a motivated team to take the field this weekend. It's the first chance to really prove something, and you have to believe Stanford will take full advantage of that.
Solid Spring Performance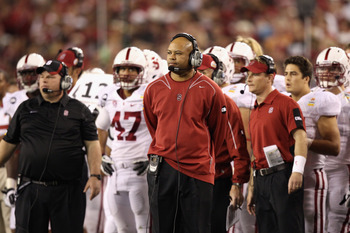 Christian Petersen/Getty Images
This season, it seems like a lot of teams are banged up as they enter the spring game, but for the most part, Stanford is doing a good job of remaining healthy. We all know there are a lot of questions the Cardinal have to answer before they can feel confident heading into the regular season. But this team remains very talented and has a lot of good players on both sides of the ball.
I think you should expect to an encouraging spring game that answers a lot of questions. Quarterback won't be named for a while, but a solid performance by one of them will really tell a lot. The offensive line is looking like it's coming together and providing some healthy competition. The defense looks solid and having a few players emerge.
Overall, this should be a solid spring game and should help Stanford moving forward.
Keep Reading

Stanford Football: Like this team?