Derrick Rose Injury: Latest Updates on Bulls Star's Ankle Injury
April 10, 2012

Jonathan Daniel/Getty Images
Derrick Rose has finally moved past his lingering and painful groin injury that kept him sidelined for 12 games, but he's still not healthy.
According to K.C. Johnson of The Chicago Tribune, D-Rose tweaked an ankle at some point during the Chicago Bulls' overtime loss to the New York Knicks on Sunday.
UPDATE: Thursday, April 12 at 7:35 p.m. ET 
At last, the Chicago Bulls will get their leader and best player back. The official Twitter feed of the Chicago Bulls reports Derrick Rose will indeed play in what is a marquee NBA game against the Miami Heat.
D-Rose will get the start tonight vs. Heat. #MIAvsCHI

— Chicago Bulls (@chicagobulls) April 12, 2012
UPDATE: Thursday, April 12 at 2:15 p.m. ET by Mike Chiari
To say that Chicago Bulls point guard Derrick Rose has been perpetually injured this season would be an understatement, but it looks as if the reigning league MVP is once again ready to return to action. After returning from back and groin ailments, Rose suffered an ankle sprain against the New York Knicks on Sunday.
Rose missed the team's next game, but is likely to play against the Miami Heat on Thursday, according to Nick Friedell of ESPNChicago.com. Rose was a full go in the shootaround, and while he is being listed as a game-time decision, the expectation from head coach Tom Thibodeau is that he'll play.
He's made great progress with all his stuff, and he's feeling good, Bulls coach Tom Thibodeau said Wednesday. It was a freaky thing that happened to him and he's fine now.
Update: Tuesday, April 10 at 9:00 p.m. ET
Rose will not be on the court Tuesday night as the Bulls take on the Knicks. CSN's Aggrey Sam tweeted the news.
Derrick inactive, CJ starting

— Aggrey Sam (@CSNBullsInsider) April 11, 2012
UPDATE: Tuesday, April 10 at 12:53 p.m. ET by Brandon Galvin
Derrick Rose is currently considered day-to-day with his ankle injury, according to Chicago Tribune's K.C. Johnson.
DRose: "It's just an ankle sprain. Hopefully, I'll be over it in a couple days." #Bulls

— K.C Johnson (@KCJHoop) April 10, 2012
Bulls fans will be pleased to know that Johnson also states that he is moving past his groin injury.
On the bright side, DRose said his groin feels "fine." #Bulls

— K.C Johnson (@KCJHoop) April 10, 2012
UPDATE: Tuesday, April 10 at 12:21 p.m. ET by Brandon Galvin
Though Derrick Rose is out of his walking boot, his chances of playing tonight against the Knicks are declining. The Bulls' superstar failed to participate in this morning's shootaround, according to Chicago Tribune's K.C. Johnson. 
DRose didn't participate in shootaround but is walking in gym shoes, not a boot. #Bulls

— K.C Johnson (@KCJHoop) April 10, 2012
Update: Tuesday, April 10 at 11:55 a.m. ET
K.C. Johnson with the Chicago Tribune found that John Paxson, the VP of Basketball Operations for the Bulls, told WMVP (the organization's flagship station) that Rose is sore and the team isn't willing to risk anything.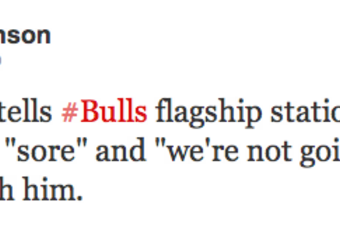 This is terrible news for Bulls fans, as Rose just came back to play one game after missing 12 with a strained groin. 
Update: Tuesday, April 10 at 11:50 a.m. ET
Frank Isola of the New York Daily News is reporting that there is a good chance that Derrick Rose does not play tonight.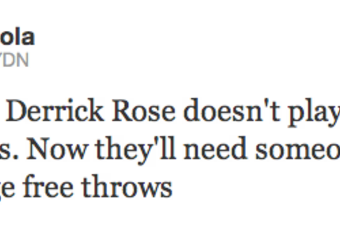 The reporter does not delve into his sources but does make a crack that it might help the Knicks since Rose missed two key free throws in their last matchup. 
Update: Tuesday, April 10 at 11:20 a.m. ET
Aggrey Sam of CSN Chicago confirmed that Rose's ankle is indeed injured and he is currently undergoing treatment.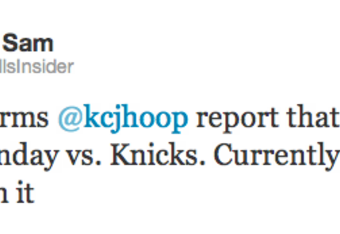 It's unknown what sort of treatment D-Rose is receiving but hopefully it helps him heal in time for tonight's home game against the Knicks at 9:30 p.m. ET. 
----End of Update---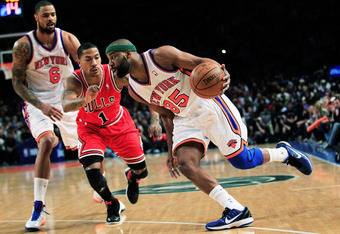 Chris Trotman/Getty Images
Johnson's sources are reporting that the superstar point guard was in a walking boot on Monday and will be a game-time decision on Tuesday in a grudge match versus the Knicks.
It was obvious that Rose was struggling to shake off the rust on Sunday in his first action since a March 12 victory over, again, the Knicks. He made just eight of his 26 attempts from the field and turned the ball over eight times during the contest.
The most painful part for Bulls fans to watch were his two missed free throws late in regulation that would have sealed the game.
Rose was upset with his performance.
"I didn't really get to the lane...When I did, I missed floaters, layups. Shots I normally hit I just wasn't hitting them. I know there will come a time."
Chicago is hosting New York tonight, and the game is set to tip off at 9:30 p.m. ET in another nationally televised game.
It would be a shame if D-Rose were unable to play and missed an attempt to extract revenge for his woeful stretch during the fourth quarter and overtime of Sunday's matchup.
Keep it tuned here throughout the day and week for the latest breaking news, updates, opinions and analysis on Derrick Rose's ankle injury and status for games.