Manchester City FC: Why the Citizens' Collapse Is the Worst We Have Ever Seen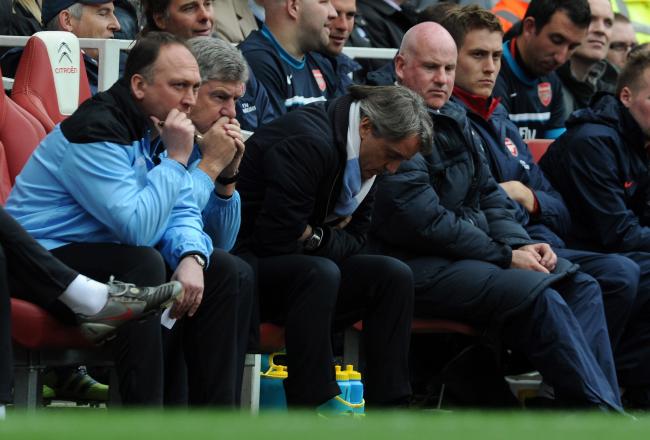 Michael Regan/Getty Images
Manchester City are done. Their English Premier League hopes, high as ever after they got off to a blistering start back in August that was symbolized in a 6-1 victory over local rivals Manchester United at Old Trafford, have vanished. The seven-point lead they held not more than two months ago is obsolete.
It is the worse collapse in Premier League history.
Now the historians will come screaming out and shout false at this claim, likely to cite Newcastle's epic collapse back in 1995-96. They too were in the dominant position heading down the home stretch, only to be caught and passed by the very same team in red that has taken the glory away from City.
On points alone Newcastle takes the claim for the biggest collapse ever. They led United by 10 points before seeing Sir Alex Ferguson do what he does best—rip the hearts out of the unsuspecting and naive.
But the feel of the collapse was much different, as defender Warren Barton discusses:
I was on that Newcastle team, and it remains one of the biggest disappointments of my life. I still think about that season to this day, and have gone back many, many times to analyze the decisions I made: the ones we made as a team, and whether or not we could have done things differently as a unit. Honestly, I don't think you ever get over a disappointment like this.
The phrase "the one's we made as a team" are seven words that you will never see describe this City team in the history books here after, since rarely has anything City has done been about the team.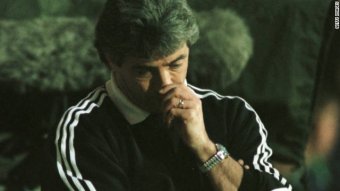 Kevin Keegan was in charge of the Newcastle collapse of 1995-96.
This collapse will go down as the worst we have ever seen, not because of the ineffectiveness the team showed on the pitch, but the vitriol thrown around the locker room. The great collapse will not be documented in the table for future generations to see. It will be in the back pages of gossip publications and tabloids.
To be fair this is not rampant throughout the squad.
There are players like Yaya Toure, David Silva, Edin Dzeko and Vincent Kompany who have maintained their poise and made their play the talking point of their character. But like a loaf of bread beginning the mold, the few good slices will become compromised if the infected slice is not removed.
But instead of removing the slice, City have seemed to add more to it.
Just look at some of the stories that the team has had published about them in recent weeks: Roberto Mancini says Balotelli on his way out, Sergio Aguero has a "freak" injury, the team gets in a dispute during play, the boss concedes title hopes and a summer signing speaks vengefully toward his former club.
Five stories that for many clubs would be unwelcome throughout the entirety of a season have been the only reason anyone has mentioned City in the past few weeks. The moment where they were meant to be at their strongest, like a marathon runner heading down the home stretch, they look much more like a sprinter cramping up in the final straight.
It was individuals who let the fans down, everyone from Mancini to Balotelli. Even Silva and Toure are not immune from criticism as their form has dipped over recent weeks. There is no one singular player to blame, no Judas in this case.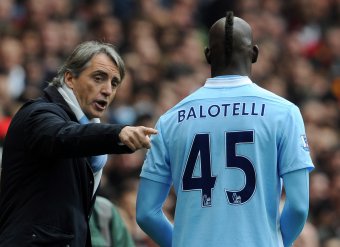 Michael Regan/Getty Images
But the failures of this season are not to be met with a shrug if you are a City fan and ready yourself for the next campaign. The effects of the collapse resonate more toward the future than perhaps any in recent history.
City tried to buy a title. There is no issue I take with that. Those who do claim some sort of romanticism to building up your squad over decades of tradition and a strong youth system are living in a time past.
Those who claim it cannot be done are simply wrong, by evidence of Chelsea, whose owner Roman Abramovich was the archetype for City's plan: Bring in a manager with a strong personality and give him the funds necessary to buy the players he wants.
Chelsea brought in Jose Mourinho, who brought in one of the biggest transfers of talents the league had ever seen in one summer.
While it was technically Mancini's third season in charge, this was the first where he built his team, bringing in Aguero, Samir Nasri and Gael Clichy, the few missing pieces of the puzzle that made City go from hopefuls to favorites.
It was nearly identical in the way it set up between Chelsea and City, but one major difference led these teams down two different paths—Chelsea won the league; City didn't.
I am a big believer that the value of manager is only seen when they are at their lowest point. How they handle the adversity of poor form, player unrest and gossipy rumors is more telling of their managerial abilities than how they can construct a game plan.
Was this the worse collapse in EPL history?
Like a general in war, it is easy to keep morale up when you are easing through the battle, but the greats are the ones who are able to mobilize their men when all is going wrong. The course of a war may change due to poor strategy, but the end only comes when the soldiers no longer want to fight. And in a failed war a nation loses more than just its young men. It loses hope for the future.
This collapse may have been sprung on by player attitudes, poor managerial decisions and ultimately a trophyless season. But what truly makes it one of the worst we have ever seen is what it means for the future of this club—the hope inside the long-suffering Citizen faithful is the real casualty of this campaign.
Follow me on Twitter: @thecriterionman
This article is
What is the duplicate article?
Why is this article offensive?
Where is this article plagiarized from?
Why is this article poorly edited?

Manchester City: Like this team?