Bobby Petrino: Arkansas Must Focus on Coach's Lies, Not Jessica Dorrell
April 10, 2012

Kevin C. Cox/Getty Images
The Arkansas Razorbacks are going through major turmoil right now, but the important thing for school officials to concentrate on are the lies Bobby Petrino made and not the female passenger that was with him at the time of his motorcycle accident. 
As Robby Neiswanger of Arkansas News Bureau reports, Jessica Dorrell was with Petrino when he crashed his motorcycle and suffered multiple non-life-threatening injuries. 
Dorrell, a 25-year-old former Arkansas volleyball player, was not harmed in the accident, but her reputation has certainly taken a hit as she will now forever be remembered as the woman Petrino had an "inappropriate relationship" with. 
Still, she isn't the main story here. Petrino telling his bosses that he was alone when he crashed is what the focus needs to be on right now. 
Sure, some blame does fall on Dorrell for being in some type of relationship with a married man who also happens to be a public figure, but the fact of the matter is Petrino made his superiors looks foolish in the public eye.
Now his job is on the line because of that.  
Dorrell was hired by Petrino on March 28 to serve as as the student-athlete development coordinator. While her job status with Arkansas is likely up in the air, Petrino should be facing more scrutiny since he was the one that hired her.
Prior to that job, Dorrell worked as the Razorback Foundation fundraiser where her friend told ESPN that she did "so many great things." 
Arkansas athletic director Jeff Long certainly can't just forget about Dorrell as he and his staff investigate this whole scandal, but the attention needs to be mostly on Petrino. After all, he's the one that put the Razorbacks in this unfortunate situation. Had Petrino been open and up front with everyone from the start, Arkansas wouldn't be dealing with this chaos right now.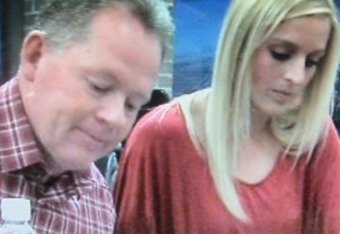 Of course, Petrino would still be facing heat because of this "inappropriate relationship," but from the school's perspective, that's not anywhere near as bad as him lying to his employer. 
Dorrell has easily suffered through enough, as some of the public will do nothing but continuously judge her. Let the story shift all on Petrino, because what he did after the crash was the wrong move.  
Long and his staff have to figure out if they still want a liar in charge of their football team. Petrino will likely keep this team winning, unless the scandal ruins his recruiting tactics. Since the Razorbacks are a strong SEC program, that doesn't appear likely.
It's a tough decision that will take time to answer, but focusing mainly on Petrino's wrongdoings and not the fact Dorrell was with him at the time of the crash is the correct approach to handling this ordeal.