AFC South Advanced Stat of the Week: Tennessee Titans
April 10, 2012

Streeter Lecka/Getty Images
This week, Advanced Stat of the Week will look at running back success rate. Success rate is one of the most important ways to judge the true effectiveness of a runner. Consider the following hypothetical runners.
Runner A has one 80-yard carry and nine carries for no gain. His stats are 80 yards, 10.0 yards per carry.
Runner B has eight 10-yard carries. Two of his carries came on third and 15. His stats are 80 yards, 10.0 yards per carry.
Runner C has 20 carries, for four yards each, but all his carries came on 3rd-and-3 or less. His stats are 80 yards, 4.0 yards per carry.
The back who helped his team win was the back with the fewest yards per carry, but the most successful runs.
Success rate illustrates that a runner's ability to move the chains is his most important quality. "Boom and Bust" backs can be exciting, but carries for negative yards are drive killers. Long runs thrill fans, but consistent gains are more valuable.
The FootballOutsiders calculate success rate roughly in terms of the percentage of yards gained by the runner each down. On first down, a back needs 40 percent of the yards his team needs for a first down. On second down, that jumps to 50 percent. On third and fourth down, a run is only successful if the back gets 100 percent of the necessary yards.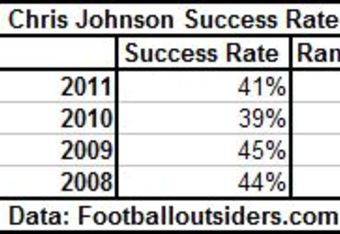 In terms of success rate, a three-yard run on 1st-and-10 is not successful. A three-yard run on 2nd-and-5 is successful. An eight-yard run on 3rd-and-10 is not successful. This sliding scale helps account for meaningless yards that a back accrues during the course of the game. Seven yard gains on a draw on 4th-and-20 don't often mean much in the course of a football game, and Success Rate shows us that. A running back should be looking for a success rate north of 50 percent.
Chris Johnson of the Tennessee Titans is the poster child for the boom/bust back. Even in his best seasons, he never had a strong success rate. In fact, his career best was only 45 percent, good for 32nd in the NFL in 2009. Johnson is the football equivalent of Adam Dunn. He's going to hit the ball out of the park a lot, but he's also going to strike out way too often.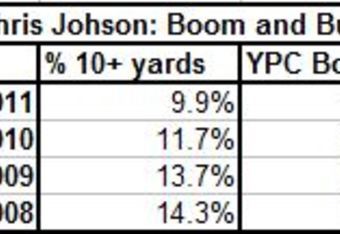 If there is any trend that should worry Titans fans, it's that Johnson's big plays are becoming more and more infrequent. His percentage of runs over 10 yards has dropped every year he's been in the league. On top of that, the number of yards he's getting for his non-big plays has dropped off from early in his career as well.
Johnson is a back who is not likely to age well. He's not a a guy who moves the chains, but rather a guy who breaks big plays. When he loses even a fraction of a step, he's likely to see a major decline in production. He's clearly on the spot in 2012.