Jonathan Daniel/Getty Images
June 26, 2016
Concussions—they're an all-too-common problem in today's NHL and their impact isn't limited to the regular season.
In fact, this year's field of Stanley Cup playoff contestants is dangerously replete with star players who've been struck down by head injuries this season. These three goal-scoring wizards, in particular, figure to tip the balance of power in the postseason for better or worse, whether they're healthy enough to skate or not.
Daniel Sedin
The concussion bug has come to bit the Vancouver Canucks at the exact wrong time and in the exact wrong...errr, place.
Daniel Sedin was sent into a stupor after taking an elbow to the head from Chicago Blackhawks bruiser Duncan Keith, leaving twin brother Henrik without his on-ice buddy and the two-time Presidents' Cup winners down one of their most integral offensive threats.
With the Sedin twins intact, the Canucks are the clear favorites to win the West again. Without him, they may well be the ninth No. 1 seed to lose in the first round, this time to the defensively-stout Los Angeles Kings.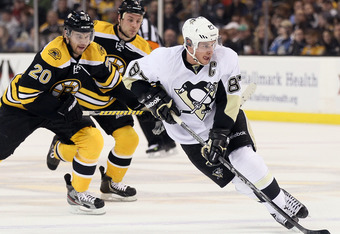 Elsa/Getty Images
Sidney Crosby is no longer injured, per se, but with a cacophony of concussions in his recent medical past, the Pittsburgh Penguins star's health will always be of chief concern.
Especially in the postseason, wherein the style of play is more physical and the hits come harder.
So long as Sid the Kid can avoid falling back into the spin zone, the Pens will be among a handful of favorites to hoist the Stanley Cup in short order. 
Jonathan Toews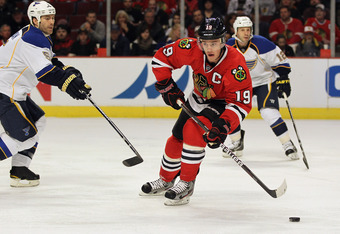 Jonathan Daniel/Getty Images
Jonathan Toews is expected to take to the ice in time for Thursday's postseason opener against the Phoenix Coyotes, and the Blackhawks couldn't be happier.
Granted, Chicago fared surprisingly well in its captain's absence, though the team could hardly be considered a threat to compete for the Cup without him.
That being said, Toews' mere presence won't be enough in and of itself to put the Blackhawks in the same category as the Canucks, the Predators, the Red Wings and the Blues in the Western Conference. They'll need their star center to have a clear mind to go along with his full heart.
Otherwise, Chicago can (and likely will) lose.
Like the new article format? Send us feedback!